The first of its kind, Riot Games' Undercity Nights was held in Pasadena, Los Angeles, California last week at a large open studio in conjunction with Secret Cinema to celebrate League of Legends Arcane's finale on November 19 and 20.
On the livestream, League of Legends and Arcane fans saw glimpses of Zaun and The Last Drop during the Arcane Secret Cinema experience, watched The Riot Gauntlet where Rioters competed against influencers to raise funds for their chosen charities, had front row seats to the musical performances of Arcane's original soundtrack, and backstage passes to virtually meet-and-greet the voice actors and creators of Netflix's highest rated original animated show.
Media and influencers from around the globe were invited to experience Undercity Nights first-hand, which included a lot more activities, tons of fun, thematic food and drinks, and a once-in-a-lifetime immersive theatrical experience that wasn't captured on stream.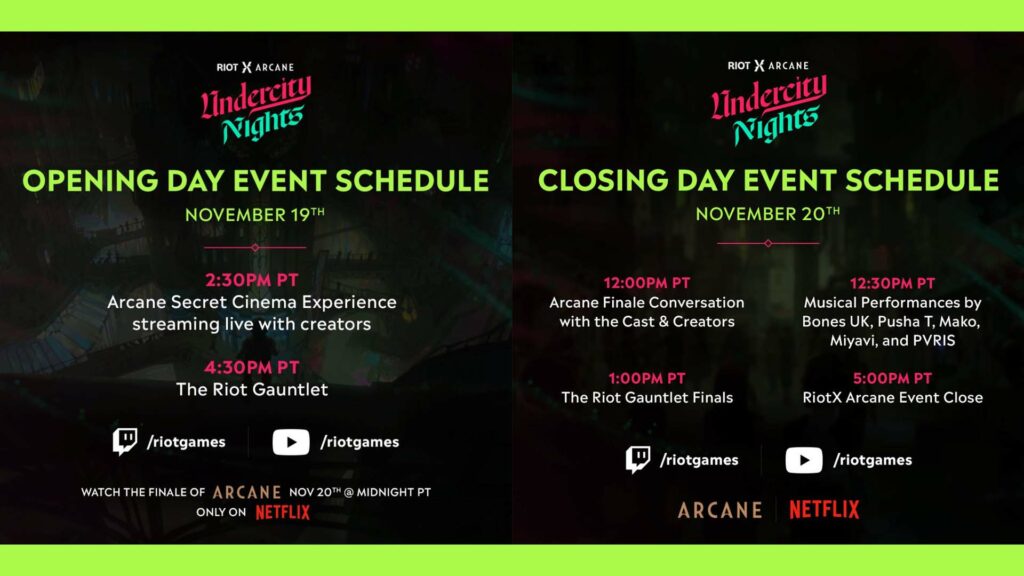 Warning: Major spoilers if you haven't watched Arcane Act 1 and 2, or if you want to experience League of Legends Arcane Secret Cinema in person.
---
---
Riot Games and Secret Cinema actually recreated Arcane's city of Zaun and The Last Drop
Weeks before the event, invitations to media and influencers were sent out. At that point, all I knew that was I was invited to a Riot Games event called "Undercity Nights", which of course, is a reference to Zaun. Other than that, I had no idea what I was getting into.
Our schedules weren't even given to us until two days before we flew, and even then, things were kept vague. Highlighted in red was the "Secret Cinema experience", which I thought was a preview screening of Arcane's Act 3.
I was absolutely wrong.
Once we cleared check-in, our group was briefed by one of Silco's men. Our our first task was figuring out how to get into Silco's office and bring him Shimmer.
Led into the studio by two Enforcers, the very first thing I saw was a life-size creation of Piltover's Progress Day gates from Arcane Act 2, which made my jaw drop. Not only that, to my right was handsome Jayce's face printed on the "Man of Progress" banner, just like in the animated series!
What was going on?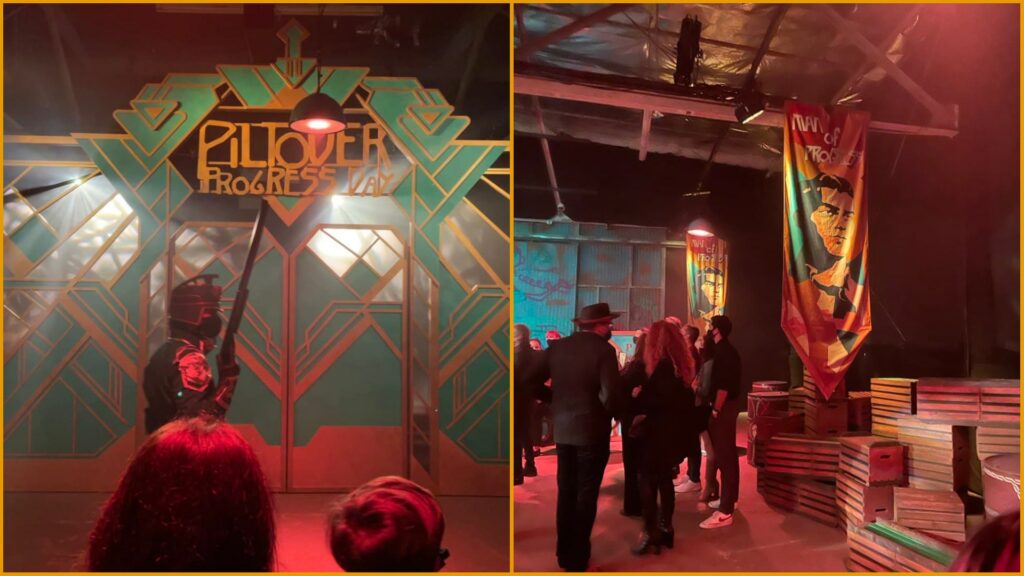 After being addressed by a Piltover Enforcer, we were ushered into a darkened room sandwiched by two enormous digital screens that made us feel like we were on a bridge. Cut up scenes from Arcane played alongside dramatic music, then suddenly, Powder and Vi appeared.
The actresses cosplayed the characters so well, and acted out the ending scene of Act 1. Powder and young Vi argued, which ended with Vi walking away from her. Wounded, she stumbled around the crowd away from a wailing Powder before getting abducted by Marcus in the shadows.
Once the dramatic sequence concluded, the front doors opened. Stepping out into the light, the very first thing I saw was "The Last Drop" outlined in bright Neon lights.
Wait, what? We're in Zaun?
At first I thought The Last Drop was just there to demarcate the bar area, but as I spun around 360 degrees, I realized the entire space was designed to be Zaun, down to the detail.
Stunned, I needed a few seconds to take it in.
I totally did not expect Riot Games and Secret Cinema to physically recreate Arcane in Undercity Nights.
And that wasn't even the end of it.
Looking around, even more characters in full cosplay were walking about, interacting with guests.
The thing is, they weren't just cosplaying. These Secret Cinema actors had full dialogues prepared, and were in character 100% of the time, here to create a truly immersive live experience for us.
By talking to them, they gave us clues on what their motives are, or where certain things are located, and how we could access secret rooms that required passwords, such as Silco's office, and Jinx's lab.
There were even scenarios that triggered "fights". Characters went all out, fists flying, punches swinging, as they brawled it out on the streets of Zaun right in the middle of the immersive stage.
To top things off, The Last Drop really did serve drinks prepared by a row of busy bartenders. The menu contained alcoholic cocktails that were specially designed for the Undercity Nights event.
"Shimmer" for example, really did contain an inner glow within the glass, while "Captain Marcus" comprised a dark, strong blend of coffee and Sherry topped with white cream, a reflection of his bitterness and underhanded methods, in contrast to the innocence of his daughter.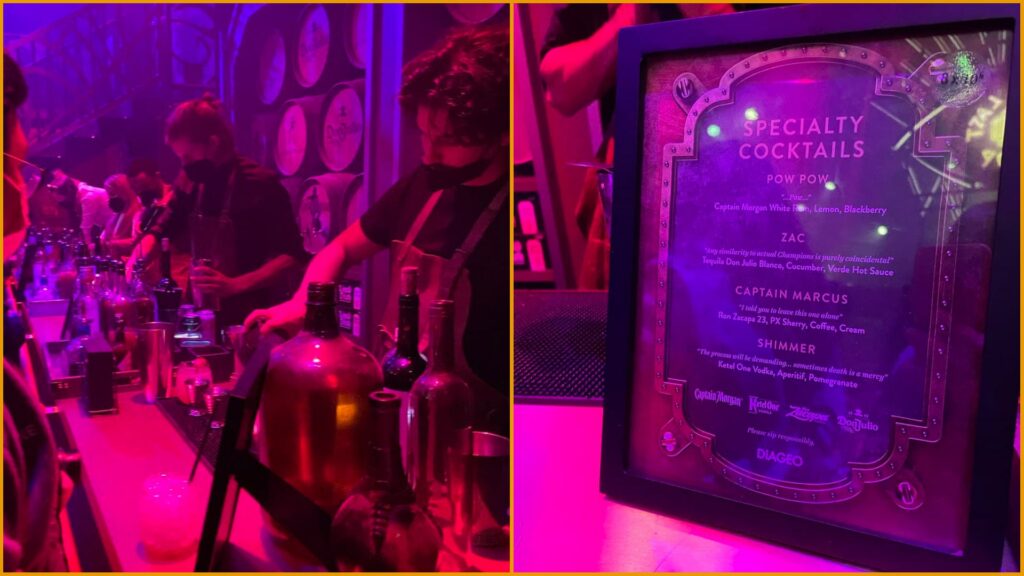 Undercity Nights was the first Riot Games event of its kind. The game developer has never done anything like this before. It was an incredible, unforgettable experience full of surprises, real life theatrics, and so much awe on my part.
Thank you Riot for having me!
Watch the full Undercity Nights Day 2 VOD here, or buy tickets to experience League of Legends Arcane Secret Cinema first-hand.
READ MORE: Every League of Legends Runeterra race featured in Arcane