Korean idols Soyeon and Miyeon of (G)I-DLE dropped by the Riot Games Korea headquarters to watch the exclusive premiere of League of Legends K/DA's newest song, "More."
While on their way to the office, Soyeon said that she already felt like a Riot Games employee because of the ID cards that were lent to them during their visit.
"Actually, we belong to this company because we are K/DA!" she told Miyeon. "So it's our company, (since we're) playing as Akali and Ahri." The two were cast by Riot Games to play as LoL champions Akali and Ahri as a part of virtual supergroup K/DA.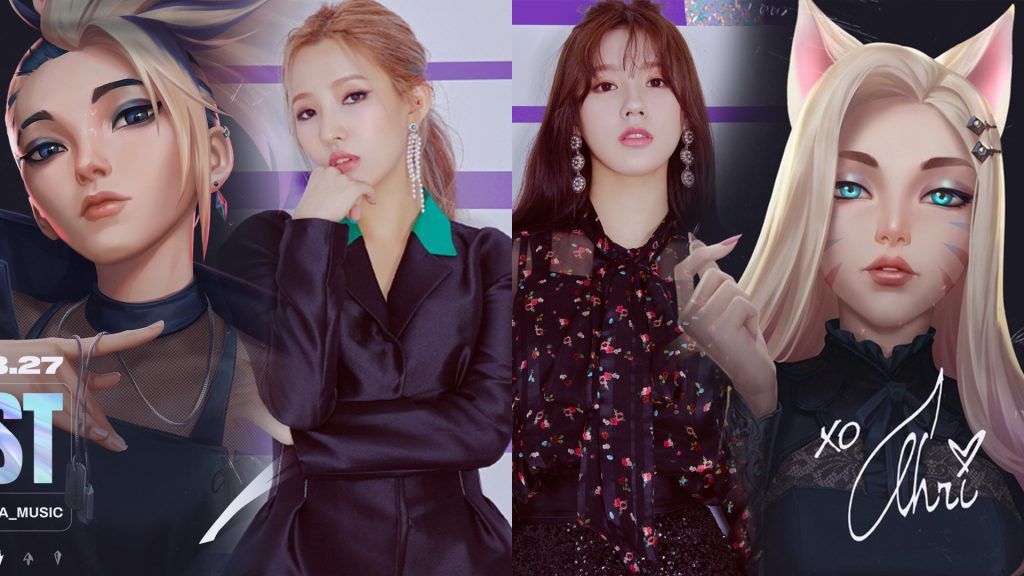 After entering the office premises, K/DA's 2018 track "Pop/Stars" instantly played on the speakers to which both girls sang and danced to. They also roamed around the headquarters and discovered that South Korean Rioters were actually huge Neverlands ((G)I-DLE's fandom name) after spotting a copy of one of their latest albums, Dumdi Dumdi.
Soyeon and Miyeon also checked out Riot Games Korea's music room, to which Soyeon commented "Why does a game company have a music room that even my company doesn't have?" Are you reading this, Cube Entertainment?
Then they met up with the "More" producers via a conference call, sat down, and proceeded to watch the music video together.
The staff gave each of them a lightstick. K/DA's official lightstick went to Soyeon while Miyeon received (G)I-DLE's to use for cheering while watching the MV.
For about four minutes, the two were stunned and captivated by the high-quality animation and rich visuals that were shown in the "More" music video.
"The characters' charms are so well expressed," Miyeon noted after viewing "More" for the first time. "Ahri has become so beautiful."
Miyeon also said that even though K/DA is a virtual girl group, she'll be K/DA's real fan.
---
---
They then proceeded to play a short game of League of Legends with the South Korean Rioters, of course using the newest K/DA All Out skins.
Miyeon admitted that she is still a newbie at League of Legends, but she also told the viewers that she had a lot of fun playing the game. Will she continue playing and main Ahri now?
The two ended their visit by leaving cheering messages to K/DA. Soyeon typed in "K/DA, I love you so much" while Miyeon congratulated the group for their comeback.
"Give lots of your love to K/DA and (G)I-DLE," said (G)I-DLE leader Soyeon.
Watch the full vlog of Soyeon and Miyeon's visit to the Riot Games Korea office and their reaction to "More" here:
READ MORE: Watch (G)I-DLE's live performance of K/DA's Pop/Stars from their online concert