With legendary LCK team T1 currently lacking a head coach after the departure of Kim "Kim" Jeong-soo, many fans and analysts have been speculating as to who will be next to lead the superteam into the 2021 season.
One of the names that has cropped up in discussions is LCK color-caster Nick "LS" De Cesare who's known for his expert knowledge on the game and its meta. Despite having a few solid coaching stints across various regions, the LCK personality has been sticking to private coaching and streaming on his off-time.
While some might say that it's all just a rumor, more evidence has surfaced about LS becoming associated with T1's coaching endeavors. During a live stream, T1's support player Lee "Effort" Sang-ho accidentally leaked a Discord conversation amongst the team and staff, mentioning LS and professional StarCraft II/Teamfight Tactics player Choi "Polt" Seong Hun as the team's new coaches.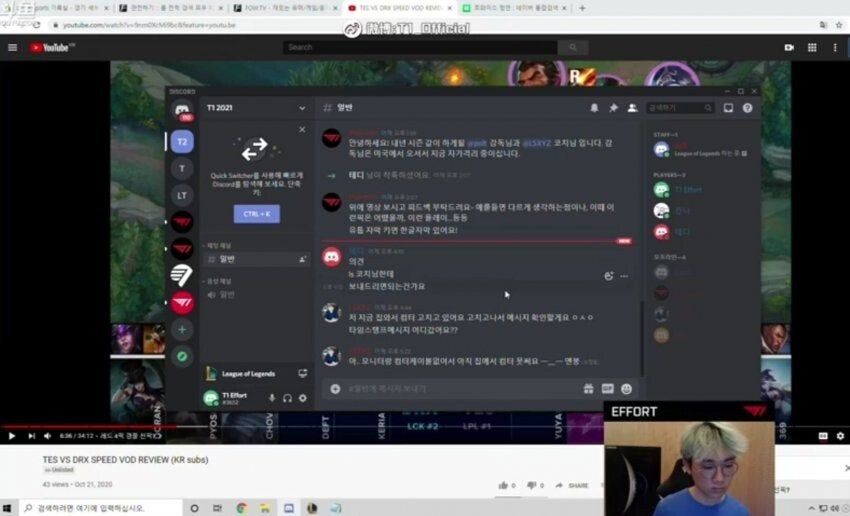 ---
---
"Hello! Here are Polt head coach and LS coach who will be joining T1 next year," stated T1 according to a translation on a Reddit thread. "The head coach Polt is currently in self-isolation since he came here from the U.S."
Though the legitimacy of the leak could be up to debate, LS can be regarded as a solid figure in a coaching position. With his two years of LCK casting, he's aware of T1's position as a championship team and what the rest of the competition looks like in the Korean league.
As for Polt, he acts as the wild card in T1's coaching system with no substantial background in LoL. Besides being a StarCraft II champion for most of his playing career, the new head coach has been playing professional Teamfight Tactics, LoL's auto-battler mode, under the banner of Team Liquid.
While he's still a brand new name in the League scene, he's not the first one to make the shift from SC2 to League. T1's former coach of Kim "kkOma" Jeong-gyun who brought them three World Championships also had a background in SCII.
With the two esports natives working together, LS could surely aid Polt's transition into the coaching role and audiences might see some significant changes in T1's playstyle come Spring 2021.
Even though T1 is bolstering its coaching staff with some high-profile names, the big move left a sour taste in the mouths of many fans. With Polt having no substantial experience in competitive LoL and LS having some past controversies in esports, many T1 fanatics took the recruitment as a betrayal of sorts.
Some fans even went out of their way to send funeral flowers and trucks with messages like "SKT T1 (2012-2019)" and "reports of picking up an unproven head coach and a coach who's caused public controversy."
Despite such backlash, T1 issued a statement about the team's' rebuilding process and wanted to reassure its fanbase that, with its changes, a 2021 World Championship is still possible.
"We kindly ask for your patience as we consult with our players and staff to carry out the best strategy for the future of our organization," stated T1.
READ MORE: Coach Kim resigns from T1