As one of the official sponsors of the LCK, McDonald's Korea has released a limited-edition food item called the "LCK Legend Pack" for its local fans.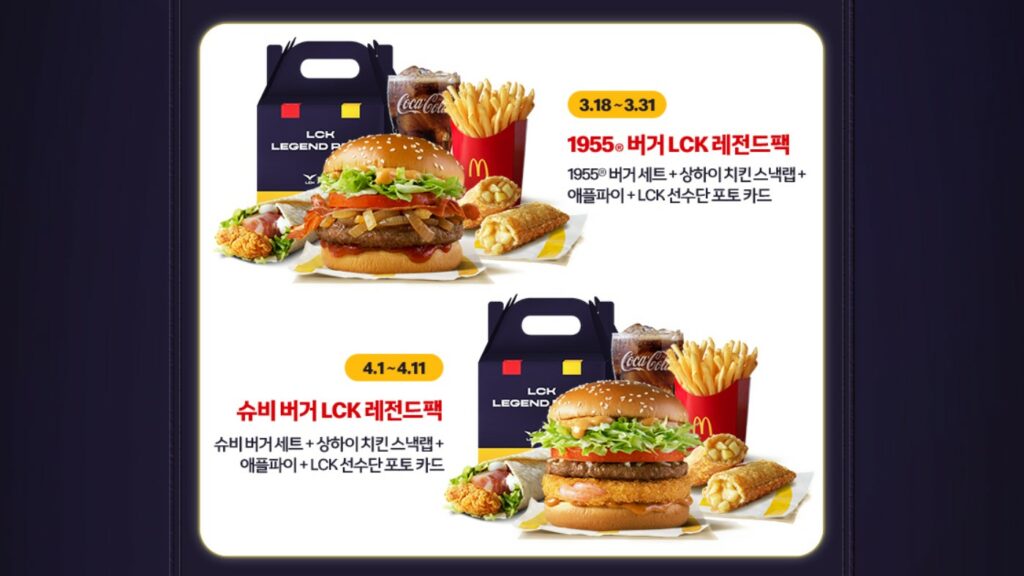 The LCK Legend Pack aims to feed hungry LCK fans with two different versions, the 1955 Burger Pack and the Shrimp Beef Burger Pack.
While the burgers are big enough to feed your in-game carry, the LCK Legend Pack has some solid add-ons of a shanghai chicken snack wrap, an apple pie, and the usual soda and french fries combo.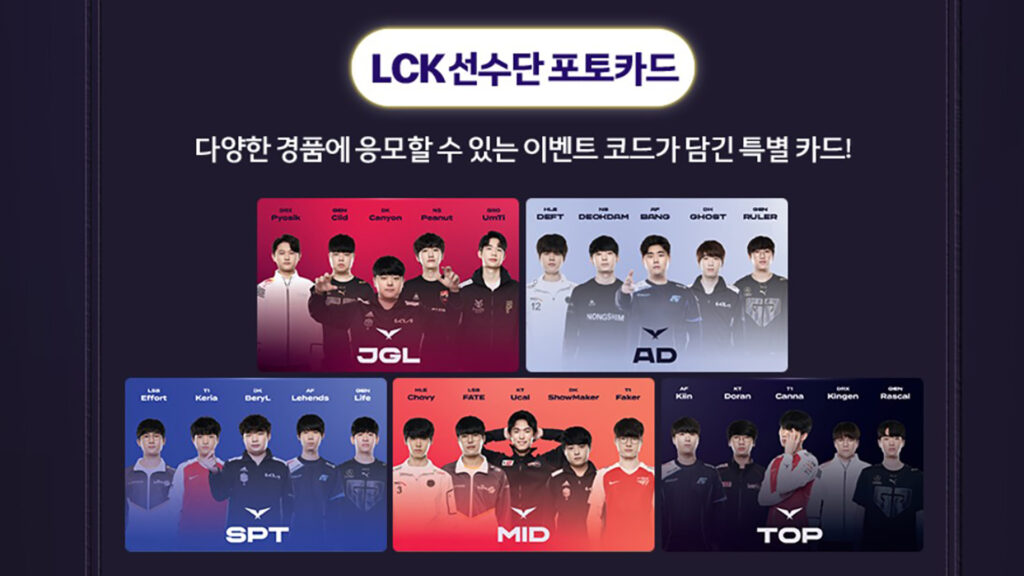 Though it may seem like a run-of-the-mill special order from the Golden Arches, the meal set will randomly come with limited edition role cards that feature the LCK's best and brightest players in each of the five roles.
If you ever wanted to have Heo "ShowMaker" Su, Jeong "Chovy" Ji-hoon, and Lee "Faker" Sang-hyeok in the palm of your hands at the same time, this is your best chance.
Here are the featured players in their roles:
Top
Afreeca Freecs Kiin
KT Rolster Doran
T1 Canna
DRX Kingen
Gen.G Rascal
Jungle
DRX Pyosik
Gen.G Clid
DWG KIA Canyon
Nongshim RedForce Peanut
Fredit BRION UmTi
---
---
Mid
T1 Faker
DWG KIA ShowMaker
KT Rolster Ucal
Liiv SANDBOX Fate
Hanwha Life Esports Chovy
AD
Hanwha Life Esports Deft
Nongshim RedForce Deokdam
Afreeca Freecs Bang
DWG KIA Ghost
Gen.G Ruler
Support
Gen.G Life
Afreeca Freecs Lehends
DWG KIA BeryL
T1 Keria
Liiv SANDBOX Effort
On top of having these snazzy LCK collectibles, the cards also contain a code on the back that you can enter into the official McDonald's Korea website for some in-game rewards and skins.
If McDonald's continues the collaboration with other limited edition LCK items, we're hoping to see individual player cards that could have a similar collectible factor like Pokémon or baseball cards.
The McDonald's LCK Legend Pack is exclusive to Korea, with the 1955 Burger version available until March 31 and the Shrimp Beef Burger version available from April 1-11.
READ MORE: After eight years, Faker returns to one of his signature champions