In between Top Esports' many LPL Spring 2021 regular season matches, Yu "JackeyLove" Wen-Bo found the time for yet another gorgeous high fashion photoshoot.
Officially a Christian Dior ambassador, his shots never disappoint — in-game and in real life.
Previously featured in Christian Dior's own photoshoot modelling their new collection, JackeyLove once again adorns the luxury brand on the cover of this month's Men's Uno magazine.
Long wires may be a gamer's headache, but when untangled and placed just right, they're an art in itself.
The lifestyle magazine included nods to esports and gaming through the use of props in various artistic ways. Holding a wooden keyboard behind his head for whatever reason, JackeyLove looks really chic on the cover.
---
---
Showing off everything from sweaters to suits, leather shoes to sandals, colored in black to neon yellow, effortlessly posing while holding a relaxed yet intense look, JackeyLove could very well be doing modelling for a living.
We especially love the black and white pictures, where he exudes pure anime villain vibes.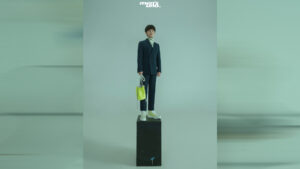 Follow Men's Uno and Top Esports here.
READ MORE: LPL superstar JackeyLove is Christian Dior's newest male model