North America's third seed Cloud9 lost all three of their games in the first half of the Worlds 2021 Group Stage.
In a stacked Group A, they took punches from reigning 2021 World Champions DWG KIA, 2019 World Champion FunPlus Phoenix, and LEC third seed Rogue.
Just to get here, Cloud9 had to compete in the Play-In Stage the week before to fight for a spot in the Group Stage. Losing to DetonatioN FocusMe in a tiebreaker, they took a longer way around after overcoming Oceania's PEACE 3-0 in the qualification round.
---
---
Cloud9 head coach Mithy's mindset before second half of the Worlds 2021 Group Stage
Speaking to ONE Esports after the first half of the Group Stage, head coach Alfonso "Mithy" Aguirre Rodríguez discussed his approach going into the second half.
"We're going to try to take it one game at a time, to try to at least win one game, do some damage, take someone with us in the group," said Mithy, who believed that the team had a "very low chance" to make it out.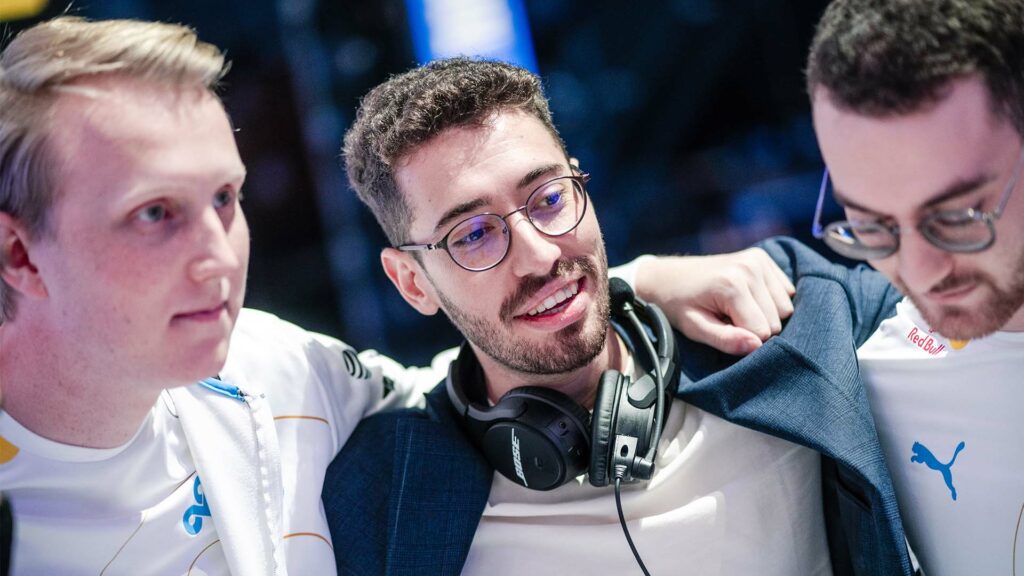 As much as the head coach has been outspoken about the uncompetitive best-of-one format at Worlds 2021, he also acknowledged that it could work in their favor.
"We'll still have to play a tiebreaker, but any given day, anything can happen, and best-of-ones also give us an opportunity to make some damage," said coach Mithy, as if prophesizing the future.
---
In the end, the best-of-one Group Stage format worked in Cloud9's favor
In their first game of the day against Rogue, star mid laner Luka "Perkz" Perković got his hands on Irelia, one of the strongest champions in the current meta.
Paired with Robert "Blaber" Huang's Lillia, the NA squad snowballed from the early game, and never let go.
Against FunPlus Phoenix, fans believed it was still a tall order to go up against LPL's second seed, but Blaber's aggressive playstyle on Xin Zhao proved otherwise.
Five minutes in, FunPlus Phoenix caught out Philippe "Vulcan" Laflamme's Rakan in the river. Immediately, Perkz and Blaber backed him up. Even though Vulcan was the first one to fall, Blaber's Conqueror was stacked, and with Perkz, they picked their targets wisely, resulting in a triple kill.
Together, Cloud9 steadily controlled the mid to late game, and displayed a high amount of teamwork and coordination, much more than FunPlus Phoenix that day.
Even though Cloud9, like every other team in the group, failed to take even one game off of a perfect DWG KIA, they made it count in the tiebreaker against Rogue in the last game of the day.
Both teams were cautious, and were focused on minimalizing mistakes in the early game. Even from mid to late game, the gold was tight between the NA and EU squads, but the fact that Cloud9 managed to secure triple Infernal Dragons aided their quest tremendously.
Eventually claiming the Infernal Dragon Soul, and acing Rogue 53 minutes in, they rejoiced, qualifying for the Worlds 2021 quarterfinals.
In a post-game broadcast interview, Blaber accounted their good performance to the fact that they scrimmed an EU team the day before, smashed them, and felt positive restarting the Group Stage.
"In a best of one system, it is nice to show up and show a good game, but at the end of the day, winning is what matters, so making it out of groups is the most important," Mithy told ONE Esports just two days before.
And today, they did just that.
Catch Cloud9 continue their 2021 World Championship run on Riot Games' official channels on Twitch and YouTube.
READ MORE: C9 Blaber: 'I enjoyed Squid Game very much, but didn't like the ending'