The League of Legends Championship Series returns this weekend for the 2021 LCS Summer Split.
While this may look like a fresh start for the teams, the 2021 LCS season format this year shakes things up by carrying over the records of the previous Spring Split.
The new LCS format explained by Chris Greeley
LCS commissioner Chris Greeley shed some light on why the league has taken in this new format.
"The benefit is that a strong performance in Spring carries over," said Greeley during the league's Media Day presentation. "If you're second or third, you still get some benefit from that."
The value of the Spring Split was put into question last year when Riot Games canceled the 2020 Mid-Season Invitational due to the COVID-19 pandemic.
Pro players at the time like Yiliang "Doublelift" Peng stated that only the Summer Split mattered, since it determined who represented their region at the World Championship.
With this new format, teams are open to try new strategies and line-ups without being overtly penalized for taking a few losses.
Chris Greeley also mentioned that the connected format does not overvalue the Spring Split, since there are 18 Spring games, but 27 Summer games.
It's also easier to calculate who will make it to the 2021 Summer Playoffs. Instead of the previous Championship Points system that valued the two splits differently, a team's advancement to Worlds will simply be a result of their final standing.
---
---
The current standings of the 2021 LCS Summer Split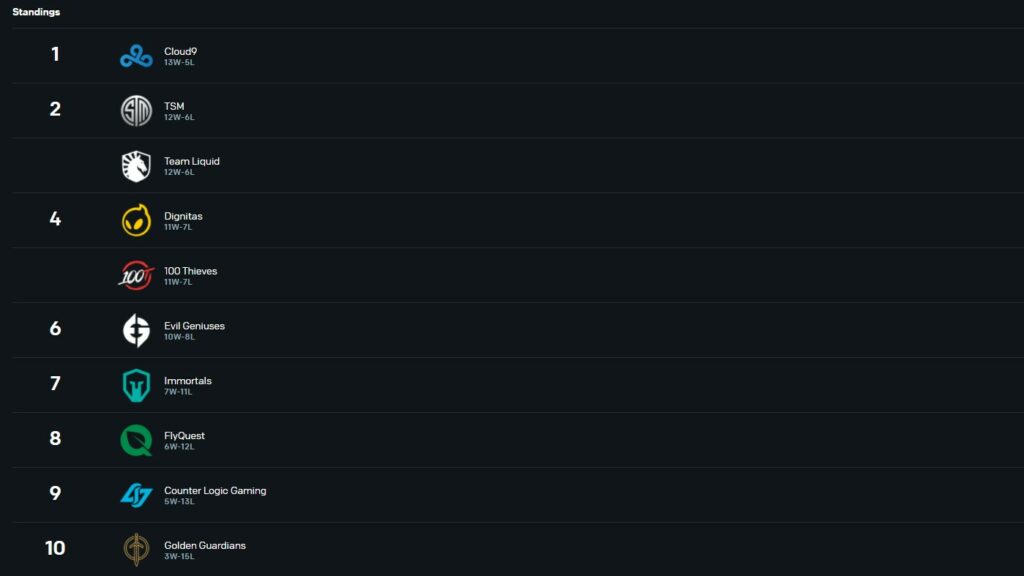 Here are the current team standings of the 2021 LCS Summer Split as of June 5, the season's start date:
1. Cloud9 (13-5)
2. TSM (12-6)
2. Team Liquid (12-6)
4. Dignitas (11-7)
4. 100 Thieves (11-7)
6. Evil Geniuses (10-8)
7. Immortals (7-11)
8. FlyQuest (6-12)
9. Counter Logic Gaming (5-13)
10. Golden Guardians (3-15)
Catch the action live on the NA league's official Twitch channel.
READ MORE: 2021 LCS Summer: Start date and complete match schedule