So far, fans have left nothing but overwhelmingly positive reviews for the Act 1 of League of Legends' animated series "Arcane".
The Netflix series is Riot Games' first foray into animation, focusing on the origin stories of sister champions Vi and Jinx.
With its captivating art style and animation, addictive soundtrack, and overall compelling plot, the first few ratings on review aggregator website Rotten Tomatoes shows a promising start for the League of Legends series.
---
---
Netflix's Arcane is at a flawless 100% on Rotten Tomatoes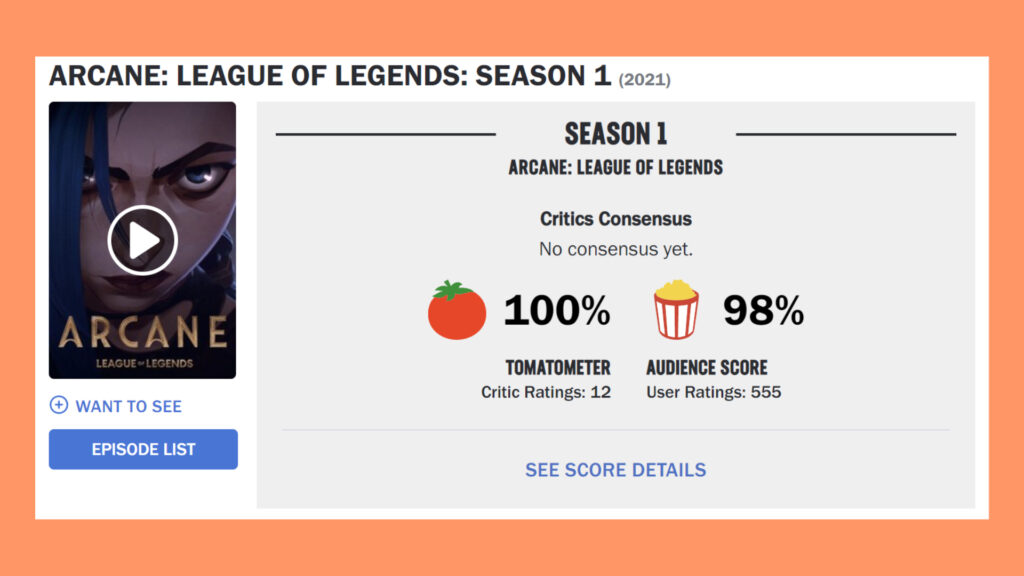 The reviews are in, and the television critics have spoken — Arcane has received a perfect 100% Tomatometer rating on Rotten Tomatoes.
All twelve critics left a Fresh rating on the show's Rotten Tomatoes page. A Fresh status means that at least 60% of the reviews for a movie or TV show are positive.
Its audience score is not that far behind at an astounding 98% from 555 user ratings. This is the percentage of users who rated the show 3.5 stars or higher.
Arcane's Rotten Tomatoes ratings has now beaten other popular Netflix shows such as "Squid Game" and "You". Squid Game received a 94% Tomatometer rating, while You has a 91% average Tomatometer rating for all three seasons.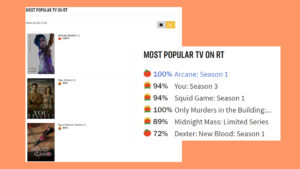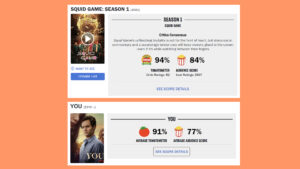 Squid Game went viral just a few months ago because of its unique take on the battle royale genre, while You has been a favorite among crime and thriller fans since 2018.
You can view Rotten Tomatoes' full television show rankings here.
Of course, these Rotten Tomatoes ratings could still change since viewers have yet to see the rest of Arcane, but for now, we agree with the positive feedback its getting.
Arcane has been divided into three acts, released every Sunday beginning November 7.
All times and days are in GMT+8.
Act 1 – November 7, 10:00 a.m.
Act 2 – November 14
Act 3 – November 21
Arcane cast and voice actors
The Netflix series stars Hailee Steinfeld as Vi and Ella Purnell as Jinx. It will explore Vi and Jinx's backstories and lore — how they lived and survived inside the City of Iron and Glass, and how they will eventually gain their powers.
Here is the full list of Arcane cast and voice actors:
Hailee Steinfeld as Vi
Ella Purnell as Jinx
Kevin Alejandro as Jayce
Jason Spisak as Silco
Katie Leung as Caitlyn
Toks Olagundoye as Mel
JB Blanc as Vander
Harry Lloyd as Viktor
Shohreh Aghdashloo as Grayson
Fred Tatasciore as Benzo
Mia Sinclair Jenness as Powder
Miles Brown as Young Ekko
READ MORE: Arcane voice actors for all League of Legends anime characters