It's time to save up on Hero's Wits!
As a longtime Genshin Impact player, I regularly go through the dreaded process of farming experience materials, and it's definitely no help that the Lantern Rite event is also giving out a free 4-star character.
But what if I told you that max leveling isn't as useful as you'd think?
Streamer Michael "Mtashed" Tash recently revealed a few tricks about character leveling that might help you with future team compositions and banner releases.
Streamer Mtashed explains level 89 trick in Genshin Impact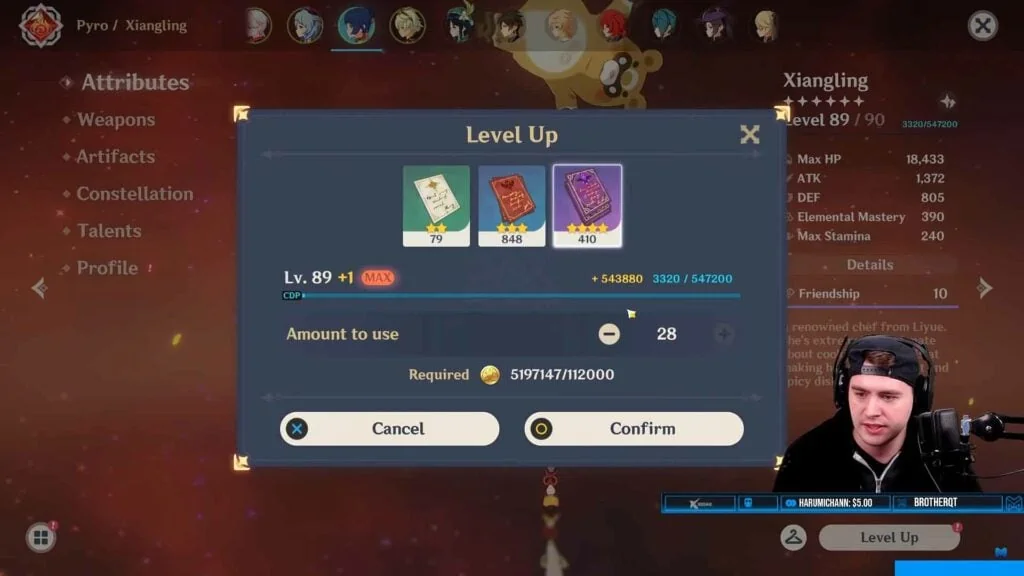 In a short clip from his stream, Mtashed mentioned that he doesn't upgrade his characters all the way to the max level of 90. He does this trick because the final jump from 89 to 90 will set you back a total of 28 Hero's Wits, the highest tier of experience materials.
Looking at the math, the streamer calculated that a full party of level 89 characters can save enough Hero's Wits, 112 to be exact, to bring another level 80 character well into the 85+ range.
He also mentioned that the last level is of no use to attack-based DPS characters like Diluc, as it only provides four more attack points.
---
---
Which characters can you max out to 90?
Of course, there are a few exceptions to the rule. Mtashed stated that Anemo characters are worth maxing to 90 because their Swirl damage scales with their level.
Users in the comments section also pointed out that HP- and defense-based characters like Zhongli and Noelle still receive substantial bumps at 90, so it doesn't hurt to spend a few materials on them.
You can check out Mtashed's full explanation of the level 89 trick down below:
Follow ONE Esports on Facebook for more Genshin news, guides, and highlights.
READ MORE: This is the most picked Genshin Impact character in Spiral Abyss Version 2.4