Do you ever wonder how the most recognizable fighting game moves came to be?
Mortal Kombat co-creator Ed Boon recently shared an interesting story about the inception of Scorpion's iconic spear move.
His anecdote was posted in celebration of his team's upcoming 30 year anniversary for the fighting game franchise's first installment.
Ed Boon slips into the video to suggest Scorpion's spear move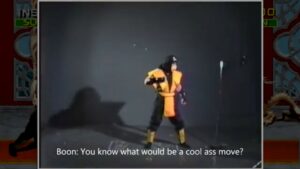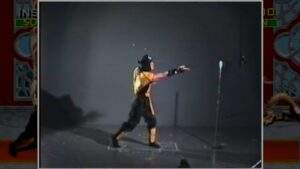 Released in 1992, the first Mortal Kombat game featured digitized sprites of filmed actors instead of hand-drawn graphics.
During the film shoot for the iconic character of Scorpion, a section of the film showcased Ed Boon conceptualizing the signature spear move of the ninja character.
---
---
The anatomy of the classic Mortal Kombat move
Boon and his crew were quick on their feet to bring the spear move to life. They considered adding ropes and attempted to figure out what the go-to voice line would be, and fleshed out the Scorpion classic on the fly.
Rather than just being a normal projectile, Boon mentioned that the move would get "stuck" into the opponent and drag them across the screen.
While the actor tried doing more lengthy iterations of the spear move, Boon said that the move should have a "5 frame" wind-up to surprise opponents.
In a chain of tweets, Boon broke down how the clip showed the initial characteristics of the powerful move.
"One of those details was how fast Scorpion threw the spear. This meant keeping the animation simple with very few frames," said Boon. "We also wanted the spear to pass over a ducking opponent, so we kept it at chest height."
Keep an eye out for more Mortal Kombat video artifacts from Ed Boon's official Twitter.
Follow ONE Esports on Facebook for more gaming news, highlights, and guides.
READ MORE: This is what Tekken's most iconic moves look like in real life