Updated on June 6, 4:10 p.m. (GMT+8): Updated results.
The International Olympics Committee has officially announced its list of games for the upcoming Olympic Esports Series 2023.
The lineup features an obscure assortment of games that seems out of place. The top esports competitions in the world mostly feature MOBAs (multiplayer online battle arena), first-person shooters, fighting games, and real-time strategy titles with a massive global audience, such as Valorant, League of Legends, Dota 2, Mobile Legends, and Tekken.
Instead, the IOC has chosen game titles like Tic Tac Bow, Zwift, Tennis Clash, and other virtual games that left esports enthusiasts scratching their heads.
---
---
The International Olympics Committee selects a myriad of interesting games for the Olympic Esports Series 2023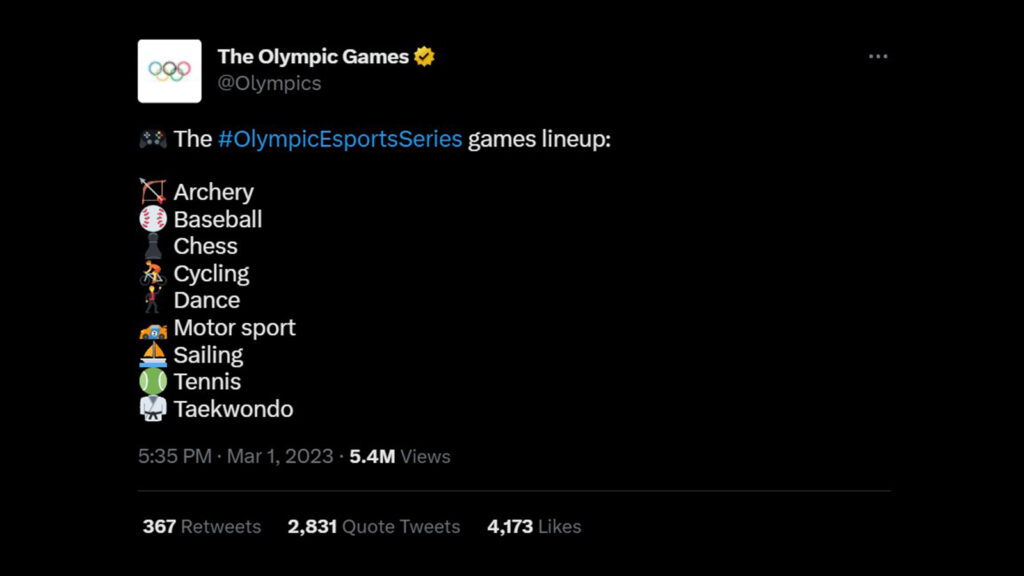 On March 2, the IOC announced the nine "virtual sports" titles that made it into their games lineup. However, only two games on the list are known for having a large fanbase and competitive structure.
Chess.com announced on January 22 they had 10 million active members, the most people on their platform. They also have the Champions Chess Tour, a series of chess tournaments that feature the world's top players, including five-time World Chess Champion Sven Magnus Carlsen.
The famous racing game Gran Turismo is a competitive motorsport title created by the Japanese game development studio Polyphony Digital. In addition, the Gran Turismo World Series is an esports pro circuit that pits the world's best motorsport gamers against one another.
Just Dance is a rhythm title that's popular with casual gamers. However, it isn't considered a competitive title. The remaining six titles chosen for the Olympic Esports Week are even less popular, with no competitive roots.
In fact, Tennis Clash is a mobile game that has been described by some players as a pay-to-win game.
"I end up playing against opponents with way better stats most of the time, and there is nothing you can do to win," one user said in his Google Play review. "Some upgrades cost a lot and only slightly improve one stat."
Olympic Esports Series 2023 games lineup
| | |
| --- | --- |
| SPORT | GAME TITLE |
| Archery | Tic Tac Bow |
| Baseball | WBSC eBASEBALL™: POWER PROS |
| Chess | Chess.com |
| Cycling | Zwift |
| Dance | Just Dance |
| Motorsport | Gran Turismo |
| Sailing | Virtual Regatta |
| Taekwondo | Virtual Taekwondo |
| Tennis | Tennis Clash |
"The Olympic Movement brings people together in peaceful competition," said David Lappartient, Chair of the IOC Esports Liasion Group. "The Olympic Esports Series 2023 is a continuation of that, with the ambition of creating more spaces to play for both players and fans of elite competition."
"We look forward to witnessing some of the world's best compete on the global stage, as well as exploring together shared opportunities and lessons — across health and wellbeing, training and innovation," he continued.
The finalists for each esports category has been announced the Olympic's official Twitter.
The qualified esports athletes will move on to the in-person finals set to take palace at Singapore's Suntec Centre from June 22 to 25. The series of competitions will be streamed globally across Olympics.com and Olympic social channels.
READ MORE: 5 women who are making esports history