Asia's biggest esports racing tournament, the GR Supra GT Cup Asia Regional Round 2020, hosted by Toyota Motor Asia Pacific in association with ONE Esports, is close to its final competition, which will take place on October 25.
Here's everything you need to know.
With the completion of the National Rounds, there are 15 qualifying racers left in the final regional round.
The top three fastest drivers from India, Malaysia, the Philippines, Singapore, and Thailand, will all compete in the Regional Final with US$10,500 on the line.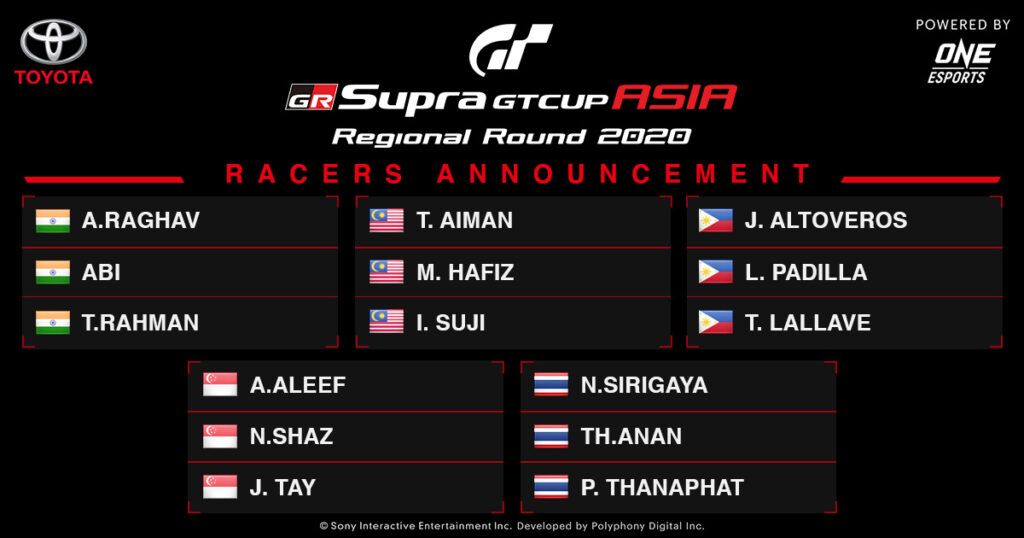 In addition, players that have participated in at least four online races from Round 1 to Round 7 in the FIA Gran Turismo Championship will also be eligible to qualify for the GR Supra GT Cup Global Final in December if they are able to win the Asia Regional Final.
For the Final, racers will compete in three races, with their total points over the three races determining their final score.
The tracks will be:
Fuji Speedway – 8 a.m., Clear
Tokyo Expressway – 6 p.m., Clear
Nürburgring (Nordschleife) – 12 p.m., Clear
Every racer will be driving the same Toyota GR Supra in Gran Turismo Sport.
The winner will receive US$6,000, second place will get US$3,000, while third place will receive US$1,500.
Catch all the action from the tournament on October 25, at 7 p.m. (GMT+8) on the ONE Esports Facebook, YouTube, and Twitter channels.