In anticipation of the release of Fortnite: Battle Royale's Season 8 update on February 28, Epic Games has been tweeting out a teaser image one part at a time.
With Season 8 set to go live tomorrow, the completed image may hint at what's coming with the update — pirates, a volcano, and… a banana man.
The Fortnite Twitter account started revealing the teaser image on February 24, and it showed what appeared to be a pirate hook — suggesting a possible pirate theme for Season 8.
'X' Marks The Spot
Treasure abound
Loot that has been lost
Can always be found.
4 days to Season 8. pic.twitter.com/1U8n7x4pQQ

— Fortnite (@FortniteGame) February 24, 2019
That was followed by the next part of the image, which depicted a snake.
Sssomething shimmers
Within the cave…
But beware of those
Who arrive on waves.
3 days to Season 8. pic.twitter.com/Gn7ttmR39m

— Fortnite (@FortniteGame) February 25, 2019
The third teaser showed a somewhat hidden tiger and the jaw of the skull that seemed to be show the overall theme. So, pirates, snakes, tigers, and flames, nothing too out of the ordinary for an update, right?
Awaken beasts
Of fire and ash
Battle it out
And loot the stash.
2 days to Season 8. pic.twitter.com/rdMrhYbZ1S

— Fortnite (@FortniteGame) February 26, 2019
Then we were hit with a curveball, as the last part of the teaser image depicts a banana with a concerned look on his face. Yep, really ties everything together.
Explore the world
Challenge your fate
Unearth the secrets
Adventure awaits.
Season 8 starts tomorrow! pic.twitter.com/7RqNbhSeFG

— Fortnite (@FortniteGame) February 27, 2019
Here's what the completed teaser image looks like when put together: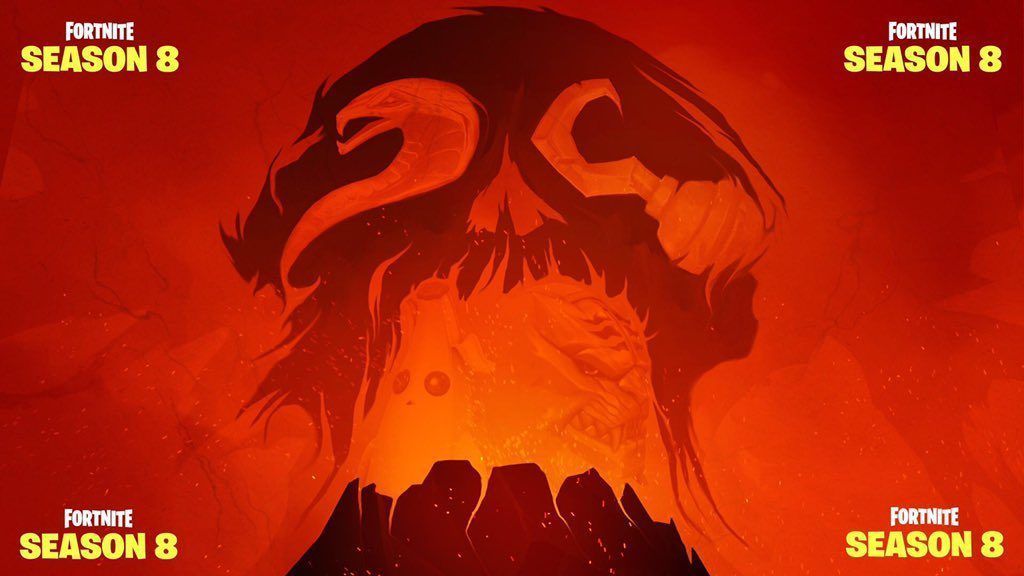 So, there's a snake, a pirate hook, a tiger, and a banana man all forming a skull whose jaw looks a bit like the maw of a volcano — which might explain the fiery red color pallette.The teaser image is Fortnite at its finest.
Epic Games has always ended Fortnite's seasons with dramatic events, from a comet striking the map, a rocket appearing out of nowhere, and an evil cube ravaging the landscape, among others.
However, the developer likes to follow that up with something that is a little less serious. For example, Season 7 saw Polar Peak, ruled by the menacing Ice King, encroaching on the map, which was in itself quite the dramatic event.
Then we later discoverel that there's a Yeti who likes tea parties living in an ice cave nearby. Season 8 clearly follows that pattern. You've also got the dramatic flair of a skull that is also a volcano made out of a snake, a tiger, and a pirate hook, then just smack bang in the middle there's the banana man. It's hard to determine just what Season 8 will be bringing to Fortnite from the somewhat vague teaser image, but we won't have to wait long to find out.