Emil "Nyhrox" Pedersen and David "aqua" W. are the first ever Fortnite World Cup duos competition champions. The European pair outpaced the crowd with a total of 51 points through six matches, earning US$3 million between them.

Using a points system that gave competitors plenty of room to rally up the standings, the Fortnite World Cup duos final saw a thrilling back and forth from the 50 participating teams.
After barely making a dent in the top ten rankings in the first three matches, Nyhrox and aqua dominated in the fourth and fifth games to rise up the leaderboard right when it counted.

Another European team, Dave "Rojo" Jong and Jaden "Wolfiez" Ashman, took second place with 47 points. Wolfiez turned heads in the competition for using a controller, often considered inferior to mice when it comes to in-game precision.

Below are the final top 10 standings for the duos competition: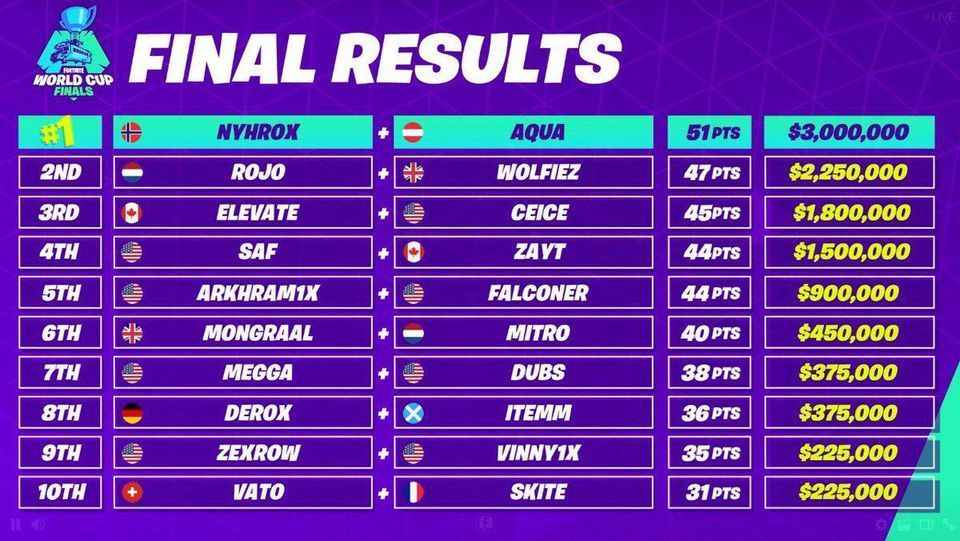 There's more Fortnite World Cup action in store for aqua. The Austrian player will also compete in the solo competition finals, which is scheduled to kick off around 1 a.m. on July 29 (GMT+8).

READ ALSO: Fortnite World Cup Finals: Airwaks and RL Grime win their second Celebrity Pro-Am