The duo of Fortnite: Battle Royale pro Karim "Airwaks" Benghalia and American producer RL Grime emerged victorious at the Fortnite World Cup Finals Celebrity Pro-Am, winning US$1 million for their charities of choice.
It was also their second consecutive Fortnite Pro-Am title.
Despite going without a Victory Royale in the four games of the Pro-Am, Airwaks and RL Grime beat out another stacked field for the lion's share of the US$3 million charity prize pool, trumping the likes of Tyler "Ninja" Blevins and DJ Marshmello, as well as Tyler "Tfue" Tenney and rapper Nav, among others.
While Airwaks and RL Grime finished the first game with a respectable 14 points, it was the Korean duo of pro SinWoo "Sinooh" Jung and Oking that topped the leaderboard with 23 points.
Team Solo Mid's Ali "Myth" Kabbani popped off in Game 2, gunning without his partner for most of the match to finish with 21 points. While Tfue scored a kill on Sinooh in the later stages of the game, Airwaks and RL Grime took first place in the boards with 28 points thanks to their steady play.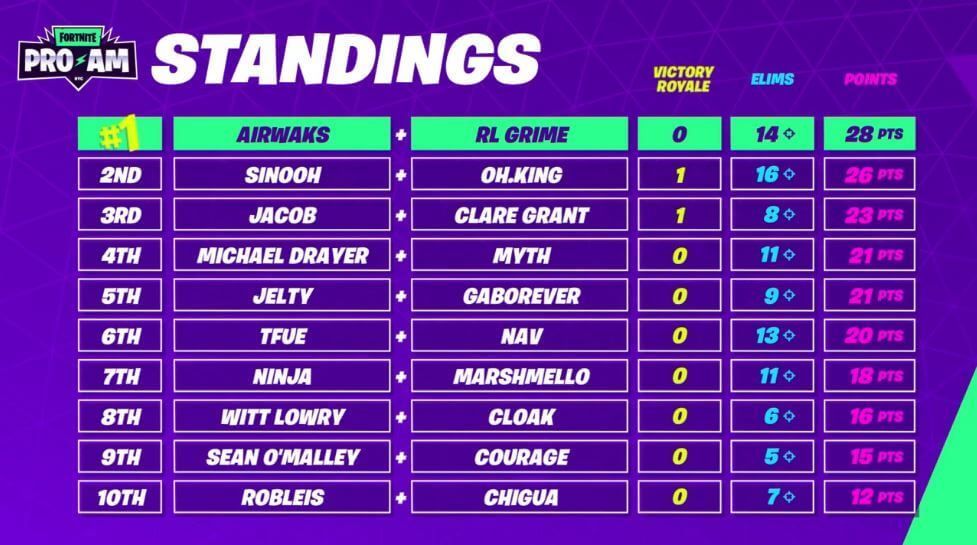 In a slow Game 3, Mexican YouTuber Jelty emerged with the Victory Royale to move up to third place in the leaderboards. Airwaks and Sinooh continued to hold the top two spots respectively however, even if the latter scored a kill on the former as the game closed out.
The action picked up by Game 4, with Renegade's MrFreshAsian securing five early kills in Salty Springs before being eliminated by Jelty, who was then gunned down by MrFreshAsian's partner, actor Desmond Chaim. Airwaks would later score a kill on Ninja to help pad a 12-point lead over second placer Sinooh atop the leaderboards.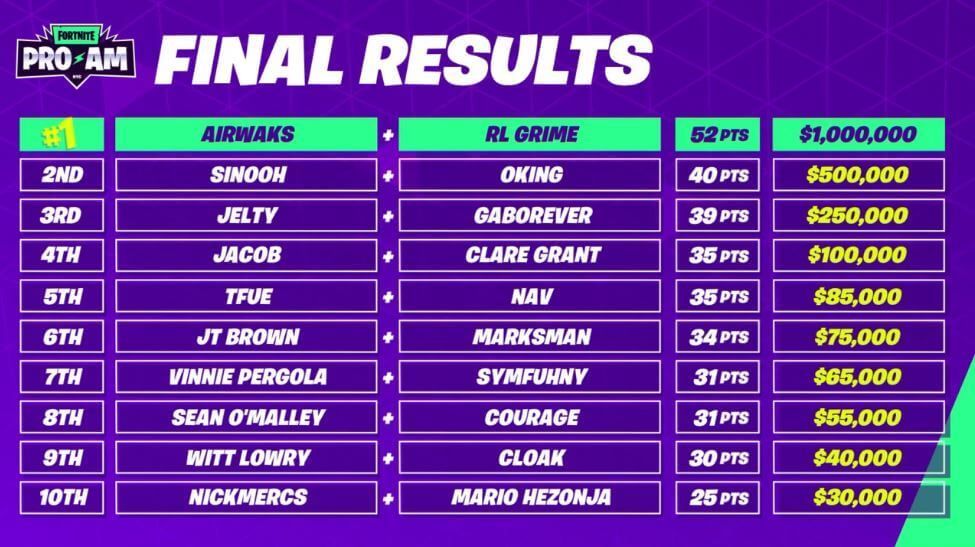 With his second Pro-Am title, Airwaks has emerged as someone who can make a splash in the Fortnite World Cup finals. The former League of Legends pro has notably qualified for the Duos Finals, alongside Solary teammate Nîkof. RL Grime has proven he's no slouch at Fortnite too, as he was able to hang with some of the biggest names in the community.
The duo won their first Pro-Am title at the Fortnite Summer Block Party, which also had a US$3 million charity prize pool, in June.
The Celebrity Pro-Am rounded out the first day of the Fortnite World Cup Finals, with Fish Fam emerging victorious in the Fortnite Creative World Cup Finals earlier in the day. The Fortnite World Cup Duos and Solo Finals will take place on the second and last days of the event, respectively.
READ ALSO: Fortnite World Cup: Faze Cizzorz leads Fish Fam to victory in the Fortnite Creative World Cup Finals