FIFA esports will be introducing a total revamp next year as it officially introduces the EA SPORTS FIFA 21 Global Series with proper regional competitions.
Due to the ongoing pandemic, EA has replaced its large-scale global competitions with virtual events. As revealed on a recent blogpost from Rushan Shekar, League Operations Manager for FIFA Competitive Gaming Entertainment, the goal now is to ensure that the popular esports platform can continue to run its competitive events with health and safety in mind.
"To accomplish this, we have completely re-imagined the EA SPORTS FIFA 21 Global Series to focus on online, regional play from home," he shared.
Winners of each regional will earn a share of the US$3 million prize pool and get the opportunity to compete at the FIFA Majors — FIFA eNations Cup, FIFA eClub World Cup, and FIFA eWorld Cup.
---
How to Register and Play?
Gamers keen on signing up for the upcoming regional events for FIFA 21, which kicks off from November 21, 2020, will just need to do the following after they registered:
Achieve FIFA 21 Ultimate Team (FUT) Champions Verification
Earn Points in FUT Champions
Earn Points in Online Qualifiers
Represent a Football Club in Domestic Leagues
Qualify for the Regional Playoffs
Registration for FIFA 21 Global Series is now open and will close on December 31, 2020. Those that manage to win 27 games and reach Elite 1 Rank in a single Weekend League before the end of 2020 will become a FUT Champions Verified Player, earn points in FUT Champions, and gain access to a special game mode that will help facilitate online tournaments.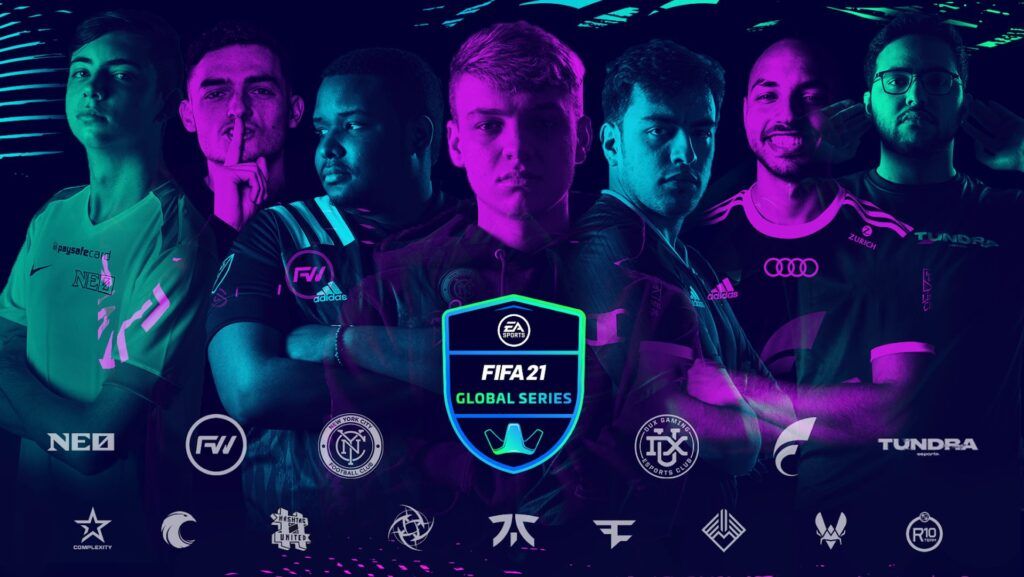 Under "Friendly Competition", players can set up matches against opponents with esports dedicated options:
Setting up a two-legged game with an aggregate score
Locking in a start-time for the match and ball possession for formal restarts in a match
Checking out the opposing squad before the match kicks off
Choosing a specific FIFA Game Data Center to play on
To secure a spot on the Regional Playoffs, players must play in official qualifiers and earn Global Series Ranking Points. Each region will have its own list of matches — all set as double elimination games — that players can join in and compete. They are:
Europe: Five (5) Qualifiers each on Sony PlayStation 4 and Microsoft Xbox One
North America: Five (5) Qualifiers each on Sony PlayStation 4 and Microsoft Xbox One
South America: Five (5) Qualifiers each on Sony PlayStation 4 and Microsoft Xbox One
East Asia: Three (3) Qualifiers on Sony PlayStation 4
West Asia: Three (3) Qualifiers on Sony PlayStation 4
Oceania: Three (3) Qualifiers on Sony PlayStation 4
South Africa: Three (3) Qualifiers on PlayStation 4
There is a limit for each tournament — 1,024 players. If more apply, then only those ranked from 1,024 and above can compete. For the first tournament of the season, cumulative Weekend League wins will be used to determine seeding.
---
Going Regional
How will EA play-up this new format?
With the roll-out of its regional-focused online plans, this updated system will sort players into "regions of play". Based on their country of residence, players can only play in a zone that directly corresponds to their country/territory of residence and cannot change the region they play in once the season begins.
The regions are broken down into the following:
Europe: Austria, Belgium, Bulgaria, Croatia, Czech, Republic, Denmark, Estonia, Egypt, Finland, France, Germany, Great Britain, Greece, Hungary, Iceland, Ireland, Israel, Italy, Luxembourg, Malta, Netherlands, Northern Ireland, Norway, Poland, Portugal, Romania, Russian Federation, Slovakia, Spain, Sweden, Switzerland, Turkey, Ukraine, United Kingdom
North America: Canada (including Quebec), Mexico, United States of America
South America: Argentina, Bolivia, Brazil, Chile, Costa Rica, Colombia, Ecuador, Netherlands Antilles, Paraguay, Peru, Puerto Rico, Uruguay, Venezuela
Oceania: Australia, New Zealand
East Asia: China (including Hong Kong and Macau), Indonesia, Japan, Malaysia, Philippines, Singapore, South Korea, Taiwan, Thailand, Vietnam
West Asia & South Africa: India, Kuwait, Qatar, Saudi Arabia, South Africa, United Arab Emirates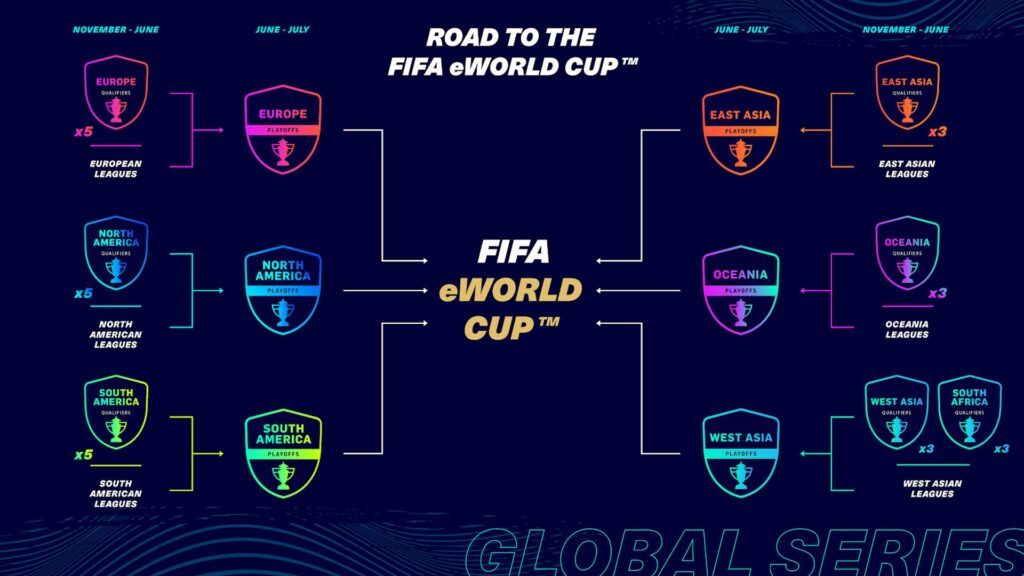 Besides the new zoning, these regional events will now use its own leaderboard ranking system and score all participants based on the number of qualifiers available and the volume of competitors playing in them. The top teams for each board will be move on to play at the Regional Playoffs.
---
Streamlined Systems
With its esports events now operating in different regions, EA has deployed dedicated data centers for each zone to ensure the competitions run smoothly. Players from a specific zone can log onto the following FIFA Game Data Center:
Europe: Frankfurt
North America: P2P
South America: P2P
Oceania: Sydney
East Asia: Hong Kong
West Asia: Dubai
South Africa: Johannesburg
To further ensure all matches are smooth running, the FIFA 21 Global Series will not accept gamers who are on the Sony PlayStation 5 and Xbox Series X. Besides Europe, North America, and South America, which will run all tournaments on both Sony PlayStation 4 and Xbox One, all other regions will exclusively hold their respective contests on Sony's current-gen game console.
As this is also a high-level global event, the FIFA 21 Global Series will also be holding a Pre-Season Scrimmage on October 31 and November 1, 2020. This two-day event has two goals — give players a couple of competitive practice runs and let EA SPORTS brute-force test its servers and use real world information to improve the capabilities of its competitive servers.
While there all these changes taking place in a couple of weeks, EA has yet to reveal the full details on the FIFA Majors.
More information about this total revamp for FIFA 21 esports can be found here.
Read more: New FIFA 21 trailer gives us a sneak peek of next-gen console graphics