The League of Legends LCS, LCK, LEC, and LPL Spring Splits are here with teams in all regions battling it out for glory and a spot at MSI 2022.
But who will represent their region on the international stage?
If you think you know, you could win a share of over 70,000 Riot Points or 20,480 Garena Shells!
Here's how it works.
We've leveled up our Fantasy experience and there are now two ways to play: Pick'Em and the all-new Live Fantasy experience.
Whichever format you're playing, you'll be able to earn Fantasy Tokens. At the end of the month, the 10 players who have earned the most Fantasy Tokens from playing LoL 2022 Fantasy Spring Split Live Fantasy or Pick'Em will win the following prizes.
1st place – 10,000 RP or 3,200 Garena Shells
2nd to 4th place – 8,000 RP or 2,560 Garena Shells
5th to 10th place – 6,000 RP or 1,600 Garena Shells
How to play ONE Esports Fantasy Pick'Em
Before each match starts you'll have the opportunity to earn Fantasy Tokens by playing Pick'Em.
All you have to do is predict the answer to three questions for the upcoming match:
Who will win?
Which team will get the most kills?
How many Dragons will be killed?
Think carefully because you'll need to answer all three questions correctly to score any points.
All players who correctly answer all three questions will split a prize pool of 3,000 Fantasy Tokens.
E.g. If 10 players answer all three questions correctly, they will each earn 300 Fantasy Tokens, but if only five players answer all three questions correctly, they will each earn 600 Fantasy Tokens.
How to play ONE Esports Live Fantasy
Live Fantasy is ONE Esports' latest fantasy experience, letting you enjoy the fantasy experience right as the game is happening.
Here's how it works.
In each match, you'll be able to spend resources to add players to your roster. As players pick up kills, assists, and win objectives, your team will earn points. The better your players perform, the more points you'll earn.
The players with the greatest number of points at the end of the match will win Fantasy Tokens.
How to create your roster
At the beginning of every Live Fantasy match, players will start at Level 1 and be given 100 Resources to spend to add players to their roster.
To add a player to your roster, follow these steps:
Click on Resource cost to the right of every player in the team menu.
The chosen player should now be added to your roster. You can even have multiple copies of the same Athlete. To do this, click on the '+' sign on your chosen player.
Each player's Resource cost increases or decreases depending on how well they're performing.
Changing your roster and frozen rosters
You can add and remove players in your roster throughout the match, as long as you have the resources to do so. The only time where you will not be able to change your roster is when team and roster menus are Frozen.
This happens when there are major events happening such as big team fights. Once the team fight has concluded, the Frozen status will revert to Unfrozen and you will be able to modify your rosters again.
Leveling up and gaining more resources
As you earn points throughout the match, you will level up. Leveling up grants you more resources to spend on your roster thus improving the number of points you can potentially earn.
Information Tabs (Desktop)
You can find helpful information about Live Fantasy and the match you are in such as the rules, leaderboards, milestones, and match events in the tabs below the stream.
Information Tabs (Mobile)
If you are playing Live Fantasy on your mobile, you can access the information tabs by clicking the main Navigation Menu button and then selecting the information tab you want to see.
At the end of each match, a leaderboard will determine how many Fantasy Tokens you have earned: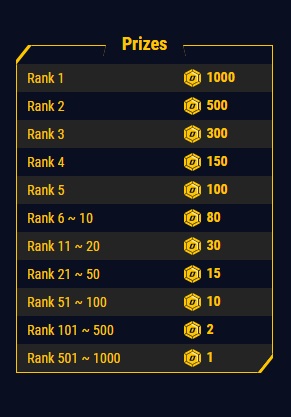 The LoL 2022 Spring Split Fantasy Challenge starts today and ends on April 24, 2022.
Ready to play? Sign up here!