The Starladder ImbaTV Dota 2 Minor's qualifiers have wrapped up, and we now know who will be fighting for the two remaining spot for the Epicenter Moscow Major.
The StarLadder Ukraine Minor starts on June 12 and is the final Minor of the 2018-2019 Dota Pro Circuit season. The eight teams that have qualified will be competing for a chance at US$300,000 along with 500 DPC points. Here are the qualified teams: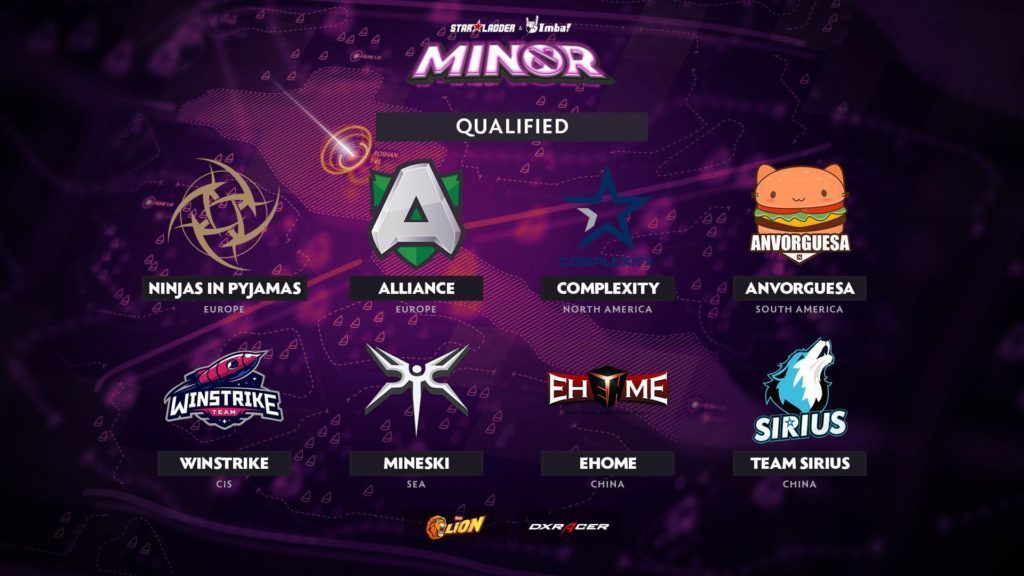 ---
For Europe, the two qualified teams are Ninjas in Pyjamas and Alliance. NiP dominated the playoff stages of the qualifiers, beating out all their opponents, 2 0.

After suffering a defeat against NiP in the Winners' Final, Alliance bounced back and defeated The Final Tribe to take the second spot in the European qualifiers.

---
North America had four teams participating in the qualifiers, which resulted in Complexity Gaming taking control of the playoff stages. They beat out Beastcoast and J.Storm twice to take the NA spot.

---
The Commonwealth of Independent States' qualifiers hosted six teams but only Winstrike moved on to StarLadder Ukraine since they were able to defeat Natus Vincere in a thrilling finals series.

---
Like Europe, China had two spots up for grabs. EHOME made their competition look mediocre, as they did not lose a single game throughout the qualifiers and defeated Team Sirius in the Winners' Final. Team Sirius, on the other hand, was able to recover after their loss and defeated Keen Gaming in the Losers' Final to take the last spot.

---
Another team that ran through the competition during the Southeast Asia qualifiers was Mineski. They defeated BOOM ID and Power of MYSG+AU twice to get their invite to Ukraine.

---
The last region to finish their closed qualifiers was South America, which provided some interesting results. Gorillaz-Pride looked poised to take the final qualifying spot, as they defeated all their opposing teams convincingly all the way to the grand finals. However, Team Anvorgesa had other plans, they climbed all the way back into the competition from the lower bracket and defeated Gorillaz-Pride 2-0.

---
SEE ALSO: Earthshaker Arcana now available in the TI9 battlepass