You had your chance to ask anything you want to one of Southeast Asia's best Dota 2 players, now here are the answers.
Nuengnara "23savage" Teeramahanon is a rising superstar. The hard carry, now plying his trade for Talon Esports, had helped his team earn multiple podium finishes internationally, as well as dominating his Southeast Asian rivals through the Dota Pro Circuit.
In an exclusive AMA with ONE Esports, brought to you in partnership with Samsung, 23savage talks about his favorite films, what heroes can single-handedly carry the game, and his strategy for taking down a 100 Kobold-sized Roshans.
---
---
23savage AMA with ONE Esports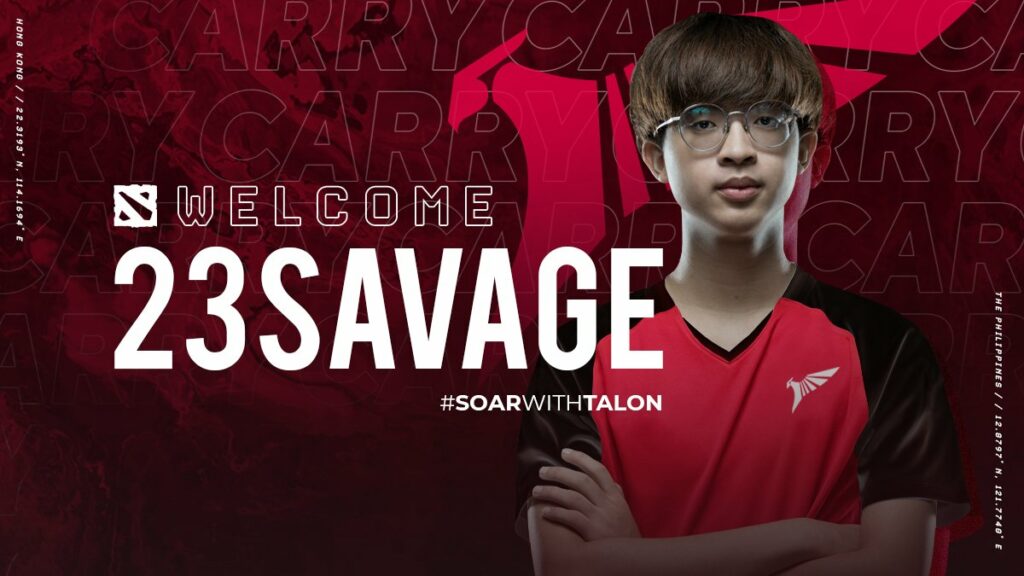 Do you still watch football? How do you feel about Arsenal right now?
We choked so hard and could have won a lot of games. I think Man City will win the league. So whatever. Man City will win the league. They will win everything.
If you had to fight one guy on your team, who would it be?
Q. No, wait, I think Mikoto. I think he's the smallest. I don't think he knows how to fight. I'll definitely beat him up.
If you could be pro-level at any other game, what would it be?
Pro? Maybe League of Legends.
League of Legends? Do you just like MOBAs?
Yeah, I think I like MOBAs more than FPS. I played Arena of Valor, and some Mobile Legends. But I think AOV is more fun.
Last time, I only got Platinum, which was like five years ago. And then I just played Dota because I want to play with mouse and keyboard.
What would you be if you weren't a pro gamer?
I don't know. I think just a casual guy studying in university. I would still be a third-year.
Did you have a dream job as a kid? Or was it always pro gamer?
I didn't have any dream job until I found out that I'm pretty good at gaming. And then it's just like, maybe I can play. So it was just a coincidence. I didn't really dream of being a pro gamer.
What do you do in your free time?
I listen to music. I watch a lot of movies. And right now, I just started going to the gym, and driving. So I just try to do things like normal people do. It makes life more fun. And not keep playing the game. It's like, not that fun for me.
I mean, it's fun, but I want to do something like normal people sometimes. Just like my friend in university. Just living life.
Do you feel like you've gone through a very different life arc because you started pro gaming early on?
Yeah, I feel like I've been working too fast. Even lonely sometimes.
What movies do you like? Have you watched anything recently?
I watch a lot of romantic movies. Sometimes, just any blockbuster movie. John Wick is a recent one I watched because I had time. I wanted to watch Guardians of Galaxy but no one goes with me.
I liked La La Land and Notting Hill. I think these two are the favorites.
Do you game outside of Dota?
Yeah, I play Valorant and I play CS:GO. I play like every game that's coming out, but I don't play RPGs because they take a lot of time.
Do you have a favorite non-Dota game?
Think Counter-Strike? I like it the most. So fun. When you hit the headshot, it's really amazing.
Is there a headshot equivalent in Dota? Something that's like "woah" for you.
Maybe you play Wraith King and you kill the enemy support in one hit. Something like that.
What was your reaction when you saw Jabz cue up Radiance or Echo Sabre on the offlane?
Not a great feeling, but kind of trust him. He does it on his own, so we just gotta believe in him.
People on this team respect him a lot. So we always trust him, and we just got to keep trusting him.
What's your MMR now after the rank change?
I'm now at 10.8k MMR. I didn't really have time to keep playing and win that much. And it's really hard to gain MMR now, plus 40 and minus 10. People just pick the lowest rank in the team. It's the meta.
What was the first hero you played in Dota?
Juggernaut. My brother said it's easy to spin, the first spell.
Which hero was it that made you fall in love with the game?
I think Morphling and Invoker. Just, like, so hard. It's so hard. That is so fun.
What hero do you use the most often, and which item build is your favorite?
Morphling is the hero I use the most, and my favorite item is Skadi. I like to buy Skadi on every carry.
If you could only pick one hero for the rest of your life, who would it be?
I think Faceless Void. It's easy to control the game. You're the only one who decides how the team fight will be, and It's all on your Chrono. So you get to decide your fate.
---
---

Who do you think is the best position one in the world?
I think right now it's miCke or dyrachyo.
Dyrachyo is like aggressive, miCKe is kind of passive. Not passive, but more passive than dyrachyo.
Every play style suits a different team. In the Gaimin Gladiators team they are quite aggressive. But Liquid team, they're not that. They're more likely to pick up a fight and then run back. But GG plays really aggressively. Everyone on that team can carry the game, so even if one guy dies, the other two can carry. I think that's how they win the game. Quinn is good. He's for sure the best mid laner now.
---
---
What draws you to play position one and keep playing carry?
I just like to carry the game. It's fun. I like the pressure.
I want to take the hardest role. To have all the money, and need to make the team win. That's what I like about playing carry.
You're known for your Naga Siren and Terrorblade play. What's the secret to playing well on illusion heroes?
These heroes, you need to play them a lot until you know every angle of the hero. Know every item builds against certain heroes.
You need to remember how the creeps are gonna come, and when they reach certain points of the map. You just need to practice a lot.
The map is so big now. Do you think that benefits illusion heroes in general?
Yeah, it makes illusion heroes farm faster. With Naga, I can just split three lanes and farm every camp in the game.
How much do you practice in a day? How much do you need to practice in a day?
Like, five hours scrim, and then five to six hours pub.
I have a better work-life balance now. Before I used to play 14 hours a day. I don't think playing that much helps. It's just dreadful. Before that, the reason I kept doing it was because I have nothing to do in life.
Is burnout a big problem in pro Dota?
Yeah. I think in the end, we're human beings. We need something to do other than just doing one thing. We need other distractions, so we can work better. We need some more fun in life.
What do you think was the difference for Talon Esports between the Berlin and Lima Major?
(Talon claimed third place at the Lima Major after a 4-3 finish in Tour 1, then finished tied-seventh at the Berlin Major after a dominating 7-0 performance in Tour 2.)
I think the difference was that we figured out the meta slowly. It's different from Lima where we knew that Lina was good, Brood was good. But this tournament, we figured it out quite late.
Is figuring out a meta when a new patch drops more a player's job? Or is it a team effort?
It's everyone's job. I'm more of a go-and-play guy. I don't really like reading. You don't really know until you play.
How much of a difference can coaches make in professional Dota?
A lot, I think a good coach can make a team become a good team.
You've had a few coaches over the years. Do they come in with different styles? Do the players need to adapt, or is it the other way around?
Everyone has a different style of coaching and players need to adapt to the coach.
How important has SunBhie been for Talon Esports?
He's so important. He makes everyone have discipline. And he talks a lot about the in-game stuff, which no one really talked about that much.
Do you think there are any heroes in this patch that are underrated and will be more popular soon?
Maybe, Void? I think Void will become good. I have a new build and I think it's good.
What do you think of patch 7.33?
I think it's a fighting patch. You just need to get your item, fight fast and win the fight. Then keep doing it until you win the game.
It's so hard to farm because the gold from kills is really worth it. They're really worth more than farming. Kill all the enemies, let the hard carry farm, and then you outscale them.
As a pro, does it feel like you get into slumps? And how do you get out of those?
Not really, I never feel like I hit a slump.
I always play the game. I'm not really getting distracted by other things. Even when I go out, I still come back and play. So I try to keep myself the same, in good shape. I think I'm one of the consistent guys in SEA.
What do you think of the DPC's new three-week schedule going into the Major?
I think three weeks is better. I just want to play more tournaments or have a lot more time. Six weeks was too long, it was like one match per week. What are you going to do in the other six days, you're gonna scrim six days? I think it's a waste of time. This one is better.
Do you use any analytics websites for Dota?
Not really. Maybe Dota 2 Pro Tracker. I just want to see what other people have been playing. The carries, the heroes. Sometimes I check my stats. What hero do I win a lot with? I think it's just fun to look at statistics.
Would you rather fight one Roshan-sized Kobold or 100 Kobold-sized Roshans?
Oh, 100 Kobold-sized Roshans. I'll play Magnus, and then I'll just RP it all. And maybe get Battle Fury.
What about you personally? Do you think 23savage can take on 100 Kobold-sized Roshans and come out standing?
I think I'll die at like 10 Kobolds.
READ MORE: DPC 2023 point standings for the top Dota 2 teams in their regions