Right behind Evil Geniuses is another team who has won The International in the past. Highly competitive and fan favorites, Team Liquid is yet another squad to look out for at this year's The International 9.
While Liquid has gone through some ups and downs at this year's DPC season, they are still a team to be reckoned with. Based on the rankings, they're the second-best team from Europe, arguably the most competitive region in the whole world this year. They've beaten TI5 winner Evil Geniuses and CIS powerhouse Virtus Pro this year as well.
Here's how they did it: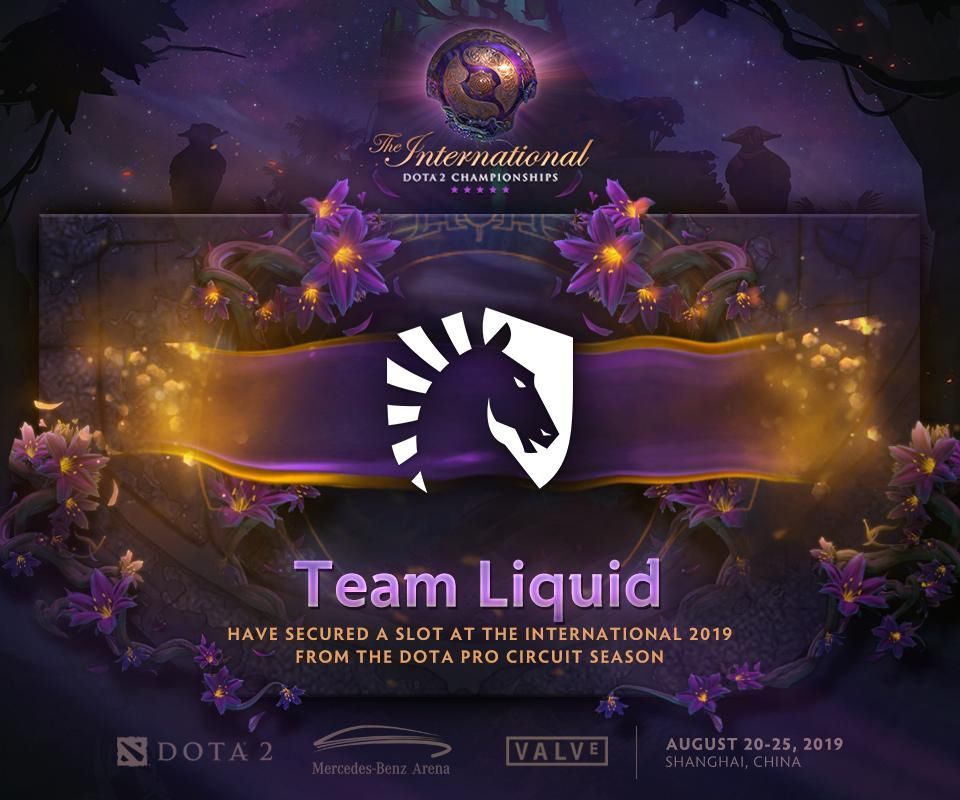 Following their TI7 win, Team Liquid was hellbent on being the first team to win back-to-back International championships last year. Sadly, this did not come to pass, as they only reached fourth place in last year's TI8. And with the first Major of the 2018-2019 DPC season starting a mere four weeks after the conclusion of TI8, the players were clearly burnt out.
Because of this, the team has had a rough start at this year's DPC season. For the very first event, they failed to qualify for the Kuala Lumpur Major. They lost to Team Lithium (the Maurice "KheZu" Gutmann stack) 2-1 during the European closed qualifiers.
The team continued to struggle at the Chongqing Major. With Amer "Miracle" Al-Barkawi unable to attend the event due to personal matters, the team was forced to use former Wings Gaming carry and TI6 champion, Che "Shadow" Zeyu.
Despite losing most of their strategies because of the player replacement, they were still able to get to the top of their group. After they were dropped down to the lower bracket by eventual champions Team Secret, they were eliminated in the seventh-eight place by Fnatic.
After another disappointing performance at the Dream League Season 11 Major, Liquid was able to regroup and gain some momentum at the MDL Disneyland Major.
They lost to Evil Geniuses and dropped to the lower bracket, but they improved and eliminated teams such as Vici Gaming, OG, and PSG.LGD along the way. At the lower bracket finals, they were able to exact their revenge on EG, but were stopped by Team Secret yet again.
On June 12th, days before the Epicenter Major, Team Liquid shocked the Dota 2 competitive circuit by removing Lasse "Matumbaman" Urpalainen from their roster and replacing him with Aliwi "w33" Omar.
Matumbaman had been with Team Liquid since October 2015. This would be the team's first roster change in 892 days, when Maroun "GH" Merhej officially joined the roster back in January 2017.
The roster change definitely paid off, as the team displayed its best performance of the year. After dominating their section of the group stage, they defeated PSG.LGD and Virtus Pro, but were knocked down to the lower bracket by Vici Gaming. They eventually defeated VP again, but were beaten by VG for a second time with a 3-2 score.
It is also important to note that Team Liquid's best LAN performances have been non-DPC events. They dominated the MegaFon Winter Clash back in December of last year, where they didn't lose a single game during the entire tournament. Then, they defeated Evil Geniuses with a 3-1 grand final score.
With Kuro "Kuroky" Takhasomi having of the best minds in Dota 2 for almost a decade now, Team Liquid checks all the boxes when it comes to qualifications of winning TI9.
Then, when you factor in the remaining Team Liquid members, they have few weaknesses. The only question mark in the team is still w33, but as we've seen during the Epicenter Major, he synergizes well with the team.
Team Liquid's most effective impact players are Miracle, GH, and Ivan "Mindcontrol" Ivanov. They are known for pulling off dazzling individual plays which easily captivate the fans. All three players are capable of winning games on their own when they put together a perfect game.
Team Liquid's decision to change their roster two months before TI9 was baffling when the news broke out — but, now, not so much. Team Liquid's hero pool for Matumbaman has fallen out of the current Dota 2 meta. By changing players, teams will have to take a different approach during the drafting phase.
That being said, Team Liquid is another capable team that will likely do well at this year's TI9. They're one of three teams participating who could make history, and they could become the first team to win The International twice.
READ MORE: The International 2019's Fantasy Challenge is now live for Battle Pass owners