Get a taste of elite, cross-regional Dota before two of the biggest tournaments of the year.
The Riyadh Masters Dota 2 tournament features 10 of the best teams in the world competing for a US$4 million prize pool — including PSG.LGD and Royal Never Give Up, who are traveling for an international offline event for the first time in 2022.
The 10 teams will be split into two groups of five, playing a round-robin best-of-two. The top three teams will move into the single-elimination, best-of-three playoffs, while the rest of the teams are eliminated.
---
---
Riyadh Masters Dota 2 schedule and results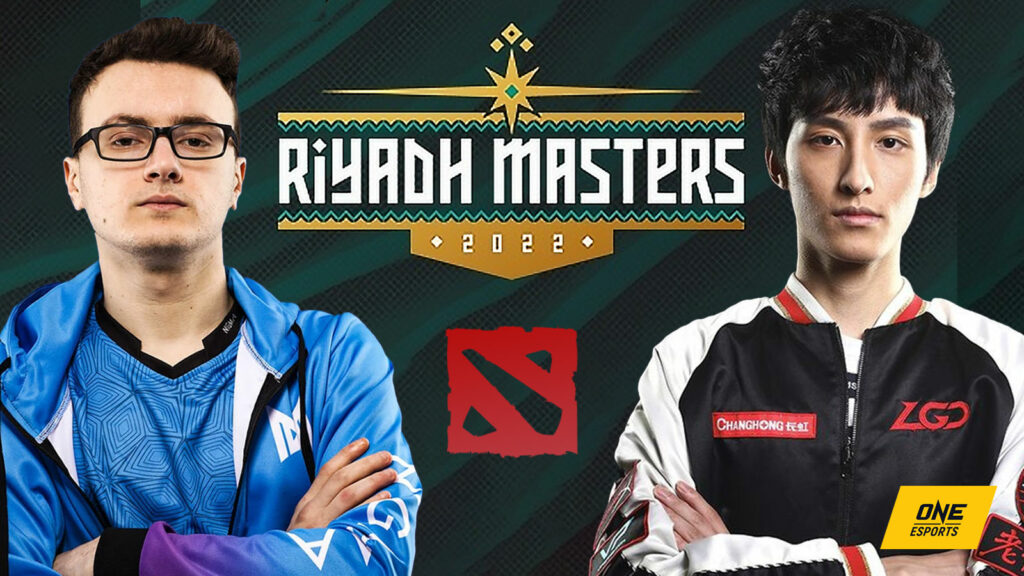 ---
Riyadh Masters 2022 playoffs schedule and results
July 23
Quarterfinals
| | | |
| --- | --- | --- |
| TEAM | SCORE/SCHEDULE | TEAM |
| PSG.LGD | 2 – 1 | Nigma Galaxy |
| Royal Never Give Up | 1 – 2 | Team Spirit |
July 24
Semifinals
| | | |
| --- | --- | --- |
| TEAM | SCORE | TEAM |
| OG | 1 – 2 | PSG.LGD |
| Team Secret | 1 – 2 | Team Spirit |
Grand final
| | | |
| --- | --- | --- |
| TEAM | SCORE | TEAM |
| PSG.LGD | 2 – 0 | Team Spirit |
---
Riyadh Masters 2022 group stage schedule and results
Group A
| | | | |
| --- | --- | --- | --- |
| STANDINGS | TEAM | GAME RECORD | MATCH RECORD |
| 1st | OG | 6-2 | 2-2-0 |
| 2nd | Royal Never Give Up | 5-3 | 1-3-0 |
| 3rd | Nigma Galaxy | 5-3 | 1-3-0 |
| 4th | TSM.FTX | 2-6 | 1-0-3 |
| 5th | Team Liquid | 2-6 | 0-2-2 |
Group B
| | | | |
| --- | --- | --- | --- |
| STANDINGS | TEAM | GAME RECORD | MATCH RECORD |
| 1st | Team Secret | 7-1 | 3-1-0 |
| 2nd | PSG.LGD | 6-2 | 3-0-1 |
| 3rd | Team Spirit | 5-3 | 2-1-1 |
| 4th | Tundra Esports | 2-6 | 1-0-3 |
| 5th | Deboosters | 0-8 | 0-0-4 |
July 20
Group A
| | | |
| --- | --- | --- |
| TEAM | SCORE | TEAM |
| TSM FTX | 2 – 0 | Team Liquid |
| Royal Never Give Up | 1 – 1 | Nigma Galaxy |
| OG | 1 – 1 | Royal Never Give Up |
| Team Liquid | 1 – 1 | Nigma Galaxy |
Group B
| | | |
| --- | --- | --- |
| TEAM | SCORE | TEAM |
| Tundra Esports | 0 – 2 | Team Secret |
| Team Spirit | 2 – 0 | Deboosters |
July 21
Group A
| | | |
| --- | --- | --- |
| TEAM | SCORE | TEAM |
| OG | 2 – 0 | Team Liquid |
| TSM FTX | 0 – 2 | Nigma Galaxy |
| OG | 1 – 1 | Nigma Galaxy |
| TSM FTX | 0 – 2 | Royal Never Give Up |
Group B
| | | |
| --- | --- | --- |
| TEAM | SCHEDULE | TEAM |
| PSG.LGD | 2 – 0 | Team Spirit |
| Team Secret | 2 – 0 | Deboosters |
| PSG.LGD | 0 – 2 | Team Secret |
| Tundra Esports | 2 – 0 | Deboosters |
July 21
Group A
| | | |
| --- | --- | --- |
| TEAM | SCORE | TEAM |
| OG | 2 – 0 | Team Liquid |
| TSM FTX | 0 – 2 | Nigma Galaxy |
| OG | 1 – 1 | Nigma Galaxy |
| TSM FTX | 0 – 2 | Royal Never Give Up |
Group B
| | | |
| --- | --- | --- |
| TEAM | SCHEDULE | TEAM |
| PSG.LGD | 2 – 0 | Team Spirit |
| Team Secret | 2 – 0 | Deboosters |
| PSG.LGD | 0 – 2 | Team Secret |
| Tundra Esports | 2 – 0 | Deboosters |
July 22
Group A
| | | |
| --- | --- | --- |
| TEAM | SCORE | TEAM |
| OG | 2 – 0 | TSM FTX |
| Royal Never Give Up | 1 – 1 | Team Liquid |
Group B
| | | |
| --- | --- | --- |
| TEAM | SCORE | TEAM |
| PSG.LGD | 2 – 0 | Deboosters |
| Tundra Esports | 0 – 2 | Team Spirit |
| PSG.LGD | 2 – 0 | Tundra Esports |
| Team Spirit | 1 – 1 | Team Secret |
READ MORE: The 5 best Marci counters to stop the baby-faced killer in her tracks