Following day two of the playoff stages, teams showed desperation as the lower bracket matches now feature a best-of-one elimination format, and in the madness, came a shock exit.
Chinese team RNG found early success with their Ursa pick, but the real star of the game was Majestic's Grimstroke, which let them eliminate at least two heroes in team fights. At the 22-minute mark, Majestic blitzed through the Chinese team, dominating a clash, which gave them another massive upset victory.
It was a heartbreaking defeat for RNG; they went from being up 3–0 in the group stage, to being eliminated in the first round of the lower bracket.
Next was a highly competitive match between BOOM and Majestic, as both teams won their fair share of team fights. However, it was over at the 22-minute mark, when Majestic took a team fight at the top lane. Unfortunately for the fan favorites, BOOM ID's tournament run had ended.
Meanwhile, FWD and EHOME's match saw them evenly matched. Neither team was able to establish a noticeable gold-lead or map control. But the North American squad made two tournament-ending blunders: They lost multiple heroes and wasted their buy-backs during a skirmish at the middle-lane, and chased EHOME too far which led to them to fight at a disadvantage. FWD exit the tournament with a fifth-sixth placing.
EHOME then took on Majestic and ran rings around their opponents, picking off core heroes in multiple lanes. Eventually, the Chinese team took their first set of barracks as Majestic had no way to repel them out of their base. A few mistakes were all EHOME needed to win the game and move on to the lower bracket best-of-three finals.
At the upper side of the bracket, Alliance managed to gain a slight lead thanks to their stun-heavy lineup, but once Marcus "Ace" Christensen's Medusa reached critical mass, NiP's victory was inevitable.
The next game included an unexpected last picked Meepo, as NiP realized Alliance had no way to counter the momentum-based hero. Things went according to Peter "PPD" Dager's plan, as Meepo dictated the pace of the game and forced Alliance to react instead of initiating for themselves. NiP moves on to the grand final while Alliance is set to face EHOME in the lower bracket final.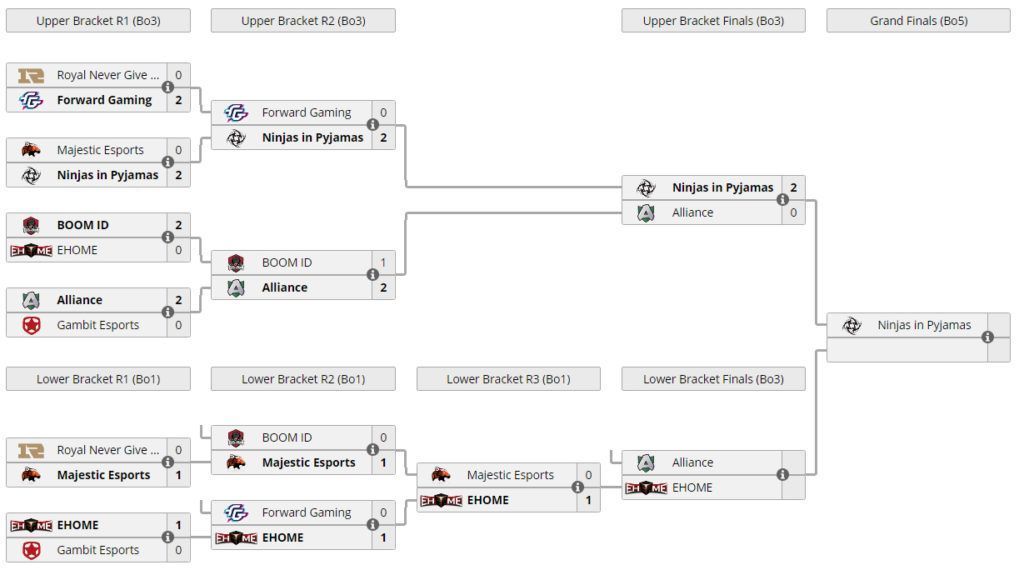 The last day of Dota PIT Minor continues later today with the EHOME facing Alliance, and the winner will battle NiP in the grand finals. You can watch the stream here or check out our earlier coverage over here.