With day one of the playoff stages settled, the remaining teams tackled their share of playoff games, and the upset Minor continued with surprises.
BOOM started the first match the day with a Sven-Omniknight duo and went for a timed push that paid off. As soon as they were able to farm their Black King Bars, EHOME had no way of dealing enough damage to win the team fights.
By this point, the Croatian fans were completely behind the Indonesian squad, as they knocked out EHOME's heroes early in the following game. Once the game hit its 40-minute mark, the level of play increased as both teams exhibited amazing synergy and decision-making. But after a 150-second long team fight, BOOM pulled off yet another upset, beating EHOME 2–0, and advanced to the next round of the upper bracket.
Gambit, after continuous disappointing performances throughout the tournament, looked promising as they controlled the opening stages of the first game up until Alliance's Enigma pick paid off, hitting a three-man black hole and inevitably reversed a 14,000-gold lead.
In the next match, Alliance dominated with Samuel "Boxi" Svahn's Slardar on the middle lane, which concluded with a devastating 31–2 hero score against Gambit. Alliance moved on to the second round of the upper bracket.
The final series of the day featured Alliance controlling the majority of the first match and eventually taking a 1–0 advantage. BOOM bounced back with an astonishing game two performance, featuring a wombo-combo by Earthshaker and Outworld Destroyer. The last round mirrored the first as Alliance took an early lead and stayed in control up until the very end. Alliance is set to take on NiP in the third round of the upper bracket.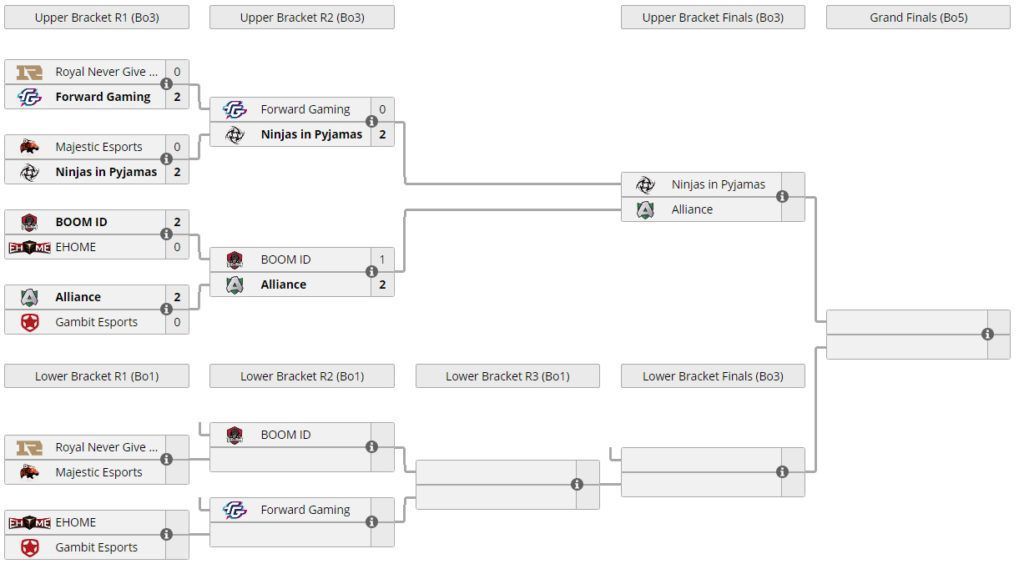 Day three of the playoff stage continues on April 27 with RNG vs Majestic, EHOME vs Gambit, and NiP vs Alliance. You can watch the stream here.