If you missed out on the group stage matches for the BTS Pro Series, don't worry, we've got your back. Find out how the teams performed over the course of the round-robin group stage, and stay up to date with the Southeast Asian Dota 2 scene.
After a week long round-robin group stage, TNC, T1, Fnatic, and Team Dog will be heading to the upper brackets for the playoffs. This leaves Motivate.Trust Gaming, Execration, Vice Esports, and Neon Esports in the lower bracket to fight for survival.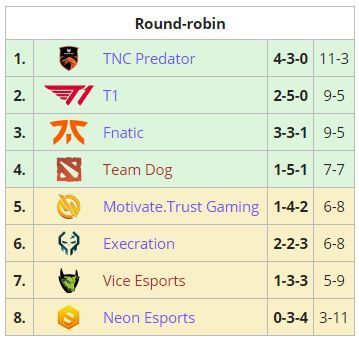 We'll break down how the teams went from the bottom up, so put on your reading glasses and let's get cracking!
---
8. Neon Esports
Unfortunately in last place for the group stage, it looks like Neon may need to go back to the drawing board going into the playoffs.
Though the team is capable of pulling off downright weird picks and having Rolen Andrei Gabriel "Skem" Ong and Prieme Ejay "PlayHard" Banquil alternate between offlane and farming support, the squad struggled to win games if they weren't snowballing hard from the laning stage. At times, it felt like their stubbornness to ban Sven cost them a few games as well. Instead, they spent their time trying to experiment and develop their own counters to the fearsome Rogue Knight.
The addition of John Anthony "Natsumi-" Vargas has added some stability to the team thanks to his consistency across all their matches. He always keeps up in farm and has good map awareness when fights break out, but seems to falter when a support isn't nearby to bail him out. He'd likely thrive if the squad picked up hard carries for Natsumi, and adopt more of a four-protect-one style.
At the beginning of the groupstage, Neon managed to take a game off Team Dog, but tough opponents such as TNC, Fnatic and T1 were too much to handle. Facing off against Motivate.Trust in the lower bracket of the playoffs, we'll have to see if the pressure of elimination can wake their inner demons.
---
7. Vice Esports
Coming into the tournament through the open qualifier, nobody knew what to expect from Vice Esports.
It quickly became apparent that Vice suffered the most in the drafting phase. One of their biggest issues being that their drafts were either overly complicated to execute, or difficult to lane. This issue alone is a pretty tough one to fix, especially for a team who, as a whole, don't have much competitive experience together.
Jinn Marrey "Palos" Lamatao was a big factor, as most of Vice's wins relied on him being a bigger carry. A lot of the more experienced teams picked up on this, and target banned a lot of his favorite heroes. This was a big problem for the team as mid laner Bob played more utility based heroes rather than scaling cores. While it's not an issue the team can solve overnight, I'm hoping Vice has a plan going into playoffs.
Facing off against Execration in the lower bracket, will it all come down to Palos?
---
6. Execration
Another team that made it through the open qualifier, Execration fared a little better than Vice during the group stage by landing in sixth place.
A team that has the guts to go all in if they have to, it's hard to hate them as a viewer. Of course, having kahunas as big as Execrations has its downsides. The team suffers by not having a clear exit plan if things go South. If Execration gets jumped on, more often then not, the team just crumbles. Their willingness to be the aggressors has caught a few teams off guard, and could be an Ace that punishes the unprepared.
A little slow out the gate, teams that pick fights with Execration during the laning stage before they're ready to rumble have shown a lot of success. Team fight drafts are a little greedy, as they require resources before coming online, so poking down any of the lanes can disturb Execration's game plan. If the team can somehow stabilize their lanes, or utilize more early game aggression, Execration might be able to compete with the big dogs.
Going up against Vice Esports in the lower brackets of the playoffs, things could be dicey as both teams scored a point off each other during the group stage. Execration will need to score an extra win if they hope to continue on.
---
5. Motivate.Trust Gaming
Considering the tough competition, Motivate.Trust did fairly well with temporary stand-ins Nuengnara "23savage" Teeramahanon and Somsack "Nevermine" Chantivisouk. This lineup is also playing in the Moon Studio Carnival Cup, so the squad has had some time to mesh leading up to the BTS Pro Series.
Even though the team finished in fifth place during the group stage, Motivate.Trust took games off of some of the SEA big guns including Fnatic, Team Dog, and even TNC. This team is terrifying during the laning stage, feeding well-timed pick offs to farm hungry cores, 23savage and Poomipat "Fearless" Trisiripanit. Letting this team get away with free kills is a death sentence.
The team can play a multitude of strategies, but at times fall into the trap of drafting too greedily. The greed does pay off occasionally, but requires Worawit "Q" Mekchai to play a perfect early game.
It'll be interesting to see Motivate.Trust meet Neon in their first lower bracket match in the playoffs, where one of them will be eliminated.
---
---
4. Team Dog
In fourth place is Team Dog, who had a solid run over the week long group stage.
The SEA super squad mostly won or tied their games. However, on day three, the team was suddenly 0-2'd by Execration. Aside that one series, Team Dog kept their composure and remained consistent for the rest of their matches.
Most of Team Dog's losses were because they missed timing windows, and had to face off against late game drafts. Their opponents abused small openings during the early game, which in turn slowed down Team Dog's momentum.
Another thing to note is that both "Abed" Azel L. Yusop and Muhammad "inYourdreaM" Rizky's playstyles do occasionally clash. Both players are rather greedy at times, especially if Abed is playing a scaling mid hero that needs farm, such as Storm Spirit or Invoker. Compared to other top carries in the region, inYourdreaM is a much more passive carry who needs support from his team to really shine. That's not to say inYourdreaM can't fight early, but he does require a lot of set up to do so successfully.
It's still an uphill battle for Team Dog, who'll be playing T1 in the upper bracket of the playoffs. It's not unheard of for teams to spend more time experimenting in the group stage, so maybe Team Dog are looking to throw a sneaky curve ball.
---
3. Fnatic
Winding up in third place in the group stage due to tie breaker rules, Fnatic show what they're capable of with their newly acquired offlaner Natthaphon "Masaros" Ouanphakdee.
Compared to Fnatic's former offlaner Daryl Koh "iceiceice" Pei Xiang, Masaros is a much more sacrificial offlaner who doesn't need a lot of farm to play his role. This is great news for carry player Marc Polo Luis "Raven" Fausto, for he gets access to more gold early on. Supported by world class supports Anucha "Jabz" Jirawong and Djardel Jicko B. "DJ" Mampusti, Raven is living the carry life.
The issue with this style of play is that Fnatic is putting all their eggs in the Raven basket. He is the team's sole win condition.
Right off the bat, fans have a monster match up between Fnatic and TNC to look forward to in the upper bracket of the playoffs. Can Fnatic redeem themselves, or will TNC look to knock them straight down to the lower bracket?
---
2. T1
Finishing second in the group stage with temporary stand-ins Carlo "Kuku" Palad and Matthew "Whitemon" Filemon, T1's great performance show they have a clear shot at taking the crown in playoffs.
A drafting God in the region, it's no surprise that most of T1's games have looked fantastic under Kuku's leadership. In-game, they play heavily around carry player Souliya "JaCkky" Khoomphetsavong, ensuring he gets the start he needs to snowball.
The only time T1 really falls apart is if Kuku prematurely engages into a team fight for his team, and gets instantly shredded. If he's gone, it leaves the rest of the team exposed to getting burst down.
T1 will be meeting up with Team Dog and boy, are we in for a treat. I'm leaning towards T1 due to the squad's overall stability, but hey, we'll find out soon enough.
---
1. TNC Predator
It must feel good to be king. Finishing first so convincingly, you have to wonder, can anybody contest them in the playoffs?
TNC are such a scary roster to play against. All their players have such wide hero pools that you can't really lock anyone down with bans. Their team fight execution is top notch. How do you even touch them?
Weirdly enough, TNC will always have a moment of weakness around the 25-35 minute mark where they're finishing up crucial item timings. Hitting them hard here slows their momentum, and gives the opponent a chance going into the late game.
Facing off against Fnatic in the upper bracket matches, the odds are in TNC's favor, who managed to 2-0 Fnatic during the group stage. If there's a match you don't want to miss, it's this one!
---

Upper bracket matches start tonight at 5 p.m. GMT+8, so make sure to buckle up and get ready for a wild ride. Expect plenty of cheese strats, weird gimmicky drafts, and most importantly, lots of team fights!
Lower bracket playoff matches kicked off yesterday and two teams have already been eliminated. I won't spoil who won, so be sure to check out the VODs on Beyond the Summit's Twitch or YouTube channel.
Don't panic if your favorite team didn't play as well as you may have liked. The 7.28 patch is just around the corner, and we've all seen how a huge patch can rock the boat. Until then, keep cheering for your favorite teams and enjoy the playoffs!
READ MORE: Ramzes announces that CIS superteam Just Error has parted ways