There is just a week to go before The International 2019 (TI9) kicks off in the Mercedes-Benz Arena in Shanghai, China.
Dota 2's developer Valve has released the prize pool breakdown for the event and revealed that the grand prize will be a whopping US$14 million… and counting.
TI9 currently has a total prize pool of over US$32 million, up over US$7 million from last year's tournament. With TI9's crowdfunding running until the final day of the Main Event on August 25, we could still see it grow to as much as US$34 million.
As of the time of writing, TI9's champions would take home exactly US$14,595,382. In comparison, last year's champions, OG, won US$11,234,158. With this year's prize pool still growing, whichever team wins TI9 could very well pocket over US$15 million.
While only one team can have the lion's share of the prize pool, the podium finishers will still be rewarded handsomely. The runners-up will have over US$4 million as consolation, while the third place team can go home with at least US$2.8 million.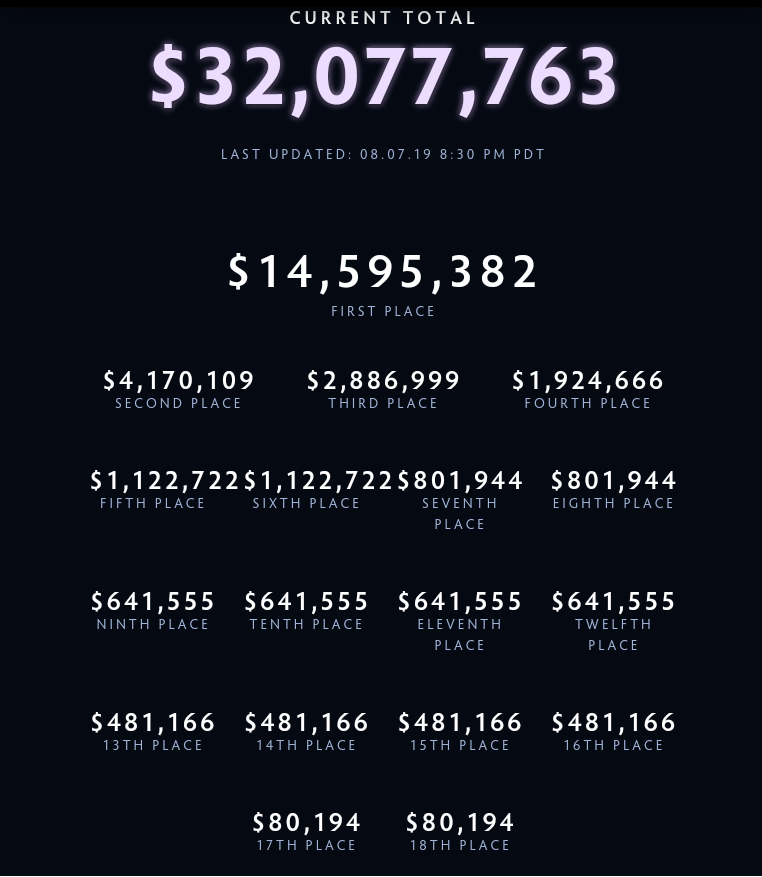 Making it to the top four at the event will net at least US$1.9 million, while the fifth-sixth place teams will pocket at least US$1 million apiece. A guaranteed US$800,000 will go to whoever lands in the Top 8, while the ninth-12th placers can still earn almost US$650,000 each. The 13th-16th teams can still go home with over US$480,000 in their pockets, while the bottom two teams will have to settle for over US$80,000 each. Not too shabby.
TI9 will kick off on August 15 with four days of Group Stage matches, which will determine seeding for the Main Event starting on August 20. Six days of action will then determine who gets to raise the coveted Aegis of Champions and take home the grand prize of over US$14 million.
You can check out the official TI9 website or follow the official tournament Twitter account for more information.
READ MORE: RedBull releases documentary on OG's miraculous TI8 championship run