Call of Duty Modern Warfare 3 just launched along with Warzone Season 1 featuring the new map, Urzikstan.
If you're looking for an assault rifle to dominate your lobby, CoD content creator BennyCentral shared on YouTube his best MCW loadout for the new season.
Here's the best MCW loadout to shred enemies in Warzone Season 1, according to BennyCentral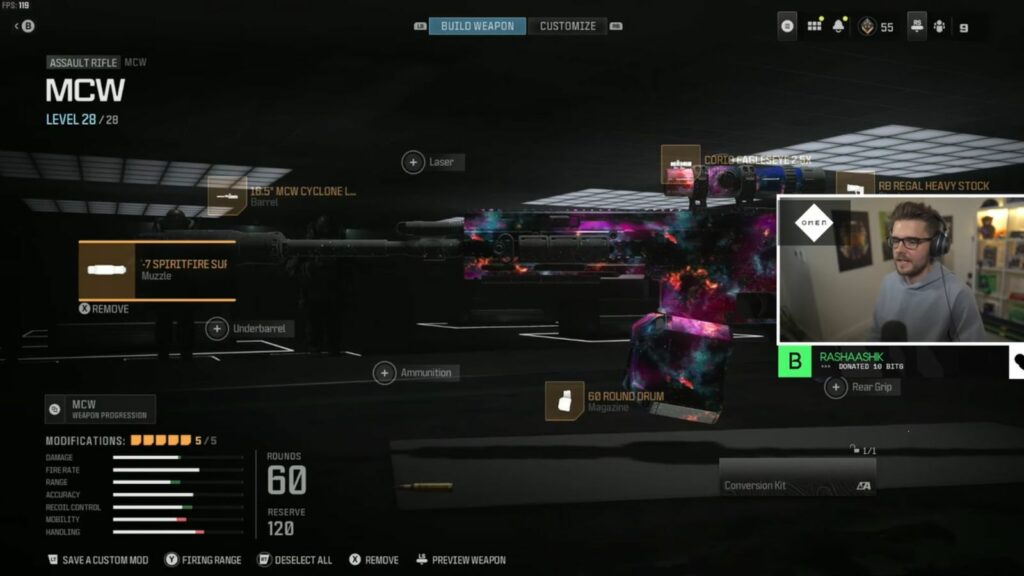 This MCW loadout focuses on minimizing recoil to provide you with heightened precision during long-range gunfights.
He starts with VT-8 Spitfire Suppressor in the muzzle slot, which improves recoil control, bullet velocity, and damage range.
Next, he attaches Cyclone Long Barrel to further increase bullet velocity and range, while enhancing aiming idle sway and firing aim stability.
In the optic slot, he chooses Corio Eeagleseye 2.5x. This attachment significantly boosts the range and recoil control of the gun.
He then opts for RB Regal Heavy Stock, which grants substantial improvements to recoil control, gun kick control, and tac stance spread.
Subsequently, he loads the weapon up with 60 Round Drum, which helps with sustained gunfights.
For the perk package, he goes for E.O.D to reduce damage from non-killstreak explosives; Double Time to increase tac sprint duration; Stalker to bolster strafe and ADS movement speed; and Resolute to gain a short movement speed bonus when taking damage from gunfire.
Lastly, he selects Stim and Frag Grenade for the Tactical and Lethal equipment, respectively.
BennyCentral's best MCW loadout in Warzone Season 1:
| | |
| --- | --- |
| SLOT | ATTACHMENT |
| Muzzle | VT-7 Spitfire Suppressor |
| Barrel | Cyclone Long Barrel |
| Optic | Corio Eeagleseye 2.5x |
| Stock | RB Regal Heavy Stock |
| Magazine | 60 Round Drum |
PERK PACKAGE
Perk 1: E.O.D
Perk 2: Double Time
Perk 3: Stalker
Perk 4: Resolute
EQUIPMENT
Tactical: Stim
Lethal: Frag Grenade
---
---
BennyCentral pairs his MCW with the Rival 9 SMG as his secondary weapon.
Follow ONE Esports on TikTok for more Call of Duty content.
READ MORE: Best Warzone settings guide: Controller, graphics, and audio