The World Series of Warzone featured a thrilling clash between North America's finest operators in Verdansk.
Aydan's squad reigned as champions for individual squads, while Team Swagg's 30-man battalion rallied together and conquered the Captain's Cup.
In the Captain's Cup format, five Warzone figureheads took on the role of captain and drafted nine other squads for their teams to assist in accumulating points through placements and kills.
Repullze takes the first World Series of Warzone victory
Right off the bat, Team Swagg had a killer start, as Hector "Repullze" Torres clutched the first Warzone victory.
With an incredible sightline over the ravine, teammate Austin "Lucky Chamu" pinged the final duo with his Kar98k, and Repullze grabbed the double elimination from a lower position.
The Team Swagg captain was a sniper god in match 2
Though team captain Kris "Swagg" missed out on his own individual victory, the FaZe clan streamer had an eagle eye at the fire station tower.
As teams rushed into Downtown, Swagg delivered some insane longshots with his Kar98k. He downed three opponents on the ground, and even got a flashy headshot on a parachuting opponent.
---
---
Reidboyy and Devious grab a ton of points for the Captain's Cup
With Team Swagg's squads performing so well, there was bound to be some overstepping in the final skirmishes.
Match 5 turned into a cat-and-mouse situation for IceManIsaac's last squadmate, Devious. Down to the five remaining squads, Devious did his best to traverse the Farmland quietly, avoiding Isaac "ShadedStep" Hernandez and his teammates Reidboyy and Bonq.
Even though Devious found cover behind a satellite crash site, Reidboyy baited him out with a quick sprint and sprayed his way to a match win.
After all six matches, Team Swagg claimed the Captain's Cup with a total of 619.5 points. The biggest contributors to Team Swagg's score were:
Repullze, Lucky Chamu, and SuperEvan (108.5 points)
Biffle, FaZe Booya, and FaZe Swagg (107)
OPMarked, Devious, and IceManIsaac (99.5)
Captain Swagg went home with a well-deserved cash prize of US$20,000, while every member of Team Swagg were rewarded US$1,000.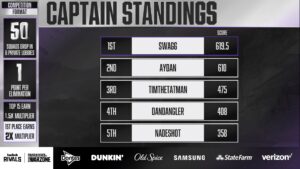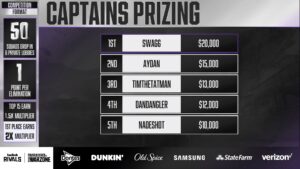 The World Series of Warzone will continue with EU Trios on August 4, and you can sign up to compete on the official website.