FaZe Clan's Nuke Squad just released a new merch collection that merges its nuke-tastic themes with sportswear.
With the org's dominating presence in esports scenes like Call of Duty: Warzone, the clothing collection puts its finest players and fans in outfits that showcase both skill and style.
Nuke Squad's Vol. 3 merch collection has Olympic rings and basketball jerseys
The main pieces of the Vol. 3 merch line are the Nuke Squad jersey and the Olympic hoodie.
The basketball jersey kit showcases the FaZe logo and Nuke flag right on the player's chest, accompanied by the traditional text blocks of athletic wear. Its black and yellow design shines through in the basketball shorts, where it highlights the Nuke logos on the side.
The Olympic hoodie takes a subtle approach in its design, mimicking the Olympic rings with Nuke logos on the front. The back of the hoodie then presents a bolder graphic that combines the FaZe logo with a star and stripes.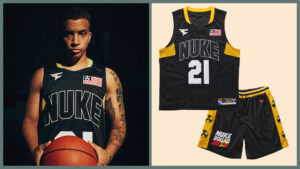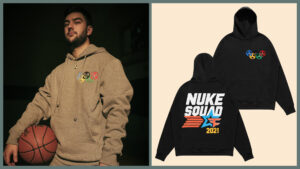 ---
---
FaZe Clan fans can keep it casual with these clothing pieces
The Vol. 3 merch series also comes with other articles of clothing that suit the everyday lifestyle.
The Olympic tee and sweatpants still capture the same aesthetic as its hoodie counterpart, but you can easily slap on a pair of jeans or a plain tee for a quick outing.
If it's a sunny day out, you can also pick up the Nuke Squad bucket hat to keep those nasty UV rays out of your eyes.
For a bigger bang, diehard fans can purchase the Explosive tee, which features a full-on nuclear illustration.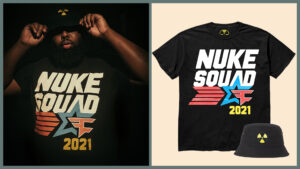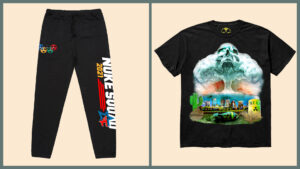 You can check out the full collection on its official shop page.
READ MORE: Swagg had to face his Nuke Squad teammate in the Gulag