The ONE Esports Warzone Showdown October 2021 was an incredible display of battle royale action from its 12 invited celebrity streamers.
With every participant showing off exemplary gun skills and lightning reactions, the 12 participants gave their all to become the new VIPs of Verdansk.
Here are the top five highlights from the ONE Esports Warzone Showdown.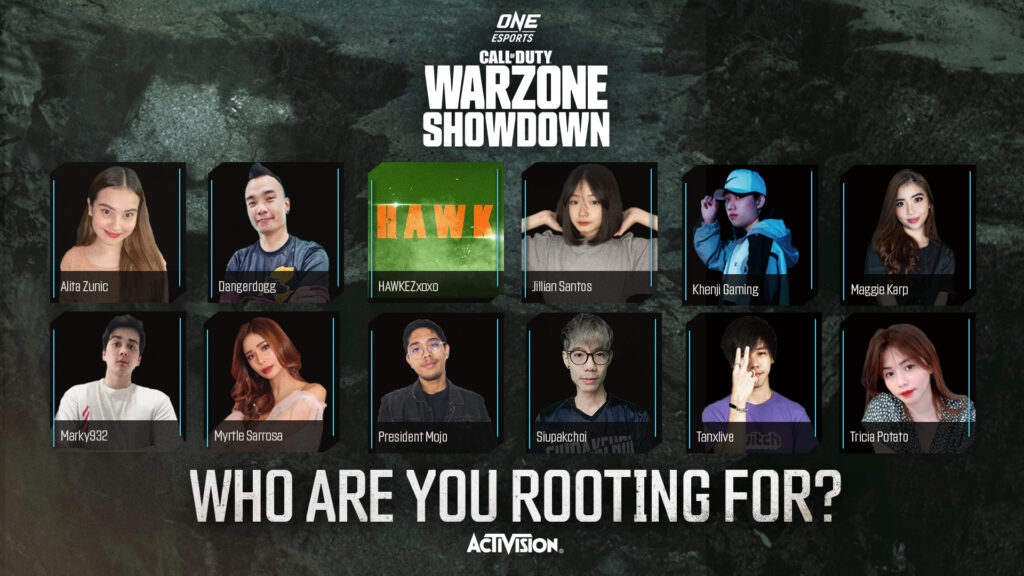 ---
5. Myrtle Sarrosa shows why she's the headshot queen of the ONE Esports Warzone Showdown
Myrtle Sarrosa was once again a human highlight reel all throughout the competition.
While she was taking down choppers just a few months ago, the multi-talented streamer has been putting in work on her skirmishing skills.
In a quick engagement at Riverside, Myrtle Sarrosa re-peeked a corner and managed to land a killing headshot on an enemy operator, clearing out the area for a safe revive on her teammate.
---
4. Streamer President Mojo shows off his gun swagger
Who said you can't groove out during the ONE Esports Warzone Showdown?
Indonesian streamer President Mojo had a charming attitude that turned every highlight into a party.
During a quick looting session at the Arklov Peak Military Base, a lurking operator sprayed down one of his teammates. Without hesitation, Mojo did an immediate 180-degree turn and avenged his downed ally.
The best part of the highlight was his reaction. Upon landing the sick kill, Mojo instantly grinned with a big thumbs-up and started bobbing his head to the rhythm.
---
3. DangerDogg is the ultimate team player
Despite being a new contender in the ONE Esports Warzone Showdown, DangerDogg was clearly no newcomer to Verdansk's fast-paced action.
DangerDogg came through as an all-rounder for his team, capable of doing what's needed in every situation.
Caught in a rough spot at Airport Maintenance, the streamer was speeding through hallways to trade kills and revive his teammates on the fly.
---
---
2. No one can beat Marky932's full-throttle energy
If you thought Call of Duty Warzone wasn't fast-paced enough, Thai streamer Marky932 puts the game into high gear, literally.
Driving up and down hills and swerving in and out of the circle, Marky932 was an absolute beast, flawlessly chaining kills one after another.
In one of their winning matches, Marky932 and his crew were blowing up the comms as they were blowing up the area. The cherry on top of the winning highlight? Marky932's crazy pop-off.
---
1. HAWKEZxoxo gets creative in this team wipe highlight
When it comes to Call of Duty Warzone creativity, HAWKEZxoxo definitely stands out.
Known for his expertise in Warzone loadouts, there was no doubt that HAWKEZxoxo would drop into Verdansk and prove how much of an expert he is at the game.
Landing right on top of TV Station, HAWKEZ immediately piloted a helicopter to the other side of the rooftop to help his squadmates. With nothing but a pistol equipped, the streamer emptied a clip to take down one enemy and then proceeded to pistol-whip his second target.
The highlight doesn't end there. Once HAWKEZ got back to his helicopter, he secured the team wipe by slicing the final squadmate with the chopper's blades. Who needs rifles, am I right?
READ MORE: Alita Zunic wins the ONE Esports Warzone Showdown