The next season of Demon Slayer (Kimetsu no Yaiba) has officially been announced and will feature an adaptation of the manga's Swordsmith Village Arc.
The upcoming arc was announced through a teaser which states that it is currently in production. The video was released after the final episode of the Entertainment District Arc aired on February 13, 2022.
What we can expect from Demon Slayer (Kimetsu no Yaiba) Swordsmith Village Arc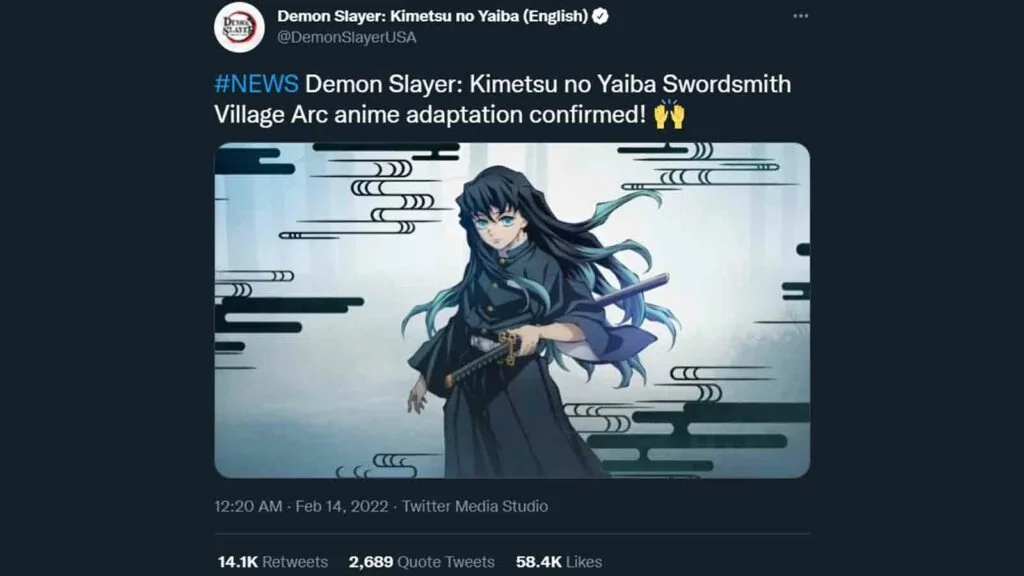 The anime will continue Koyoharu Gotoge's original manga that was first launched in February 2016, according to official social media posts. Demon Slayer has only continued to gain popularity as the Mugen Train movie became the first film in Japan to top US$346 million (¥40 billion) at the box office.
Fans of the anime will be glad to hear that the show's director, Haruo Sotozaki, character designer Akira Matsushima, production studio Ufotable, and the main cast will be returning for the next season.
---
---
The new arc will chronicle the events after the Entertainment District Arc, with the spotlight on Muichiro Tokito and Mitsuri Kanroji, the Mist and Love Hashira respectively. They are two of the nine Hashiras that were introduced in season 1 episode 22, titled "Master of the Mansion".
Previously in the anime, the main characters accompanied Flame Hashira Kyojuro Rengoku on a mission during the Mugen Train Arc, followed by one with Sound Hashira Tengen Uzui in the Entertainment District Arc.
While the studio has yet to confirm a release date, the earliest the new season could drop is in Fall 2022. It is more likely, however, for the next arc to premiere early next year.
READ MORE: Kaguya-sama season 3 anime: Release date, story, characters, seiyuu, manga