Kaguya-sama: Love Is War -Ultra Romantic- (Kaguya-sama wa Kokurasetai: Ultra Romantic) is the continuation of one of the best romantic comedies in recent years, featuring two geniuses in simultaneously devious and harebrained schemes at trying to get the other person to confess first.
Here's everything you need to know about Kaguya-sama season 3, including its release date, a recap of the storyline before the -Ultra Romantic- arc, characters and their voice actors, and the status of the manga.
What is Kaguya-sama: Love is War?
Two geniuses at the renowned Shuchiin Academy—Kaguya Shinomiya and Miyuki Shirogane—have caught feelings for each other. But they adamantly refuse to confess to the other, since they think the first person to do so is the "loser." What began as teenage stubbornness has turned into a full-blown "war", filled with over-the-top shenanigans in trying to get the other to confess first.
But while the setup does sound like a typical rom-com, what sets Kaguya-sama apart are its character depth, development, and sharp wit. While the rom-com genre is known for hyper-fixating on the main characters' romantic progression, Kaguya-sama constantly subverts those expectations with self-aware storytelling.
In the process, Kaguya-sama racks up a whole cast of loveable and three-dimensional characters that don't feel like they are side gags, but people living their own stories.
Seasons 1 and 2 focused on mostly-standalone jokes, often teasing "will they or won't they" moments with threads of development sewn throughout the show. This all comes to a head in season 3, which will mark a transition for the show into more arc-based storytelling after setting the groundwork. Kaguya-sama's first two seasons have been acclaimed—and season 3 will be the explosive payoff.
---
Kaguya-sama season 3 release date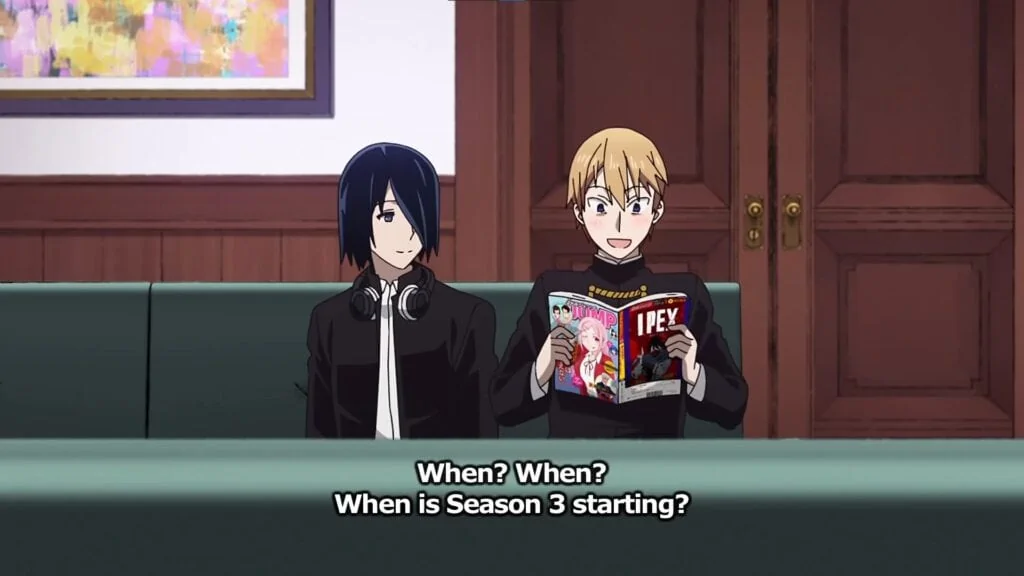 The anime will air April 8, 2022. Like the two previous seasons, Season 3 will be animated by A-1 Pictures and directed by Shinichi Omata.
The first season was released on January 12, 2019, running for 12 episodes till March 30, 2019. Season 2 came out on April 11, 2020, and finished airing on June 27, 2020.
Can't wait for season 3 to start? Here's the amazing 10-minute-long teaser trailer that adapts one of the manga's upcoming chapters. Full of referential and self-aware humor, the trailer should serve as a perfect entrée for Kaguya-sama fans.
---
Recap of the events before Kaguya-sama season 3
Warning: Spoiler alert for Kaguya-sama seasons 1 and 2
The first season introduces us to the Shuchiin Academy student council: president Miyuki Shirogane, vice-president Kaguya Shinomiya, secretary Chika Fujiwara, and treasurer Yuu Ishigami. The four often find themselves in close proximity with each other, whether it's for work or play, and develop immense friendships through countless hijinks.
Kaguya, who was raised under the overbearing and ultra-rich Shinomiya family, struggles between her upbringing as a cold and calculative upper-class maiden, and her inner desires to hang out with friends and fall in love like a normal girl. Throughout the season, she shows subtle signs of rebellion, which culminates in her escaping her house during summer break to watch fireworks with her student council friends. Unfortunately, a traffic jam and the delays meant that she missed the fireworks, and she almost breaks down—until Miyuki finds her. The four rush into a taxi to another prefecture, and finally catch the fireworks, but Kaguya eyes for nobody else but Miyuki.
Despite the obvious romantic implications, Kaguya and Miyuki go into season 2 with the status quo generally unchanged. But going into their second year, the student council disbands, and elections for the new council begin. Miyuki decides to run for president again, even though the job is generally left to their juniors.
In the lead-up to the election, Miyuki meets a staunch, passionate opponent in Miko Iino. Though Miyuki wins—cementing another year in the student council with Kaguya—the council is impressed with Miko, offering her a position as the council's auditor.
The season then shifts away from the duo's battles, instead focusing on them trying to help Yuu, their junior, and the student council's treasurer. Though anti-social, the quiet Yuu gradually grows in confidence, joining the cheerleading squad in the Academy's sports festival and finally letting go of a traumatic event.
---
---
Characters of the Kaguya-sama anime, seiyuus and voice actors (VAs)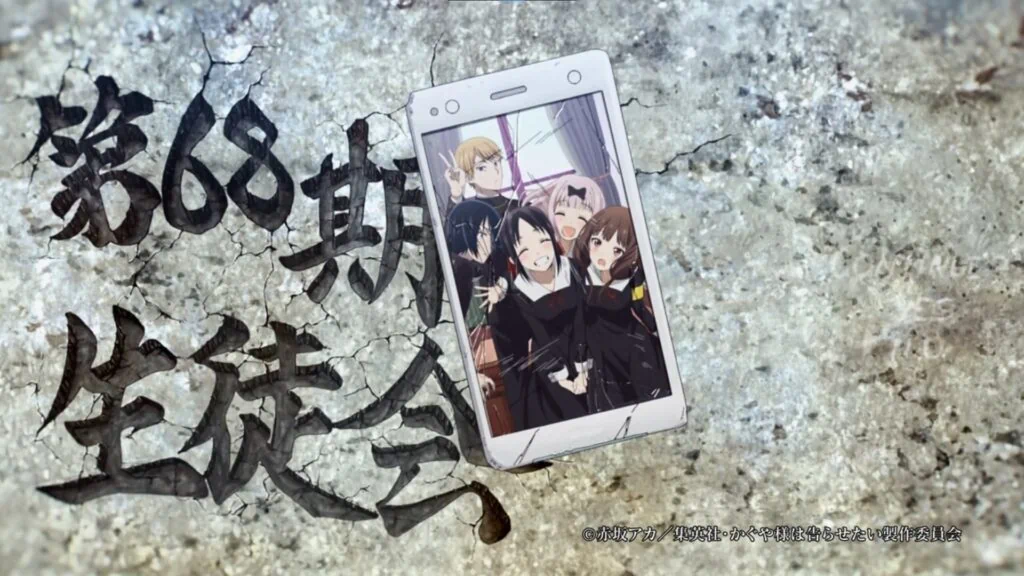 | | | |
| --- | --- | --- |
| CHARACTER | CHARACTER DESCRIPTION | JAPANESE VA |
| Kaguya Shinomiya | The titular genius, and vice-president of the student council. Incredibly sheltered from birth, and learning how to break out of her shell. Refuses to confess to Miyuki. | Aoi Koga |
| Miyuki Shirogane | The hardworking president of the student council with severe sleep deprivation. Refuses to confess to Kaguya. | Makoto Furukawa |
| Chika Fujiwara | The ditzy secretary of the student council. Considered the "joker" for her unpredictable behavior, and often the wrench in Kaguya and Miyuki's plans. | Konomi Kohara |
| Yuu Ishigami | The anti-social treasurer of the student council. Obsessed with all things geeky, and surprisingly perceptive of others. | Ryouta Suzuki |
| Ai Hayasaka | Kaguya's servant and closest friend. Supports Kaguya in every way even through her craziest schemes. | Yumiri Hanamori |
| Miko Iino | The auditor of the student council. Idolizes Chika, and has an antagonistic relationship with Yuu. | Miyu Tomita |
---
Status of the manga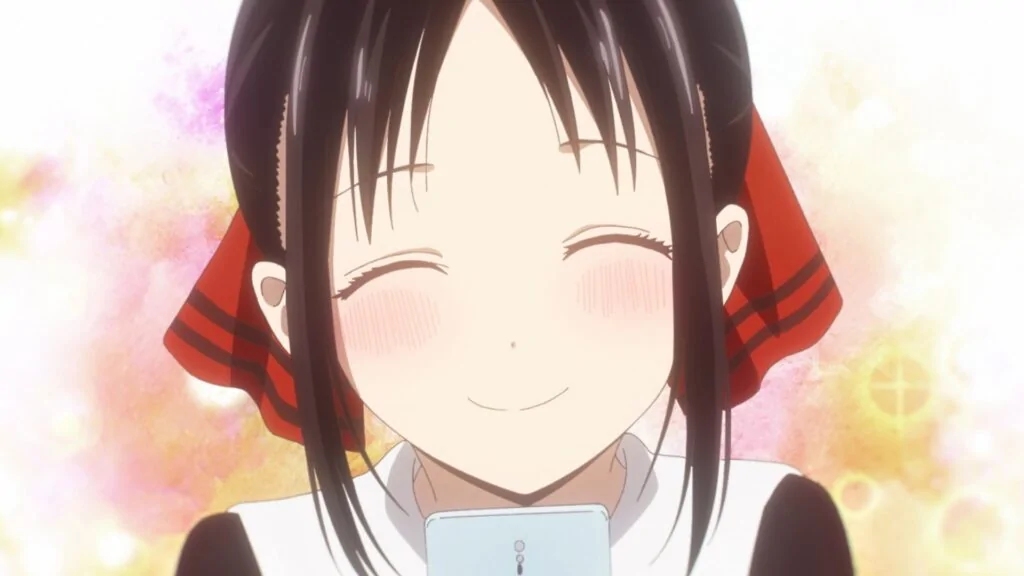 The manga is still ongoing, and 253 chapters have been released as of the time of writing. 24 physical volumes are available, compiling chapters one to 241.
Two official spinoffs exist for Kaguya-sama: We Want to Talk About Kaguya, a 4-panel series, and Kaguya Wants to be Confessed to – Dojin Edition, a non-canon spinoff.
READ MORE: The 7 best 2022 anime releases to add to your watch list