Editor's note: This article was written before the playoffs started.
As we enter the playoffs of the VCT Champions 2021 stage, I want to share my thoughts, observations, and opinions on the eight teams that have made it through and who I think will be Champions (unbiased opinion, of course, as Sentinels and Envy didn't even make it out of group anyways).
These teams will be talked about in no order.
Gambit Esports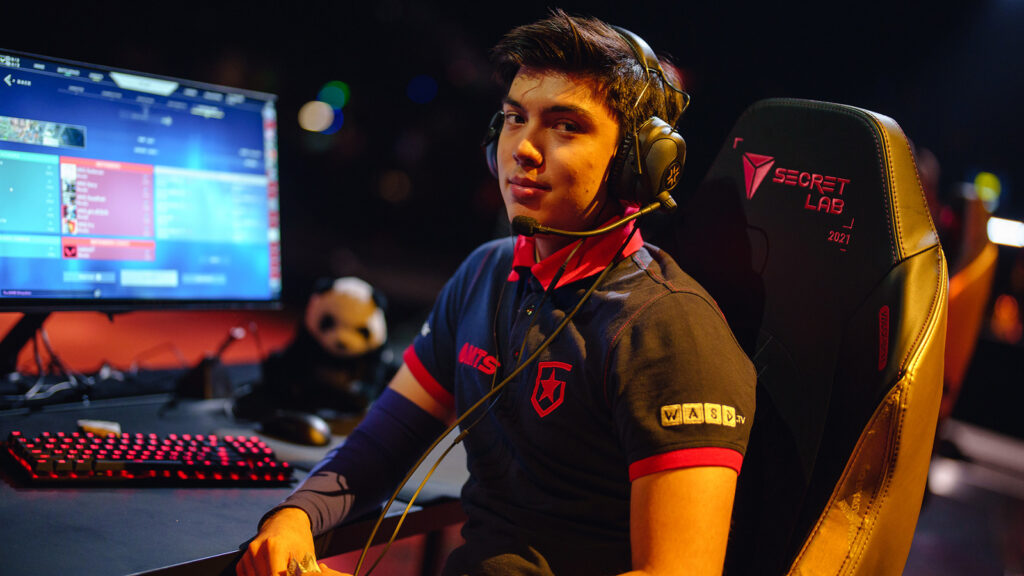 Going into this event, Gambit Esports were the clear favorites after a stellar performance at Masters 3 in Berlin, with Nats as the MVP of the event.
This put a target on the team's back. Gambit Esports is now the team to beat. This made me think that Team Secret and Vikings were crazy to have let Bind and Icebox in the map vetoes against Gambit, but I guess these teams figured out how to stop Gambit.
Team Secret on Icebox, for example, found a way to stop the 78 attacking win percentage of Gambit during Masters 3 by countering the possibility of a nAts lurk.
Having DubsteP often switching positions over to mid to directly attack and OP and to have JessieVash constantly play middle to drone and scout out a late lurk mid, didn't allow nAts to get activated on Gambit's attacker side.
You'll see below the overview of nAts positioning in the first 20 seconds of Icebox during Masters 3 and the position of DubsteP and JessieVash on defense against Gambit during the group stages of Champions on Icebox against GMB.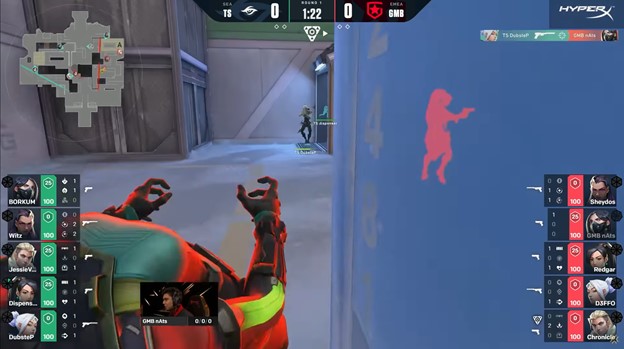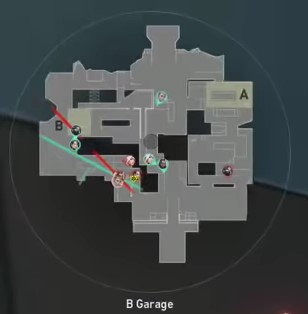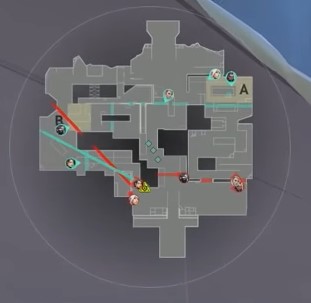 This resulted in very favorable duels for the side of Team Secret vs nAts.
With Team Vikings having similar results by beating GMB on Bind in very convincing fashion and almost winning the series against Gambit on Icebox, I'm leaning to believe that the other top teams in these playoffs have Gambit figured out.
The positive side for Gambit was that they were able to dismantle a very hot Team Envy during the Grand Finals of Masters 3, by using a "random" comp on Haven and beating NV 13-11 when it was a map that they said was a throwaway map in that series.
nAts is also backed up by a team of heavy hitters in their respective roles and if it comes time to get down and dirty and to change gears from their slow defaults, they can continue a strong performance during these Champions.
My personal opinion is that it seems like we have found some weaknesses in their Bind and Icebox to capitalize on and because they keep banning Haven, their map pool may not be as deep as it was during Masters 3 in Berlin. They may make it to the finals, but, unfortunately, I don't see them winning Champions in a bo5 setting.
Team Secret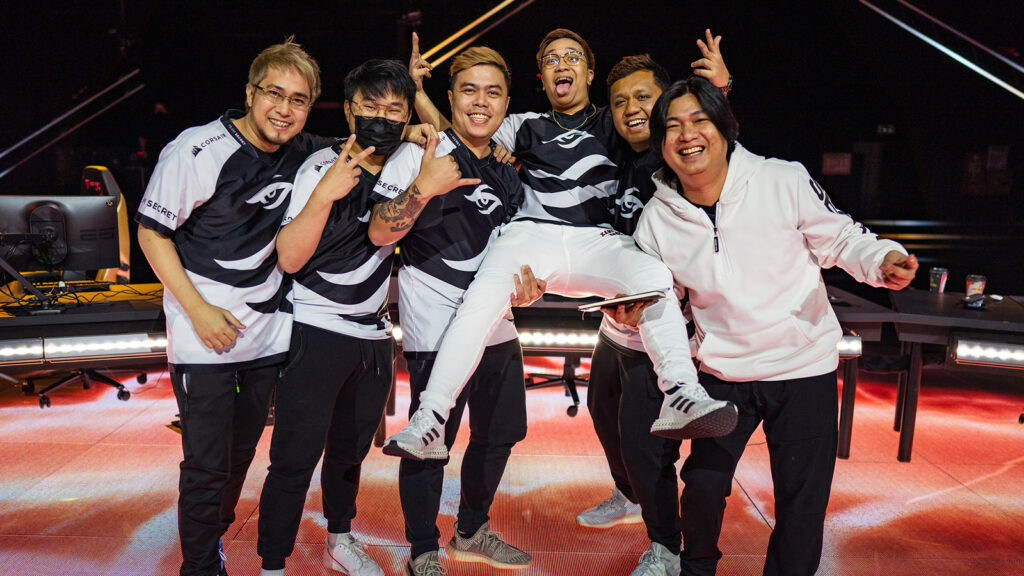 I'm so sorry Daks for not continuing to believe when I originally believed in Bren Esports going into Masters 3.
Prior to Masters 3, when I was watching the tape of the VCT SEA Stage 3 Challengers Playoffs, my initial reaction was, "Oh ok, we have some competition in SEA, X10 didn't even make it out of group against my Vietnamese brothers of Team Big BAAM, PrX lost to Bren Esports in the Grand Finals, this is nice!"
But I was still questioning how these teams would fare against Vision Strikers, Sentinels, and the SMB's of the world during Masters 3. This was confirmed with the early exit of Paper Rex, and it felt to me like the SEA region still had some work to do.
Fast-forward to this Champions event, and my jaw dropped. I'm really loving the double duelist composition from Team Secret on Icebox and Split. It allows for a lot of aggression and beautiful frags from Witz and DubsteP. Actually, Team Secret overall has amazing aim.
I don't know how many times I was in my chair going "Ok nice shot. ok…. OK…OOOKAAAYYYY". But that's just the first layer. As I mentioned before, I can now see that Team Secret puts in a lot of work on setups and communication to support all of this fragging ability that the team currently has.
When I thought that the SEA region would be the lowest region coming into this event under the Brazilian region, you've seen some convincing and easy wins from this Filipino team and their underdog run is nothing to be underestimated with.
Team Secret's aggressive playstyle works pretty well but relies a lot on first bloods or multi kills from a certain player in a certain round. I feel like their chances can increase greatly if they are able to be in a position to trade efficiently.
That said, I still believe that they are going into the playoffs very hot and may be able to upset Acend, but Acend will have to have a really off day for this to happen.
Fnatic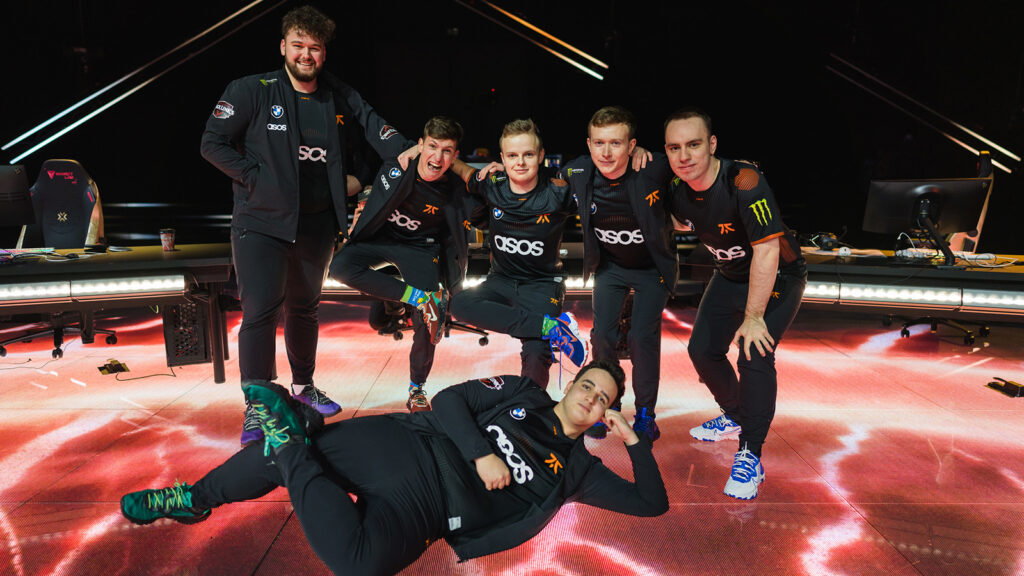 This FNC team is so hot right now. I was so impressed with their gameplay against Cloud9 and Vision Strikers. You can tell that their latest analyst Anderzz, coach Mini and Boaster have been putting in a lot of work to develop the team chemistry and just the comfort of the players to move inside the server.
For fun, listen to the comms they released against Cloud9 versus the comms that they released from Iceland. Boaster micromanages a lot less which also allows him to do his job as Sova and put in numbers on that agent. Derke continues to put up impressive numbers and they shut me up forever doubting them.
What I really like from this FNC team is that they seem to try to develop a new retake meta on the defender side. The triple flank retakes seem to work well so far.
My assumption behind the triple flank is that most teams play a post plant where the attackers never really push spawn to fight. A triple flank from the defenders narrows down the number of bodies watching the defender spawn angles from the attacking team, which then would allow for more even fights, whilst if the attackers aren't ready for a triple flank, the defenders will continue to have numbers advantage on the trades. This also cancels out any possibility of post-plant lineups or Astra gravity well delays, whilst allowing the defenders coming in from spawn to push more forward while their opponents are busy fighting the backlines.
Finally, their ability combos are so good or just utility usage in general. They also have lineups to counter post-plant lineups. They are a force to be reckoned with and I honestly believe that they will make it to the Grand Finals.
KRU Esports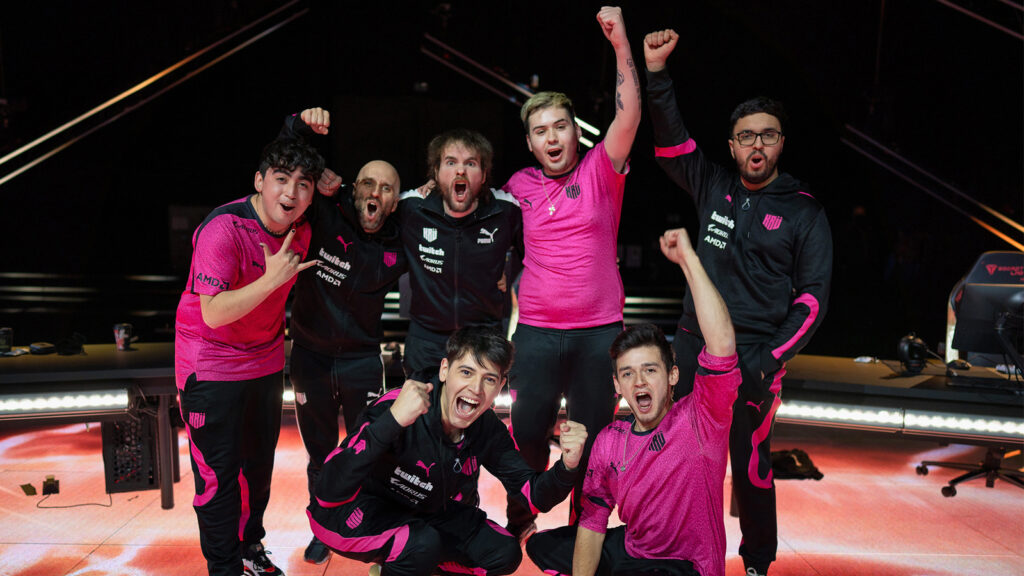 To me, they are the strongest team in their region and have the most consistent results out of all the LATAM and South American teams. They have also been continuously improving from big stage to big stage.
At Masters 2, I thoroughly enjoyed that they were a team that tried to evolve with the Meta. For example, they played a very similar comp to Team Liquid on Haven when they played a Viper and no Sova in their comp (but an Astra instead of a Brimstone).
Unfortunately, it was no match for the explosive post-plant heavy meta that Fnatic displayed during that event. This made me think that they were trying to play a comp that didn't really fit their own playstyle which is why they also lost out to Team Liquid after.
Masters 3 showed us a similar storyline for the LATAM team. With an easy win over an SEA team but a narrowly close victory against Keyd Stars, their run ended when they had a heartbreaking loss to their brother from across the pond in Mixwell's G2 squad.
We cannot shy away at how good they looked against Sentinels this Champions event, of course. A perfect example of how you can take advantage of mistakes from your opponents and use that momentum to obtain the victory. It felt like Sentinels didn't have the best comms going into this event overall and KRU looked clean. Switching gears into a fast hit off the helm of Nagzet's Jett on Haven and Split really threw Sentinels off for a loop. This showed me that KRU now could play their own game. Compositions and setups are practiced and studied, but when you need to adapt in the late game and do some micro-changes in your strategy to win, KRU has it.
Unfortunately, I feel that they may suffer the same fate. They couldn't get their revenge against Liquid in the group stages losing 5-13 and 8-13 on Haven and Ascent respectively and now they must face against a very hot team Fnatic as well. Can they get their revenge against the team that knocked them into the lower brackets from Masters 2? I don't think so.
Team Liquid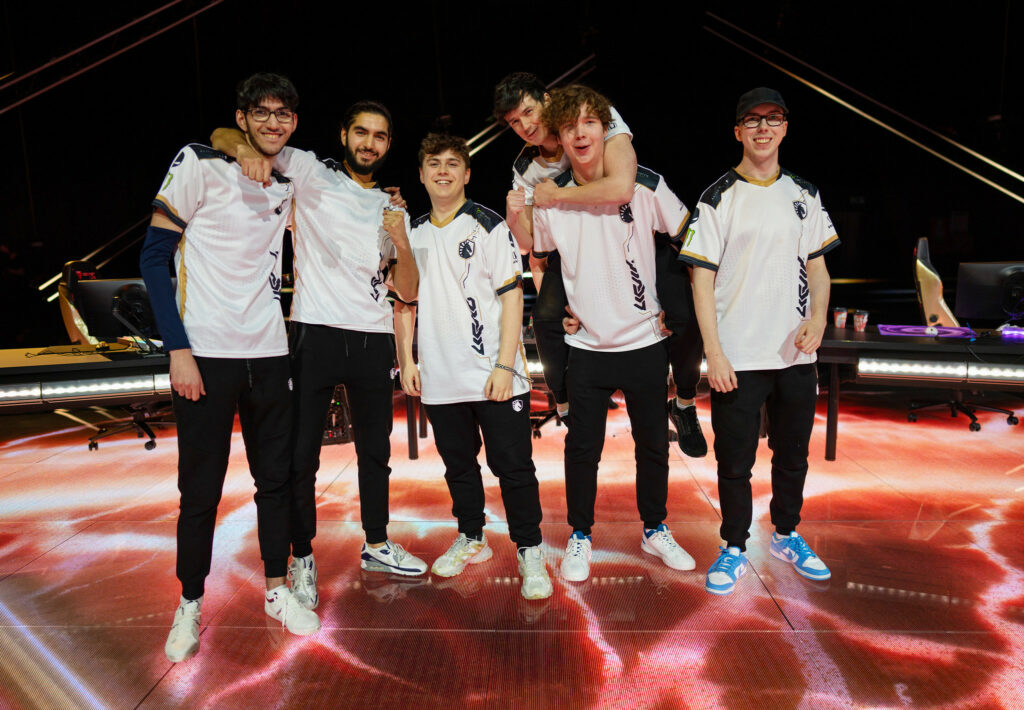 I don't know why, but I feel a lot of copium talking about Team Liquid. They've always been a really strong team, but when it mattered the most, they get upset by some of the top 10 teams of their region.
They lost to FNC at Masters 2 who ended up being a Finalist for that event. They lost and couldn't qualify to Masters 3 against Gambit who ended up winning that event. All that while trying to figure out roles, compositions, agent comfort, it was not that bad.
All this has changed since Nivera joined. They now have an amazing support player that can also frag, and Jamppi is finding a lot of success in IGLing while L1nk/Soulcas/SceaM are finding consistency and impact in their roles.
This Champions event has had some ups and downs for Liquid. Soulcas is getting so much value playing Kay/o and Raze right now, L1nk is godlike, while Nivera has played so well while isolated and separated from his team due to COVID protocols. All these pluses outweigh the minuses because those players that I've mentioned can carry slower starts/performances from ScreaM.
ScreaM didn't look comfortable playing Jett at all during the series against Sentinels. He got his first and only kill on the half of Breeze at the 12th round on attack (whilst it took Jamppi 10 rounds to get activated). Of course, being the world-class player that he is, he doesn't shy away from his performances on Reyna on Split in the same series.
If ScreaM can find his comfort zone playing Jett or just simply switch to Reyna during the playoff stages, especially now that the brother buff is back as Nivera is cleared from COVID protocols, they will look scary as hell against Cloud9. This is also a revenge match against Vanity that knocked them down to the lower brackets during Masters 2 Reykjavik. Unfortunately, I'm feeling the upset. Whoever wins this matchup will be our first Grand Finalist of Champions and could potentially win it all.
Cloud9 Blue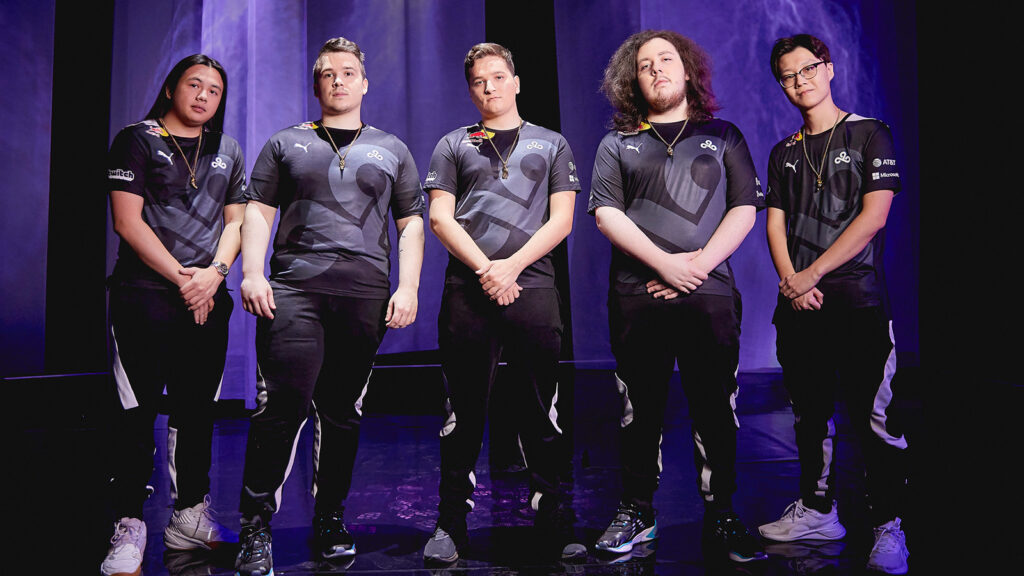 Speaking of C9B, their loss to Fnatic may have brought their stocks down, due to two things: how we think leaf underperformed on Skye and how FNC looked so much better with their ability combinations.
That said, the scores were so close! (11-13 Icebox, 13-11 Split, 12-14 Fracture). Look at leaf's scoreline following that matchup; +15 in the series vs Full Sense and +14 against the series with Vision Strikers on both Jett AND Skye.
If Xeppa and Leaf come out swinging like they did against VS, they should have this against Liquid. On paper, I'd still give the edge to C9. Xeta has been showing how good his Sova and Breach are since the LCQ and Mitch has been a really good secondary OP player for C9 on defense, yet also supporting on attack with the Op from time to time to allow leaf to do the Jett dash ins to clear space.
That said, I feel like C9 is a little bit like a Team Secret in a sense. You need leaf and Xeppaa to be activated so they can open up a kill or two before they get knocked down as they don't trade too much around these two, but the utility play from Xeta and Vanity is really good to allow leaf and Xeppaa to scale up. I can see Cloud9 Blue making it to the Grand Finals if they are able to beat Team Liquid in the quarters.
X10 Crit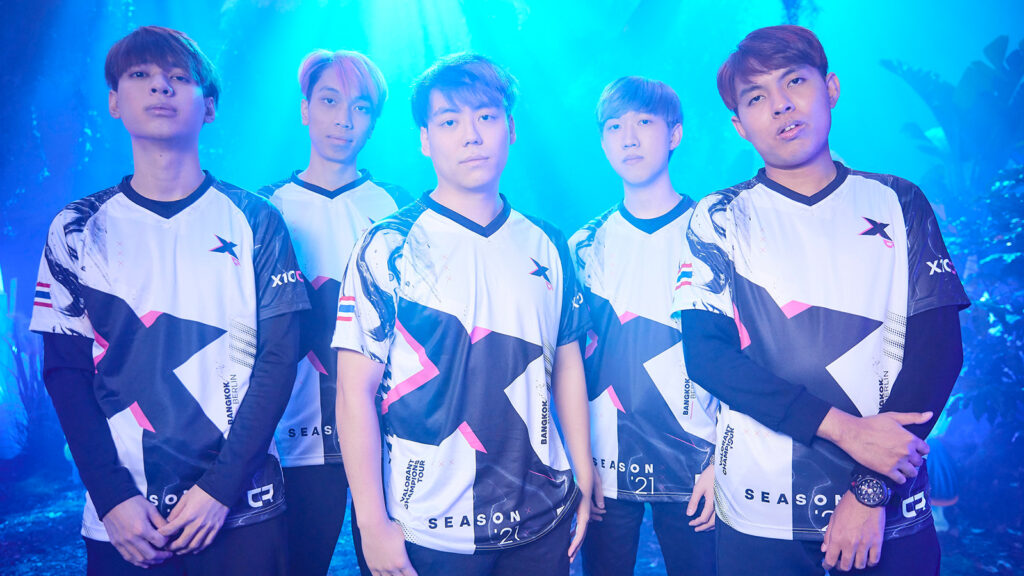 X10 have made me a fan and are the perfect example of when you got nothing to lose, play for fun with no expectations, and you can also throw off everyone else's expectations.
Seeing Patiphan switch off from the main Jett player and giving it to Sushiboys on certain maps has proved to be such a good change. I don't know if it's due to the recent wrist injury that Patiphan has so he needs to flick less, but the recipe works.
The upset against Envy shocked the world. It was funny to me that not one map was replayed in the revenge match and we saw three brand new maps in the Decider of Group A. And I'm not giving any excuses to NV with the COVID protocols and Victor, but X10 just looked really good in their explosive executions on their attacker side, while NV just felt that 9-3 curse hit them hard haha.
X10 has a very tough match in their hands playing against GMB in the quarterfinals, but as I mentioned at the beginning of this article, there is enough footage for you to try to anti-strat GMB on Icebox and Bind. Although Bind is the perma-ban from X10, if they can play the vetoes into Icebox and Split and are able to fight toe-to-toe with GMB, it can get scrappy where X10 can pull the upset. But realistically, Gambit should take this series.
Acend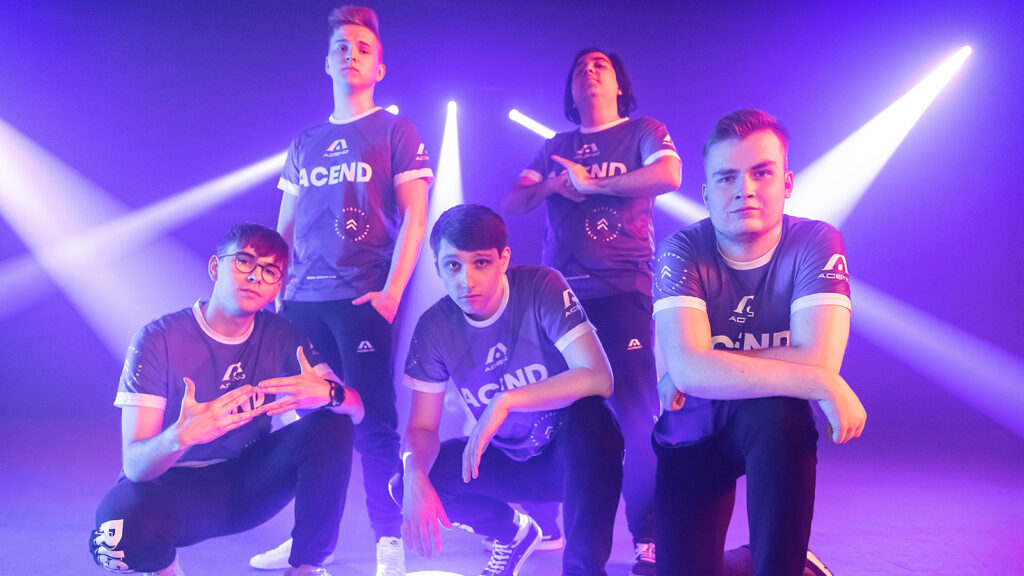 Acend has been on a mission to get back to their Masters 1 form, and it's been going pretty well in the European scene. Come international stage, there are still some kinks to be fixed. Champions showed to be kind of shaky as Vivo Keyd showed that they had some great firepower to match up with cNed and Zeek.
Things seem to have changed for the better as Acend has been taking advantage of the second opportunity that was given to them to replay map 3 of the series on Breeze against Vivo Keyd and they haven't looked back since.
Zeek has been playing some great Kay/o on Ascent vs Envy and cNed continues to top the charts as one of the best duelists in the world, but the addition of Bonecold's very important 2Ks and clutches on top of his IGLing has given Acend a second wind to dominate Envy, one of the tournament favorites.
That said, I feel like their run will end in the semifinals against whoever wins between Liquid and Cloud9
Who do I think will win?
There are going to be some heated matches going into the playoffs! My bet will be on Cloud9, Team Liquid, or Fnatic winning it all, but if I have to choose just one winner, I'm putting my eggs in the Team Liquid basket.
READ MORE: Over 30,000 Valorant Points are up for grabs in the ONE Esports Valorant Champions Fantasy Challenge