This is part of "Evo's Top Contenders", a series on the top fighting game players competing at Evo 2019 where we look at their year so far, their strengths, weaknesses and how likely they are to win the biggest fighting games tournament of the year.
Bae "Knee" Jaemin is a juggernaut in the world of Tekken. Ever since Tekken 3, Knee has been making wave-dashes in the Korean Tekken scene alongside fellow Korean pro, Kim "JDCR" Hyunjin.
But despite being dubbed the Tekken God, Knee wasn't always an all-star. He had an uneventful 2017 season, winning only one Challenger event championship, the Abuget Cup.
However, the Tekken god bounced back in 2018, winning eight out of the eleven TWT tournaments he joined. Even with the other three tournaments, his lowest placement was third place.
Interestingly enough, Knee has yet to win an Evo championship in a main series Tekken game. He did win the 2013 Evo championship in Tekken Tag Tournament 2, but fell short in Tekken 7 to Choi "Saint" Jinwoo at both Evo 2016 and 2017.
As for Evo 2018, Knee apparently opted out due to his family vacation clashing with Evo.
---
Year in review
Knee is in top form this year, and is currently ranked #1 globally with 1,175 points, which includes three first-place finishes in Masters tournaments.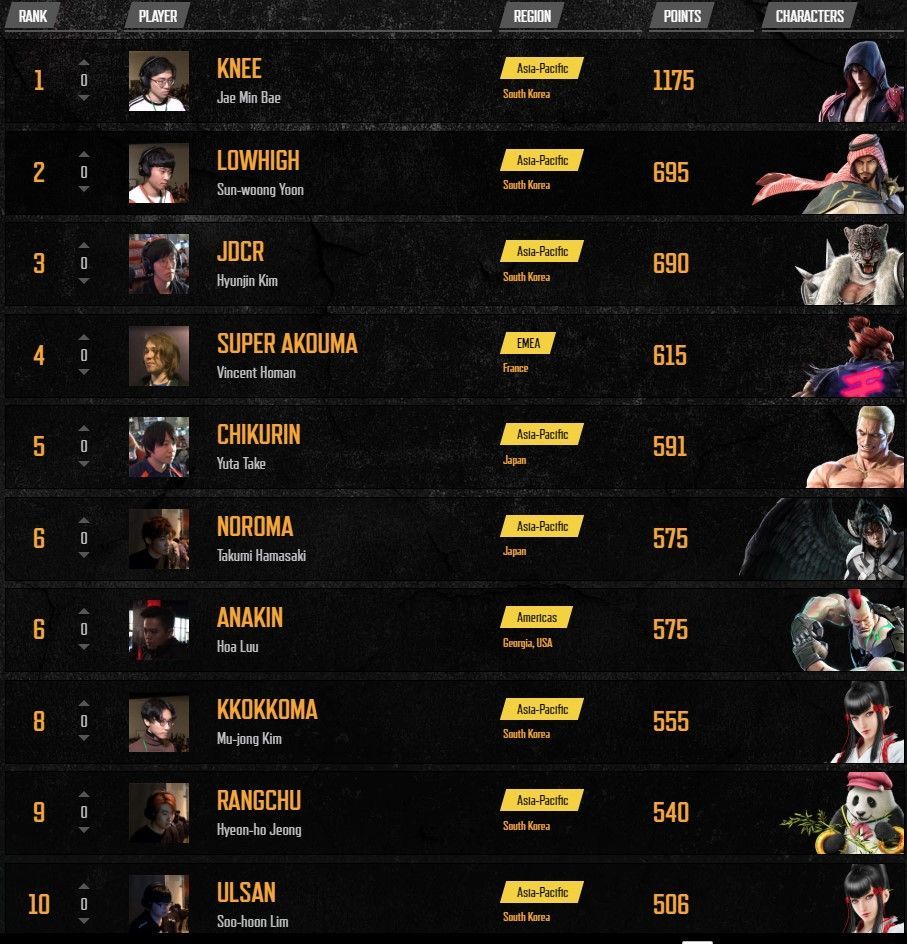 VSFighting (TWT Master)
Knee's most recent win was at VSFighting 2019, securing his third undefeated TWT win in a row. Although Yoon "LowHigh" Sun-woong was near to a grand finals reset, Knee honed in his godlike Tekken skills to finish the UYU player off in a beautiful slow-mo clash.
CEO: Daytona (TWT Master)
Knee fought a familiar face in the grand finals of CEO: Daytona, where he met ROX Dragons teammate Kang "Chanel" Seong-ho. Knee didn't take it easy on his friend though, and ended CEO 2019 with a perfect round, showing that even friendships won't get in the way of him winning championships.
Combo Breaker (TWT Master)
Combo Breaker 2019 was a massive win for Knee. It was his first tournament win of 2019, but compared to his other championships, Combo Breaker was no easy feat.
In the grand finals, Knee was fighting out of the losers bracket against the top-ranked American player, Hoa "Anakin" Luu, who dominated the first two matches. On the verge of elimination, Knee switched from Devil Jin to one of his many pocket characters, Paul Phoenix.
One of Knee's greatest strengths is his multiple pocket characters, all of which he can play at a high-level.
In his bout against Anakin, his switch to Paul proved to be the right move. Knee made an incredible comeback and reset the bracket, finally giving him some hope for a win.
In the grand finals reset, Knee outplayed Anakin in the last round, ending Combo Breaker 2019 with an amazing time-out round.
---
Evo prediction
With his unbelievable performance in this year's TWT, there is nothing stopping Knee from getting his first-ever Evo championship.
The only pro Knee should be wary of is the Pakistani prodigy, Arslan "Arslan Ash" Siddique, who defeated Knee at Thaiger Uppercut this year.
Arslan is famous for upsetting the top-ranked Koreans, and his Kazumi had no problem shutting down Knee's Devil Jin in the grand finals, winning by a decisive 3-0 in the final game.
Nevertheless, Knee shouldn't have too much difficulty with the rest of the field at Evo, and we see him making it to at least top three.
READ MORE: Knee grabs his third undefeated Tekken championship at VSFighting 2019