This is part of "Evo's Top Contenders", a series on the top fighting game players competing at Evo 2019 where we look at their year so far, their strengths, weaknesses and how likely they are to win the biggest fighting games tournament of the year.
With the dominance of Korean and Japanese players in the Tekken pro scene, you may wonder what the rest of the Asian community can offer. Enter Arslan Ash.
If the name doesn't ring a bell, Arslan Ash is a Pakistani player that blew up during Evo Japan 2019 for sending the Tekken God, Bae "Knee" Jaemin, to the tournament's loser bracket.
The journey to Japan was not easy for Arslan. Due to passport complications, Arslan had to fly across multiple countries days before the tournament. Fortunately, he arrived in Japan right in time for his pools matches.
Arslan was restless and unprepared for the tournament, but his survival instincts kicked in. He wanted to win.
"I just wanted to win because I suffered a lot," said Arslan in an interview at Evo Japan.
And win he did. Defeating the likes of Jimmy "JimmyJTran" Tra and Yuta "Chikurin" Take, the unknown player from Pakistan was a force to be reckoned with.
The bold and relentless Arslan Ash eventually triumphed in the finals against Alexandre "AK" Laverez and went home as the champion of Evo Japan 2019.
---
Year in review
Unfortunately, Arslan's run in Evo Japan 2019 was not part of this year's Tekken World Tour, placing him fairly low in the global leaderboard. Arslan is currently ranked 43rd with only one Challenger event win to his name.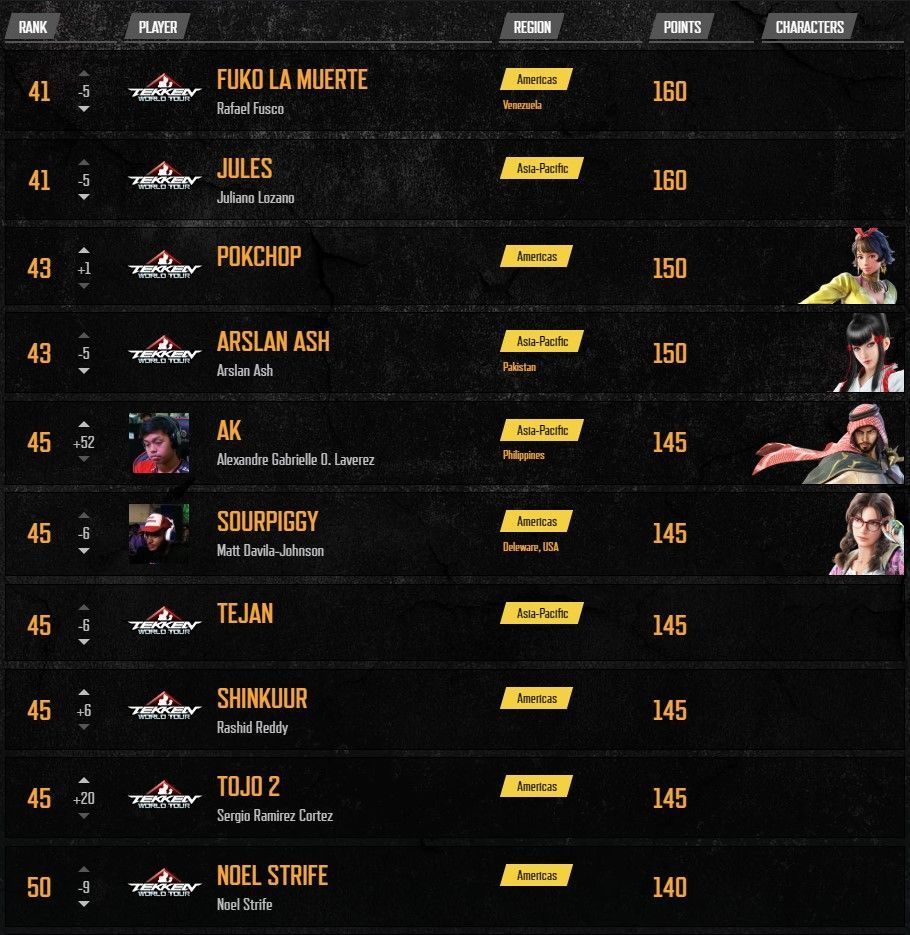 Thaiger Uppercut (TWT Challenger)
Arslan's first TWT appearance was at Thaiger Uppercut 2019. Arslan fought his way through to the grand finals where he matched up once again against Knee.
The match went back and forth, with Arslan sticking to his poke-heavy strategy to counter Knee's aggressive Devil Jin.
In game five, Arslan made a breakthrough. In the last round, he made an amazing read, blocking Knee's hellsweep and finishing off the ROX Dragon player to take the tournament title.
Evo Japan 2019 (Independent)
One of Arslan's strengths is sticking to a simple poking strategy. With a simple, yet safe character like Kazumi, Arslan can utilize her quick jabs and low kicks as a strong offense against most players.
In his match against AK, Arslan's playstyle doesn't look like much, but it belies the amount of damage he's doing. With his quick 1-2 combos, he can put out a lot of damage very fast.
To add to his effective offense, Arslan's a fantastic reader in clutch moments. In the highlight clip below, AK desperately attempts to attack by doing a low sweep but ends up getting punished by Arslan.
World Showdown of Esports 7 (Independent)
Arslan has a weakness against players who can mirror his technique. In the recent WSOE7, JimmyJTran easily caught on to his strategy. In their match, JimmyJTran slowly chipped away at Arslan's health by baiting out his whiffs. Sadly, Kazumi's juggle game is fairly weak, leaving Arslan in the dust during their matchup.
---
Evo prediction
With what we've seen, Arslan really can be a hit or miss during this year's Evo. We know that he fares well against Korean and other Asian players, but the Western hemisphere is still uncharted territory for the Pakistani player.
With the likes of JimmyJTran and Hoa "Anakin" Luu present, Arslan may be unfamiliar with the way the Americans play Tekken.
Nevertheless, his skill and prowess should get him to at least a top-eight placement.
READ MORE: Arslan Ash win his first Tekken World Tour event on his first try