This is part of "Evo's Top Contenders", a series on the top players competing at Evo 2019 where we look at their year so far, their strengths, weaknesses and how likely they are to win the biggest fighting games tournament of the year.
Sun-woong "LowHigh" Yoon is a fairly new player in the pro-Tekken scene and has only been competing professionally since 2016.
However, in his short career, he's enjoyed tremendous success, which included winning Evo last year against legendary Tekken pro, Son "Qudans" Byeong-mun.
LowHigh is known for his mastery of Shaheen, and he showcased all of his skill in this matchup against Qudans' fearsome Devil Jin.
The grand finals was an equal display of skill from both sides. Qudans was able to reset the bracket, taking the first set 3-1, but LowHigh adjusted quickly and played more aggressively in the second set, using Shaheen's unpredictable moveset to cruise to a 3-0 victory to win his first Evo title.
That day, LowHigh proved that he belongs among the legends of the game. Now in 2019, he's continued to prove himself as one of the best players in the world.
---
Year in review
LowHigh has had a pretty good year so far in the Tekken World Tour. He is ranked second place right behind Knee.
He has points from all three categories, but his Masters tier contributes the most with a whopping 600 points.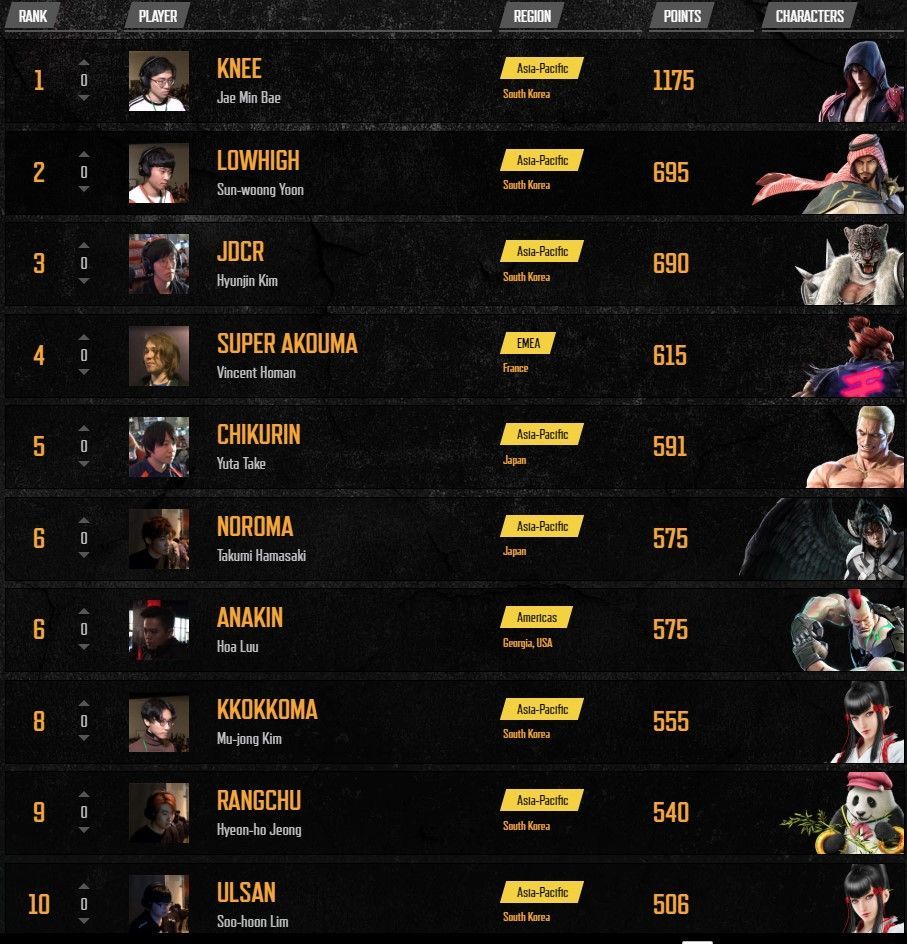 While LowHigh hasn't won any championships yet this season, the UYU player grabbed second place at both VSFighting and ROXnRoll Korea. As for his other tournaments, he's had a strong and consistent presence, always ending up in the top eight.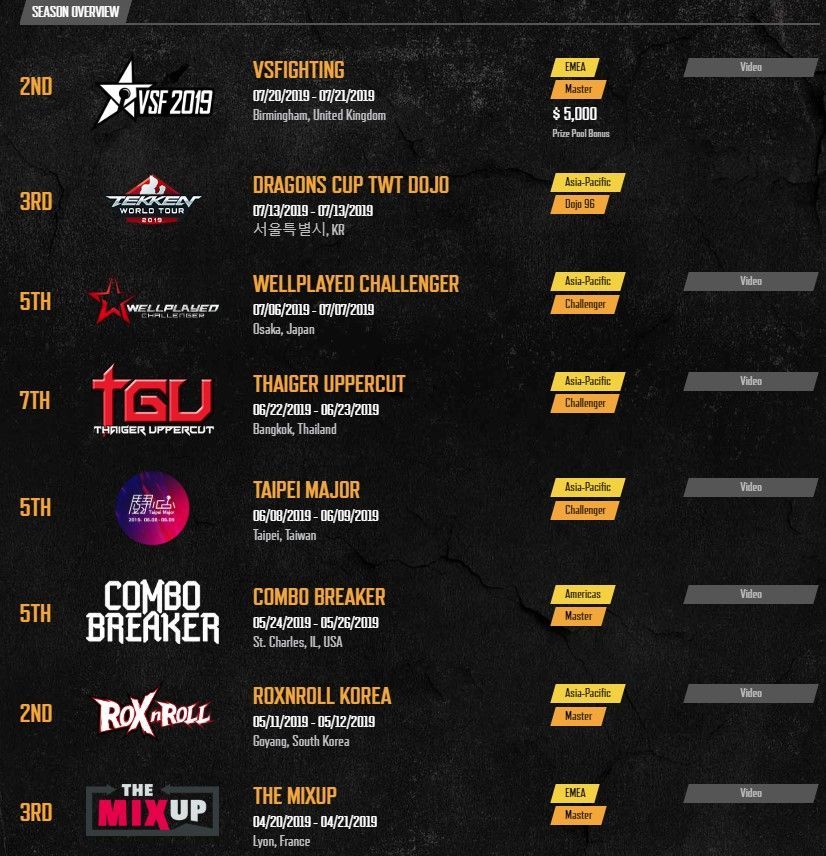 ROXnRoll Korea (TWT Master)
LowHigh is a counter-hit specialist. In his ROXnRoll Korea matchup with Yuta "Chikurin" Take, he perfectly initiated his Hawk Edge counter-hit to start a quick combo.
One of LowHigh's weaknesses is that he's a risk-taker. In moments where he attempts to bait the counterhit, he is often left vulnerable to quick jabs and kicks.
In their last round together, Chikurin delivered a flurry of punches to LowHigh and ended the tournament with a deadly juggle.
VSFighting (TWT Master)
In VSFighting, LowHigh met Knee in the grand finals. He put up a good fight and his counter-hit strategy worked well, prompting the Tekken God to choose his pokes wisely.
In this clip, LowHigh closed out the round with a well-timed Rage Art that completely drained Knee's health bar.
LowHigh was a worthy opponent to Knee, and was neck and neck with him all the way to the final round. Unfortunately, Knee won with just a pixel of health left, sending the UYU player home in second place.
Combo Breaker (TWT Master)
Even against heavy hitters like Hoa "Anakin" Luu, LowHigh knows how to step up his offense when needed. In this year's Combo Breaker, LowHigh initiated an impressive juggle/wall-carry that took off more than half of Anakin's life.
---
Evo prediction
With how well LowHigh has been doing in the TWT, there's no doubt he'll make it to the top eight of Evo.
While he hasn't won a title this year, he's come close, and will be hungry to defend his Evo crown. If he plays a bit safer with his effective counter-hit strategy, we could see him become the first back-to-back Evo champion for Tekken 7.
Interestingly, Evo will also be Qudans first TWT appearance of the year, after taking a break for the first half of 2019. Will we see a rematch of last year's Evo grand finals? We certainly hope so.
READ MORE: Evo's Top Contenders: Anakin, America's Last Hope