This is part of "Evo's Top Contenders", a series on the top fighting game players competing at Evo 2019 where we look at their year so far, their strengths, weaknesses and how likely they are to win the biggest fighting games tournament of the year.
Hoa "Anakin" Luu is America's best chance at getting their first-ever Tekken 7 Evo title.
Anakin is the most successful US Tekken pro and usually dominates the American leg of the Tekken World Tour.
His best year in Tekken 7 was back in 2016, when he won both Combo Breaker and Community Effort Orlando back-to-back.
Since then, Anakin has been facing various waves of Korean players expanding their presence in the US. With legendary players like Bae "Knee" Jaemin joining the region's events more often, Anakin has struggled to maintain his presence as a championship player.
Regardless, the Jack-7 player still grabbed a few championships in 2017 and 2018. Interestingly enough, all of his grand finals opponents were Americans.
---
Year in review:
Anakin stands at sixth in the global ranking, making him the only American in the top 10.
Anakin's points come from all three categories of the TWT point system. His Master, Challenger, and Dojo points are quite close, with only a difference of around 55 points.
His best appearance this year was at Combo Breaker, where he lost in the grand finals to Knee.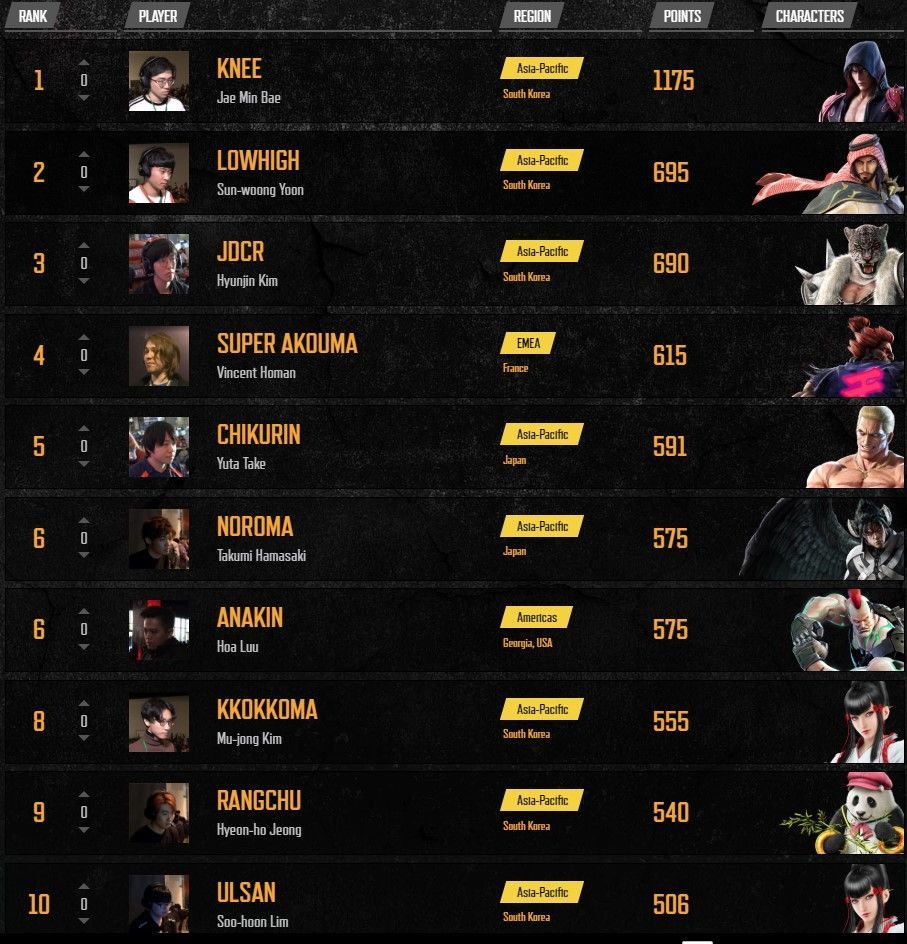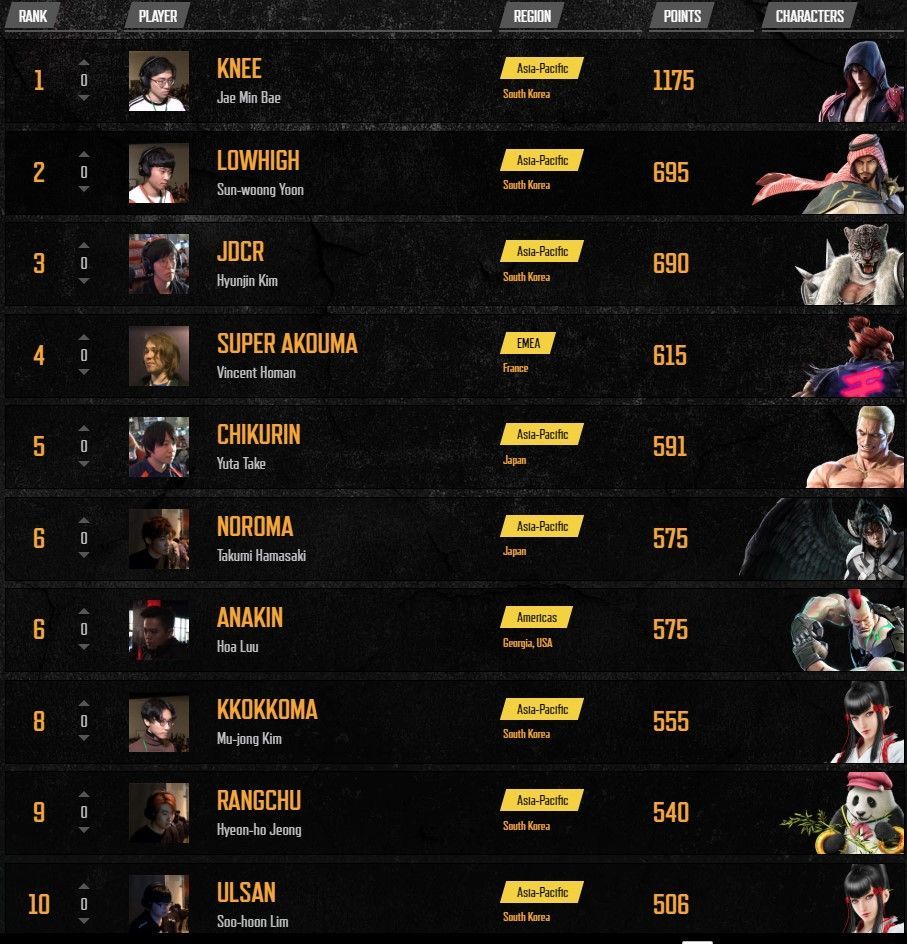 Electric Clash (Challenger)
Anakin's playstyle relies heavily on Jack-7's heavy ranged pokes. With Jack-7 being a bigger character, his stature has its pros and cons. Jack-7 has great range for maintaining distance and a solid throw move set, but his size makes him an easier target for juggles.
In this year's Electric Clash, Anakin fought close friend and Tekken legend Kim "JDCR" Hyunjin in the losers quarterfinals. Anakin made great use of pokes while still keeping his distance against Armor King.
World Showdown of Esports 7 (Independent)
When given a chance to retaliate, Anakin can deal out incredible damage to his opponent. In WSOE7, he made an amazing comeback against JDCR, canceling JDCR's Rage Drive and performing a quick, yet deadly juggle.
Combo Breaker (Master)
One of Anakin's best moves is his Debug. Although it may be a simple Rage Drive, mixing it in among his pokes proves to be an effective strategy.
In Combo Breaker, he was able to debug Knee a few times in their grand finals match.
---
Evo prediction
With his consistent and safe playstyle, and the support of the US crowd on his side, Anakin should make it to at least the quarterfinals at Evo 2019,
but facing both the best Americans and outsiders may put him in a tough spot.
The other top Americans, like Jimmy "JimmyJTran" Tran and Terrelle "Lil Majin" Jackson, are already familiar with Anakin's playstyle, and he may need to switch it up a bit to keep them guessing.
As for the Korean and Japanese pros, while he's played against the likes of Knee and JDCR before, he needs to take his time to read more unfamiliar opponents instead of just resorting to his usual poking strategy, or he might end up getting upset earlier than expected.
READ MORE: The ending to the Tekken Grand Finals at Combo Breaker was crazy