This is part of "Evo's Top Contenders", a series on the top players competing at Evo 2019 where we look at their year so far, their strengths, weaknesses and how likely they are to win the biggest fighting games tournament of the year.
UK pro, Benjamin "Problem X" Simon, began his competitive fighting game career back in 2011 with Street Fighter IV.
When he first started out, he mainly only attended Dream Hack events, but he started to get more serious in 2016, after he won his first title at Hypespotting V, where he defeated 2014 Evo champ, Olivier "Luffy" Hay, in the grand finals.
Problem X signed up with Mousesports at the start of the 2017 CPT season and continued to improve as a pro. That year, he won Sonic Boom IV, Celtic Throwdown, Street Grand Battle, EGX, and the EU Regional Finals in Milan.
2018 was even better for X, and he entered twenty-two events, placing well in most of them. Moreover, he won the Northwest Majors X, Headstomper, Celtic Throwdown, and – of course – Evo 2018.
He even bested one of the Japanese Gods of fighting games, Hajime "Tokido" Taniguchi with a 3-0 final set.
Problem X is a versatile player that can play a wide cast of characters at a high level, including Birdie, Abigail, Alex, and Guile. His strongest character is clearly M.Bison, and he is by far the best Dictator player in the world.
---
Year in review:
Problem X has had a respectable 2018, but he hasn't achieved the same success he did last year. Going into Evo, he sits in fifth place with 1,360 CPT points.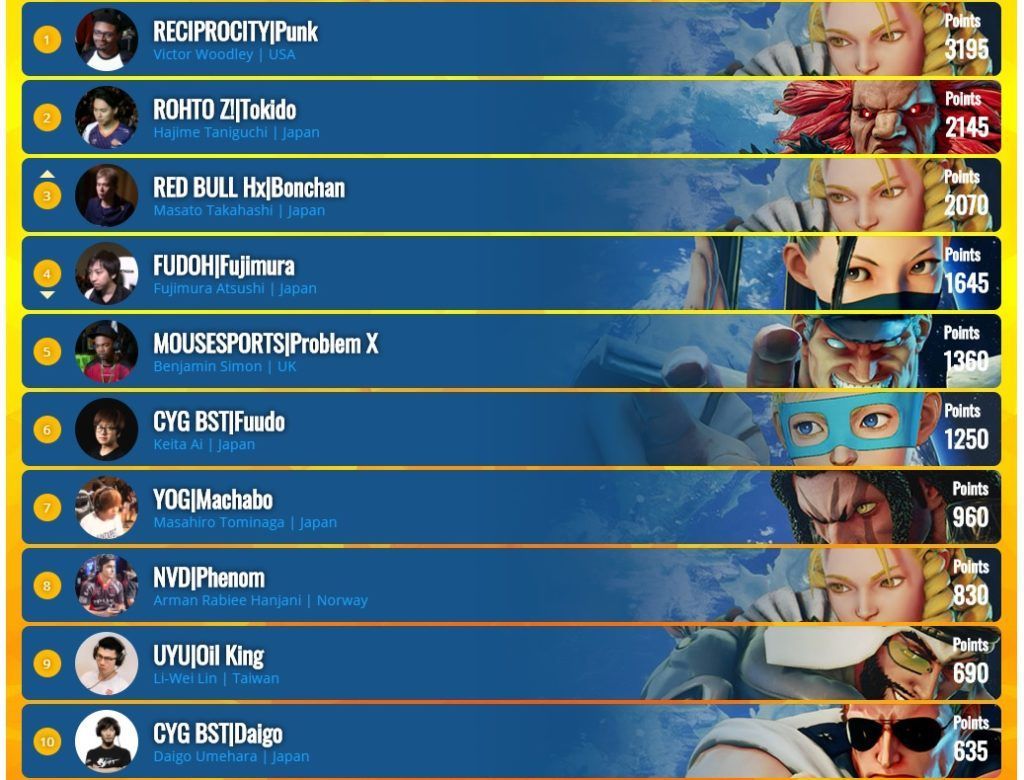 ---
April Annihilation (CPT Ranking event)
Problem X's first win of the year came at April Annihilation. He defeated Terrence "Terrence" Mikell convincingly with a 3-1 score in the grand finals.
But the best match from the top 8 of April Annihilation came from Problem X's lower bracket match with Punk.
Problem X was able to defeat Punk's Kolin in the first two sets, but Punk was able to regain some momentum by switching to Karin. Problem X struggled to close out the match but he eventually edged out Punk with a 3-2 final score.
---
Reflect (CPT Ranking event)
Problem X then won the Reflect tournament by dominating fellow European contender, Arman "Phenom" Hanjani with a 3-0 score.
---
Combo Breaker (CPT Premiere event)
At Combo Breaker 2019, Problem X found himself facing Punk once again, this time in the grand finals.
After losing to Punk's Karin in the winners finals, Problem X switched from M. Bison to Abigail. The decision initially paid off, as Problem X won the first set with a dominating 3-0 score. But Punk soon returned the favor by winning the tournament with a 3-0 on the final set.
---
Sonic Boom VI (CPT Ranking event)
Finally, Problem X's latest CPT event win was in Sonic Boom VI where he defeated fellow UK pro, DC "Infexious" Coleman. Problem X was able to show yet again, that he is the best M. Bison player in the world.
---
Evo Prediction
Problem X's playstyle is similar to a boxing slugger. He often ends up trading blows with his opponents, which is perfect for M. Bison. The character has more health than traditional glass cannon characters like Akuma or Ibuki, but is still able to dish out incredible amounts of damage, including plenty of chip damage on blocked combos.
Along with a great understanding of the character, Problem X knows plenty of tricky mixups and gimmicks that could surprise opponents.
Problem X is going to have to put in another stellar performance if he hopes to win Evo once again as he hasn't fared particularly well against the other top contenders this season.
On top of that, Problem X has quite a difficult path to the finals. He could get matched up against Masato "Bonchan" Takahashi in the winners quarterfinal. And before that, he could face Kenryo "Mago" Hayashi, Saul "Menard" Segundo, Joe "MOV" Egami, or Yusuke "Momochi" Momochi.
Based on Problem X's performance this year, it's hard to see him repeating as champ. We believe a top-eight finish is possible but we wouldn't be surprised if he was knocked out earlier, seeing how stacked his Evo bracket is.
READ MORE: Street Fighter V's "thiccest" Evo reveal was just leaked