This is part of "Evo's Top Contenders", a series on the top fighting game players competing at Evo 2019 where we look at their year so far, their strengths, weaknesses and how likely they are to win the biggest fighting games tournament of the year.

Masato "Bonchan" Takahashi has been one of the top Street Fighter Pros for the past seven years. In Street Fighter IV, he became known as the "King of the Sagat players" due to his overwhelming mastery of the character.
Bonchan's best year was in 2014. He took third place at the Topanga World League and was the runner-up at Evo 2014, where he narrowly lost to Olivier "Luffy" Hay in the grand finals.
When Street Fighter V was released, Bonchan initially chose Ryu, as Sagat was unavailable at the time. Bonchan struggled with the character, and eventually switched to Nash, who propelled him back to the top of the rankings. He won theSaigon Cup 2017, Battle Arena Melbourne 9 and The Colosseum 2017.
Bonchan had a rough 2018 CPT season. Nash was nerfed and Bonchan failed to win any CPT events. Eventually, he dropped Nash and switched to Karin. However, with the return of Sagat in Season 3, Bonchan has been starting to play more of the Muay Thai Emperor.
---
Year in review
Bonchan started slow this year, but hit his stride midway through the CPT season. He is currently ranked third in the global leaderboards with 2,070 total points, right behind Hajime "Tokido" Taniguchi.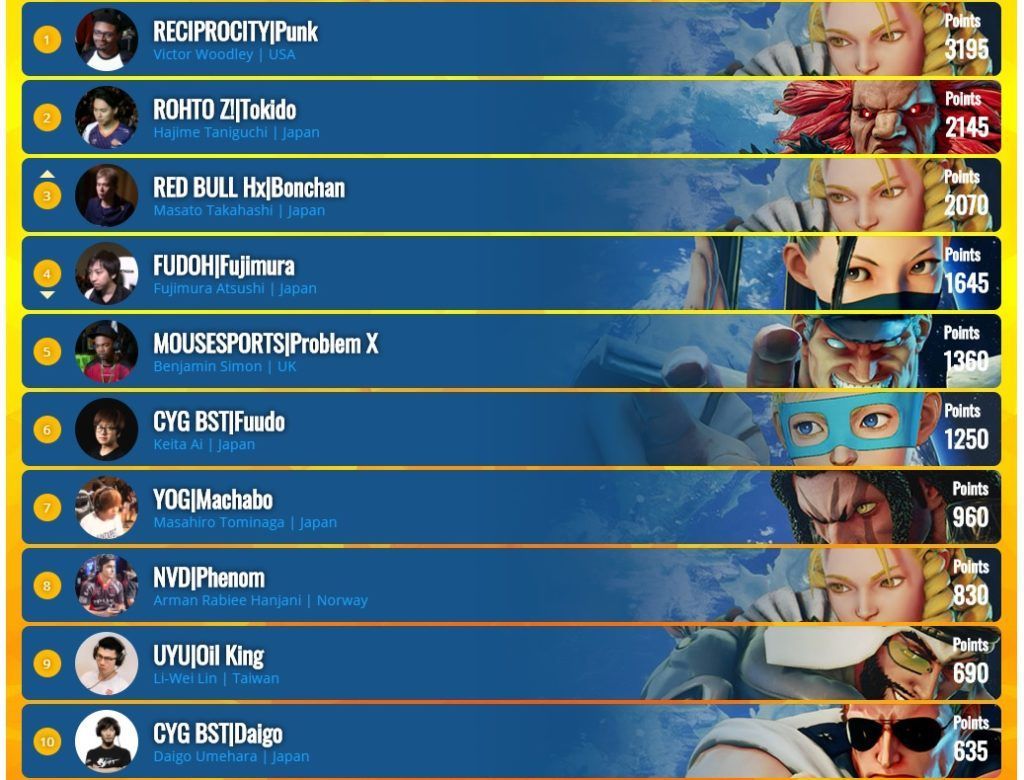 ---
Versus Master (CPT Ranking event)
Bonchan won his first event of the year at the VS Masters tournament in Singapore, where he defeated hometown hero Kun Xian "Xian" Ho with a 3-2 result.
During the final set, Bonchan displayed a stellar defensive performance against Xian.
---
CEO (CPT Premiere event)
Bonchan picked up his biggest win of the season by defeating Fujimura "Fujimura" Atsushi, in a thrilling grand final set of Community Effort Orlando.
After losing the first set against Fujimura with a 3-2 score, Bonchan was able to adjust, and took a convincing 3-1 final set.
Bonchan is another top Japanese player who – once he gains enough momentum – is virtually unstoppable.
---
VS Fighting (CPT Ranking event)
The last event Bonchan won was the VS Fighting tournament in Birmingham, England. He defeated number one ranked player and Karin master, Victor "Punk" Woodley" in a grueling grand final set.
Bonchan was able to reset the brackets convincingly with a 3-1 score, and continued to dominate the final set up until Punk fought back and made it interesting. Bonchan was still able to clutch out the very last round of the tournament.
At the time, Victor "Punk" Woodley was considered the best Karin in the world, by far. As their match progressed, Bonchan continued making better decisions and eventually gained a significant advantage.
There is nothing flashy or particularly exciting about Bonchan's playstyle. Much like his Sagat from Street Fighter IV, he creates a significant life lead which, in turn, forces opponents to be more aggressive and make critical mistakes.
He's the equivalent of a counter puncher in boxing. He will capitalize on any mistakes made during a match and let it build up until he has gained his win.
---
Evo Prediction
Bonchan has been a top competitor since 2013, but has yet to win an Evo title. The closest he's gotten was in 2014, where he was the runner-up.
Bonchan matches up well against all other top contenders. He has victories over Fujimura, Punk, and Tokido; but he hasn't faced Benjamin "Problem X" Simon this year, who he could match up against in the winners quarterfinals.
One thing we're hoping to see during the competition is Bonchan's underrated Sagat, since he's one of the few players who can play him at the highest level.
Bonchan is a strong and consistent performer, and he should do well at Evo,
and we can see him placing in at least the top four.
On paper, Bonchan's Evo bracket is quite straight-forward. In the pools stage, he will be in the company of some skilled players such as British pro, Ryan Hart, and Hong Kong player, Yeh Man "HotDog29" Ho, but his true test begins if he reaches the final day of the competition.
If he manages to defeat Problem X in the winner's quarterfinals, he could then face Punk in the semifinals.
Be sure to also check out Evo's Top Contenders: The Japanese God, Tokido and Evo's Top Contenders: Fujimura, the Machine.