The stage is set for an exciting finish to this year's Mobile Legends: Bang Bang's Southeast Asia Cup (MSC 2019) as Day 1 of the tournament's Playoff stage saw defending champions, Bren Esports (Philippines), fall to Vietnam's Overclockers.

Bren Esports had won the 2018 MLBB Southeast Asia Cup when they were known as Aether Main. Overclockers, meanwhile, is new to the MSC tournament, having earned its berth in the regional tournament by way of a local MSC qualifier held earlier this year.
In today's four pre-scheduled best-of-3 playoff events:

Louvre Esports (Indonesia) beat ArkAngel (Philippines), 2-1
ONIC Esports (Indonesia) beat IDNS (Thailand), 2-0
Evos ESports SG (Singapore) beat Geek Fam (Malaysia), 2-0
Overclockers (Vietnam) beat Bren ESports (Philippines), 2-0
As winners of the Upper Bracket matchups, Indonesia's Louvre Esports and ONIC Esports earned direct seats to tomorrow's semifinal round. Meanwhile, the Upper Bracket teams that lost — ArkAngel and IDNS — competed against the winners of the Lower Bracket series in Day 1's last two matches.

ArkAngel (Philippines) regained its form to beat Evos ESports SG (Singapore), 2-0. Overclockers (Vietnam) stayed on fire, earning a 2-1 come from behind win over IDNS (Thailand).

Arkangel and Overclockers will face each other tomorrow in the Lower Bracket semis. Whoever wins will face the loser of the Upper Bracket semifinal between Louvre and ONIC.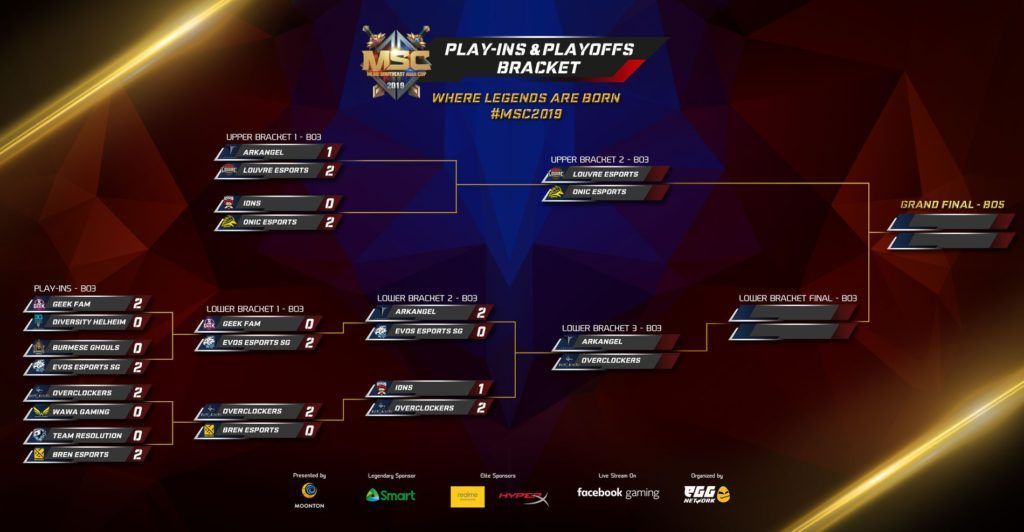 MSC 2019 is down to its final four teams, with four exhilarating matchups left to determine who will bag the US$120,000 prize pool. Be sure to check for the livestream on the official MLBB Facebook page.

READ ALSO: Mobile Legends' Southeast Asia Cup: Watch the live stream here