After five weeks of matches, the top eight teams of MPL SG/MY Season 5 are locked in for the playoffs.
---
Schedule
The top four seeded teams will start in the upper bracket, while the remaining four teams will start in the lower bracket.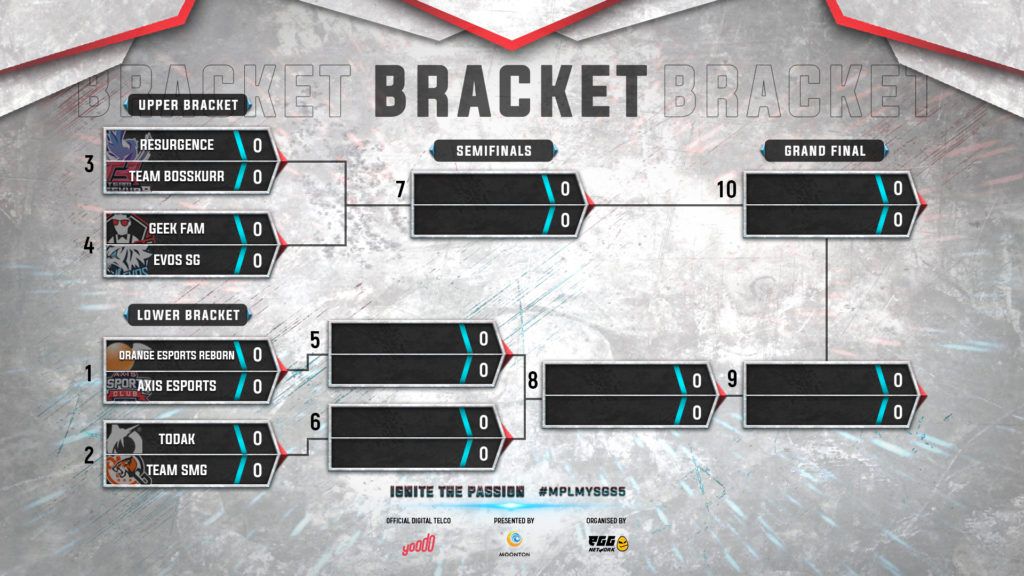 The playoffs will run May 1 – 3, with matches beginning at 2.15 p.m. +8 GMT daily.
On May 1, Orange Esports Reborn and Axis Esports will kick off the playoffs, followed by Todak versus Team SMG. Upper bracket matches are scheduled for 6 p.m., starting with Resurgence and Team Bosskurr, followed by Geek Fam and EVOS SG.
---
---
Teams
Resurgence (8-1)
Geek Fam (8-1)
EVOS SG (7-2)
Team Bosskurr (5-4)
Orange Esports Reborn (4-5)
Todak (4-5)
Team SMG (4-5)
Axis Esports (2-7)
Siren Clan (2-7)
Notorious Villains (1-8)
Surging through the ranks in the last two weeks, all eyes are on Team Bosskurr, who completely turned their season around to clinch the final spot in the upper bracket. They first broke their loss streak in Week 3 and went on to defeat EVOS SG 2-1 in Week 4, before closing with a perfect Week 5.
Meanwhile, reigning champions EVOS SG will start as the third seed, but are also the only team to defeat Resurgence this season, doing so on the last day of the regular season, and they'll be keen to defend their title.
Resurgence on the other hand, narrowly missed out on a perfect season, and alongside Geek Fam, these two teams have been stomping the competition all season long. A clash between these giants will be a treat to watch, considering how Geek Fam narrowly missed their chance to finish off Resurgence's Base in game two.
Will the playoffs be dominated by the top four teams, or will a surprise challenger from the lower bracket emerge?
READ MORE: MPL SG/MY S5 Week 5: EVOS SG end Resurgence's perfect season