The MPL Invitational Playoffs have finally begun and powerhouses RRQ Hoshi and Onic Esports have powered through to the second day of the playoff bracket. Along with the Indonesian teams, Singapore's Resurgence easily swept past the Burmese Ghouls while Malaysia's Geek Fam knocked Genflix Aerowolf out of the 4 Nation Cup.
---
RRQ Hoshi 2 – 0 Evos Legends
RRQ easily stood their ground as the top team of Indonesia by sweeping rival superteam EVOS Legends. Game one was a complete blow-out by Xin and the crew, collecting 14 kills and a 10-minute win against a lone kill from the EVOS side.
In the second game, EVOS did their best to match RRQ's offense by sticking to their lanes, but the tower-diving triple threat of Tuturuuu, Xin, and Vyn proved to be too strong for Rekt and his crew. Right after killing Lord, Xin teleported into the top lane and got an instant triple kill to close out the game. As Lord marched down the top lane, RRQ overwhelmed EVOS' final line of defense to finish the series with an amazing sweep.
---
Resurgence 2 – 0 Burmese Ghouls
Resurgence had a bloody battle against Myanmar's only representatives, racking up 35 kills against the Ghouls' 15. Focusing on sure double-teams that translated into advantageous team fights, RSG overtook BG in the first game by the 20-minute mark.
In game two, Ly4 became RSG's dominant force on offense, leading his team with seven kills in as many minutes. With Ly4 always looking for the jungle gank, the rest of RSG prioritized turret breakdowns and monster kills for the gold lead. With Lord assisting in the final push down the mid lane, Kayzeepi launched BG into the air with his Tyrant's Revenge, giving Ly4 the perfect time to gun down the stunned Ghouls and hand themselves a final wipeout for the win.
---
---
Geek Fam 2 – 0 Genflix Aerowolf
Even though Genflix was having a great showing in game one with strong comeback kills, Geek Fam simply outclassed them in one Lord fight. As Ozora Veki locked up MidGod with an Ejector, the rest of Geek Fam followed up with an impressive wipeout and base inhibitor rush.
Geek Fam's dominance was still the big story behind game two. The MY/SG team destroyed all of their opponents' towers with Ozora Veki and Artz always securing the lane push in the side lanes. Just like game one, Ozora Veki performed another killer Ejector on Rave while GEEK chased down the retreating enemy team into their base for another emphatic win.
---
Onic Esports 2 – 1 Alter Ego Esports
Onic Esports fought hard against fellow ID team Alter Ego Esports in the lower bracket. Despite losing a close game one, Onic endured AE's unpredictable gameplay in the second game, filled with insane wipeouts and redemptive counterattacks. With AE only having one turret left to defend their base inhibitor, Onic and their acquired Lord charged in through the top and mid lanes to eliminate AE star player Celiboy and tie up the scoreboard.
With a more composed setup in game three, Onic was able to rally under CW's Bruno and his perfect use of Berserker's Fury. Ending the game with six kills, the striking carry closed in on split-pushers and solo heroes for some easy gold income.
Though Celiboy was the main damage dealer for AE, Onic's tanky frontline of Atlas, Uranus, and Thamuz rendered Celiboy's damage output useless. With all five Onic members diving in for a critical kill on Pai, they quickly picked off the final defenders for a wipeout and completed the reverse-sweep.
---
Here's how the playoff bracket looks after Day 1 of the 4 Nation Cup playoffs.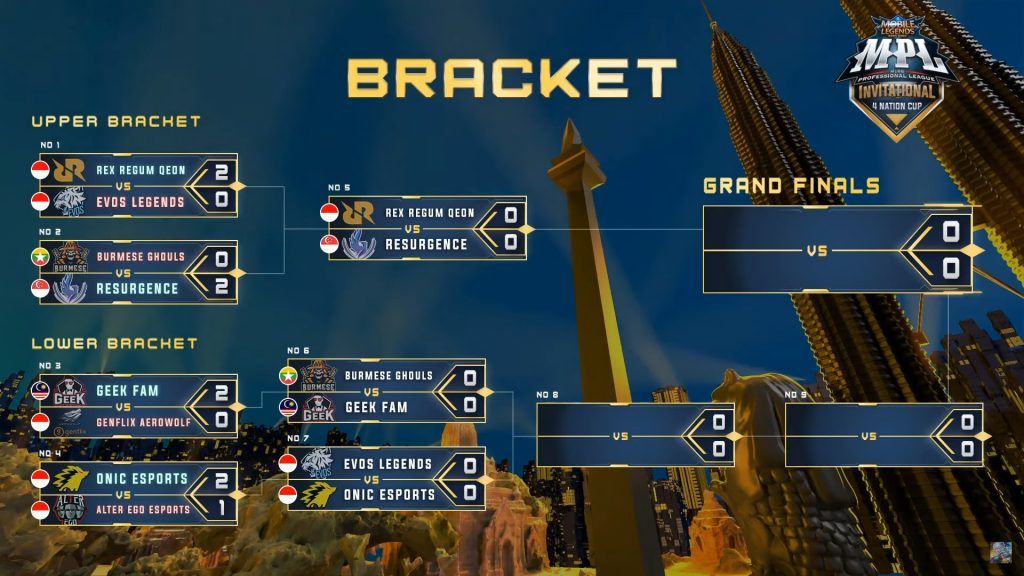 Catch the rest of the MPL Invitational action on the official Mobile Legends: Bang Bang YouTube channel.
READ MORE: MPL Invitational Qualifiers Day 6: Genflix Aerowolf conquers the final group stage