The 2019 Southeast Asian Games' Mobile Legends: Bang Bang (MLBB) Lower Bracket Semifinal saw the Philippine and Vietnamese squads battling to stay alive in the tournament bracket.

Both squads put up a brave front in this best-of-three series, but in the end it was the Filipino squad that came on top, finishing with a convincing 2-0 sweep over the Vietnamese contingent.

Here's how this matchup went down:
---
Game one
The Philippine squad established their dominance right away in the first game, setting the tone as early as the second minute.

Capitalizing on strong early game rotations anchored on Jeniel "Haze" Bata-anon's confident tank play using Baxia, Team Philippines kept putting pressure on Team Vietnam.

The Filipinos' offensive started to snowball from that point on, with a relentless attack not giving the Vietnamese side any room for error. Game one was over in just 11 minutes, with the Philippines tallying an 8-2 kill count and an 11,000-gold lead.

---
---
Game two
With one game of the best-of-three series already in their bag, the Philippine squad enjoyed the luxury of taking a slower, more methodical start in the second game. Both teams took their time to complete objectives and level up their champions with the first skirmish only happening nearly four minutes into the game, ending in favor of Vietnam.

Through six minutes, the Filipinos started to ramp up their pursuit of objectives, while Team Vietnam held their ground staving off a fierce, Philippines-initiated team fight.

Vietnam kept putting up a strong defense against the Philippines' team fights while making subtle pushes toward the enemy lanes.

This is when the Philippine team's experience with long games started to show. As a result of clutch pickoffs when it came to objectives, the Filipinos had the resource advantage to fortify their attacks, which proved handy when the team started to push around the 15-minute mark.

Behind Karl Gabriel "KarlTzy" Nepomuceno's incredible offensive charge using a maxed-out Esmeralda, the Philippines caught the Vietnamese defense off-guard, turning a tightly-contested game into a surprise massacre.

---
Next up: The Lower Bracket Finals and Grand Finals
With this victory, the Filipinos move on to the Lower Bracket Finals of the 2019 SEA Games' MLBB tournament. They will square off against Malaysia on Sunday, December 8, starting at 1:30 p.m. GMT+8. This matchup will decide which squad will battle Indonesia in the Grand Finals, which is scheduled for 7:00 p.m. GMT+8 later in the day.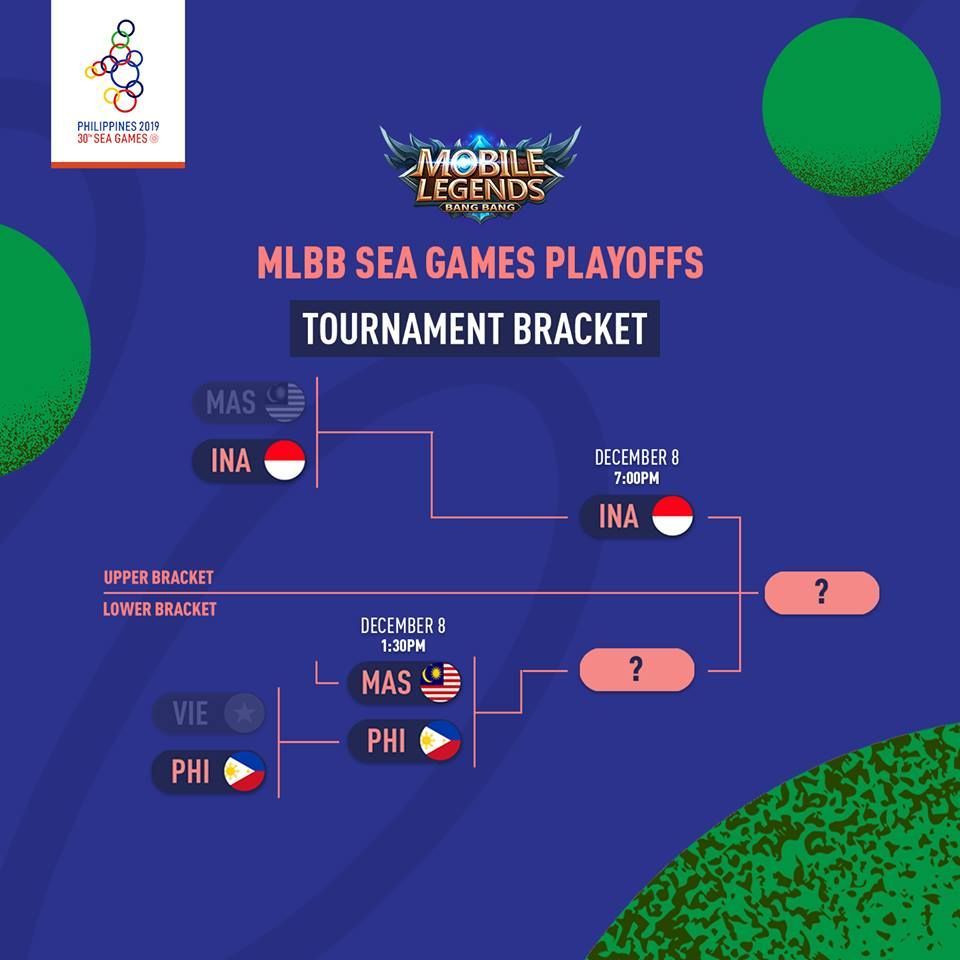 Catch the games live on Razer's Twitch channel or the Mobile Legends: Bang Bang Facebook Page.

READ MORE: MLBB at SEA Games 2019 Day 2: Indonesia sweeps Malaysia 2-0 to secure Grand Finals seat