Six of Asia's best Mobile Legends: Bang Bang squads faced off against each other today in the group stages of the inaugural SEA Clash of Champions tournament.
The six teams were split into two groups. In group A: Filipino team Cignal Ultra, and Indonesian teams PSG.RRQ and Team Flash. In group B: Malaysia's Geek Fam, Myanmar's Burmese Ghouls and Singapore's SEA Games nominees Evos Esports.
Each team played a round-robin best-of-one against the other two teams in their group with the top two teams qualifying for tomorrow's semifinals and grand finals.
---
PSG.RRQ vs Team Flash
The first match of the day saw the two Indonesian teams face off. PSG.RRQ scored first blood two minutes and 20 seconds into the game, picking off Flash's vulnerable Selena thanks to a well-timed Divine Judgement from PSG.RRQ's Kaja.
PSG.RRQ quickly went on to kill the Turtle and from there started to run away with the game. Flash was unable to get a single kill onto PSG.RRQ, who quickly put them out of their misery, taking the first game of the day in impressive fashion.
Geek Fam vs Burmese Ghouls
In the second match, Malaysian team Geek Fam took on the Burmese Ghouls from Myanmar. Geek Fam took an early lead, scoring first blood just over one minute into the game when a team fight broke out and Geek Fam took out Ghouls' Minotaur, and then Harith in quick succession.
From there, Geek Fam looked unstoppable, racking up 16 kills in a row before Ghouls finally got their first kill. But with a massive gold deficit and Geek Fam winning every team fight, Ghouls had no chance of a comeback, and Geek Fam easily cleaned up for the victory.
Cignal Ultra vs PSG.RRQ
The next game was one of the most highly anticipated of the day with the Philippines' Cignal Ultra, who many consider the tournament favorites, facing off against PSG.RRQ, fresh off their dominant victory against Team Flash.
PSG.RRQ ran an interesting double mage setup of Lunox and Harith, and it paid off early for them, with first blood coming just over a minute into the game, when their Harith and Minotaur caught Cignal Ultra's Akai and Hayabusa unprepared.
Akai managed to escape but Hayabusa wasn't as lucky. Mere seconds later, Cignal's Guinevere fell too. At around the two-minute mark, a huge team fight broke out over the Turtle. Cignal managed to take the Turtle down, but at a steep cost, losing Grock and Kadita in quick succession.
From there, PSG.RRQ's Lunox continued to do massive work, racking up 10 of the team's 18 overall kills, while the entire Cignal Ultra squad managed only 2 kills on their end. With just over 11 minutes played, PSG.RRQ took down Cignal's main base and with it a perfect 2-0 record for the day.
"There's always a bit of nerves going into the first match but it was a good start, said PSG.RRQ's Try "AyamJAGO" Widyanto after the match.
"Our second opponent, Cignal Ultra, is a very strong team and it was an intense match but we played with patience, kept pushing and played it on the safe side. We'll need to change up our strategy in the next game but we feel great at the moment."
Geek Fam vs Evos Esports
The next match was a rematch of last month's MPL-MY/SG grand finals, which saw Geek Fam defeat Evos Esports 3-1. After a day of stomps, this was the closest match, with both teams trading back and forth throughout.
Geek Fam took first blood just one minute into the game when four Geek Fam players pounced on Evos Esports's Alucard and Kaja. Unfortunately, technical difficulties then caused the game to be paused for about 30 minutes.
When play resumed, Evos Esports managed to take a slim lead in both kills and gold, while Geek Fam looked to be in a spot of trouble when their Chou, who they normally use as their initiator was stuck behind in levels. At the five-minute mark a huge team fight broke out at mid, with Evos Esports nearly team wiping Geek Fam and only Harith managing to escape.
From there on, Geek Fam managed to keep things competitive in both kills and gold count, but were slowly pushed back to their own base. At the 10-minute mark, Evos Esports took down the Lord, and two minutes later pushed into Geek Fam's base with it. Another quick team wipe from Evos Esports and they took the victory, getting their revenge against the Malaysian side.
"We recently lost to GeekFam at the MPL so this win is very significant to us. I think the key moment for us was when they allowed Hayabusa to farm up a lot and that applied a lot of pressure on the opponent," said Robert "Oh Deer Bambi" Boon, Evos Esports captain.
Team Flash vs Cignal Ultra
The next game of the day was Team Flash taking on Cignal Ultra with both teams fighting for their tournament lives. The winner would go onto the semifinals while the loser would be out.
Both teams started off fairly cautiously, and first blood only came after two minutes, when a big team fight resulted in deaths to Cignal's Kimmy and Belerick, and Flash's Helcurt. Things were fairly even until the eight-minute mark when Cignal wiped out Team Flash with a big push into their base.
At the nine-minute mark another team fight broke out over the Lord, with Cignal emerging victorious again, taking out three members of Team Flash and the Lord.
However, when Cignal tried to push into Flash's base with the Lord, fantastic play from Flash's Khufra saved the day, with only Cignal's Leomord managing to escape the carnage.
Cignal quickly regrouped however, taking down the Lord again at the 14-minute mark, and less than a minute later pushed again into Flash's base. This time they secured the team wipe, and the victory, qualifying for the semifinals and sending Team Flash home.
"We planned our strategy after losing in the first round, so we expected to win this game. We are going to use a different strategy each game, because our opponents have already watched how we execute our strategies. We cannot use it twice, so we are going to move on to the other strategy for tomorrow," said Cignal Ultra's Mark "Dysani" Exequiel.
Evos Esports vs Burmese Ghouls
The last game of the day saw Evos Esports take on Burmese Ghouls. This game was another competitive one, with both teams trading initial kills at around the one minute mark.
At the four-minute mark, Ghouls managed to take down the Turtle, but lost two members in the process. At the seven-minute mark, Burmese Ghouls again went for the Turtle, but this time the entire Evos Esports team was waiting for them.
A huge team fight broke out with Evos completely wiping the Ghouls. Evos ignored the Turtle and used their advantage to immediately push the Ghouls' base. Ghouls managed to revive in time to defend their base, but not for long.
At the nine-minute mark, Evos again pushed the Ghouls' base, with Evos' Harith leading the way and taking down three Ghouls by himself. He got a little greedy on the last kill and paid for it with his life, but the damage was already done. A minute later Evos Esports cleaned up the rest of Ghouls, then pushed into their base to secure the win.
"It feels really good to top the table. I think we do have a slight advantage and we are excited to see where it goes from here," said "Oh Deer Bambi on their undefeated first day.
The SEA Clash of Champions continues later today when PSG.RRQ plays Geek Fam, and Evos Esports plays Cignal Ultra. The winners of each match will meet in the grand finals for a chance at the lion's share of the US$11,000 prize money and the trophy.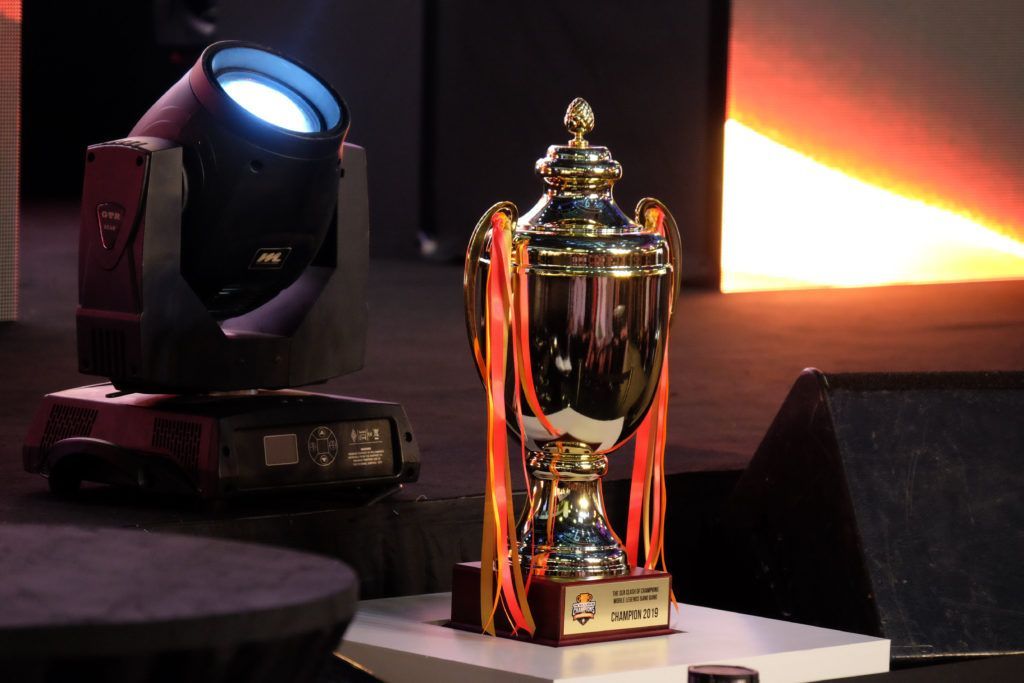 SEE MORE: Highlights from the group stage of the SEA Clash of Champions (pictures)