Both series in the Worlds 2021 semifinals stretched to the full five games as the top four teams battled it out over the weekend.
Three LCK teams, DWG KIA, T1, and Gen.G, as well as the last remaining LPL team, Edward Gaming, were fighting for the final two spots for a chance to lift the Summoner's Cup and take home this year's special Mercedes-Benz white gold championship rings.
As more games are being played by fewer teams in the tournament, the Worlds 2021 meta continues to evolve, sometimes in unexpected ways. Drafts from the Play-In Stage are vastly different from those in the Knockout Stage, which have also been shaped by the majority of teams from a single region.
---
DWG KIA open Worlds 2021 semifinals against T1 with support Maokai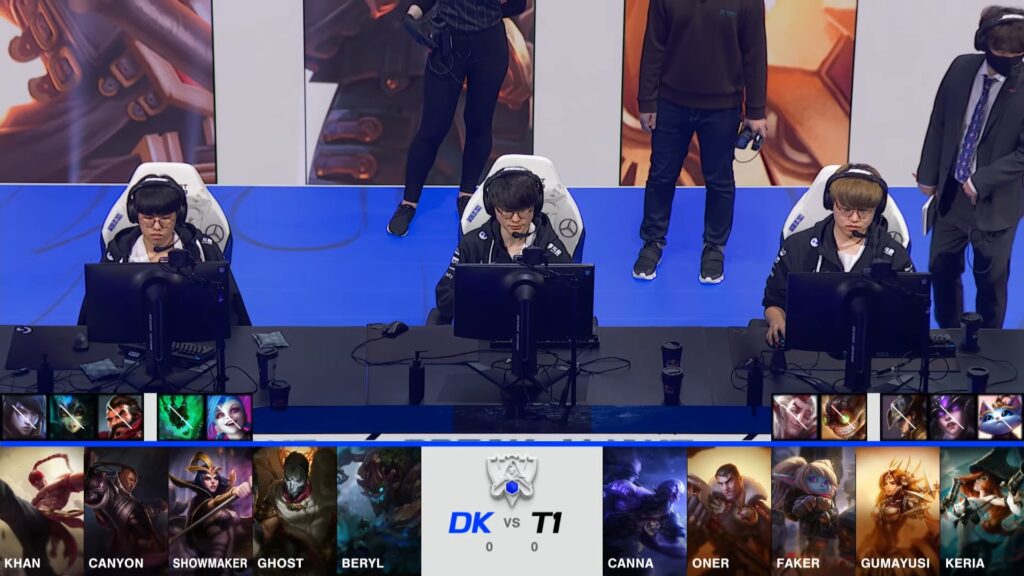 In the opening Worlds 2021 semifinals match between DWG KIA and T1, the reigning World Champions surprised by locking in support Maokai on blue side.
This came after Leona was denied, and Rakan banned by T1. In fact, DWG KIA themselves banned Thresh, Ryu "Keria" Min-seok's signature support champion, which left even fewer options.
Typically pro teams would match engage supports instead of picking an enchanter into one. Braum could have been picked to counter Leona, with Nautilus, Alistar, and Shen as alternate choices.
Instead, DWG KIA debuted Maokai at Worlds 2021.
Running Aftershock, Cho "BeryL" Geon-hee utilized Maokai like Alistar in the laning phase by initiating dives. In team fights, the AoE from Nature's Grasp allowed them to pick off one enemy while zoning the rest at key objectives.
Once Heo "ShowMaker" Su's LeBlanc started the snowball, DWG KIA were comfortably in control, and took game one.
DWG KIA BeryL's support Maokai build
Steel Shoulderguards into Runesteel Spaulders
Refillable Potion
Mercury's Threads
Dead Man's Plate
BeryL played support Maokai again in game three where he opted for a less tanky build comprising Imperial Mandate, Morellonomicon, and Boots of Swiftness.
---
---
T1 adapted by drafting support Zilean in game three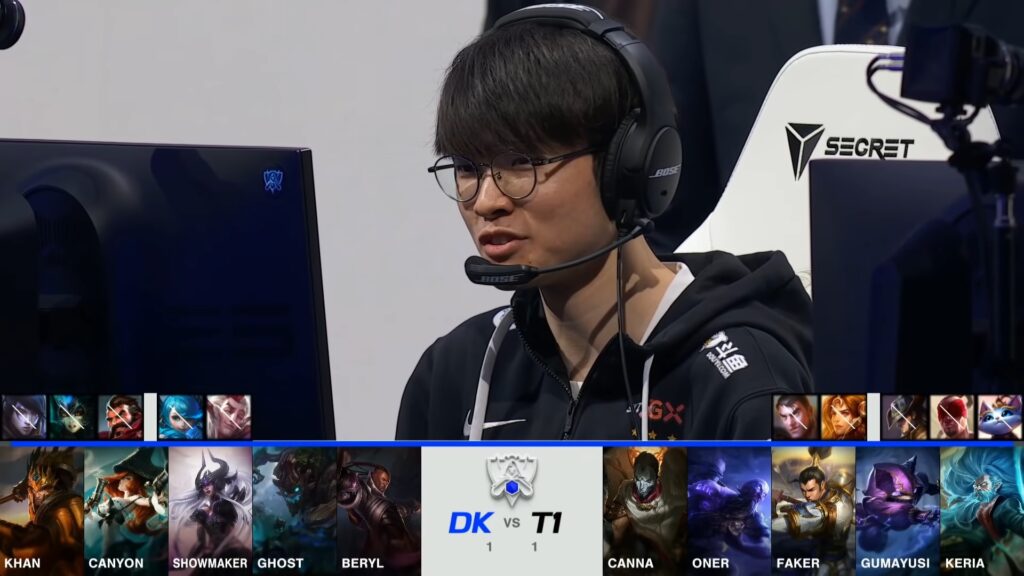 T1 fought back in game two to even up the Worlds 2021 semifinals series. In game three, they surprised by debuting another champion here at Worlds — Zilean support.
A fantastic last pick on red side, Zilean provided many tools for T1's team composition. Using Time Warp, Keria sped up Kennen and Xin Zhao for hard engages, while his Chronoshift ultimate was used to counter DK's burst damage, particularly from Syndra.
By denying so many kills from the early to mid game, Keria disallowed DWG KIA to get ahead. Known for playing unconventional supports in solo queue, Keria looked very comfortable on this Guardian Keystone Zilean, and finished with a perfect 1/0/19 KDA.
T1 Keria's support Zilean build
Relic Shield into Targon's Buckler
Ionian Boots of Lucidity
Shurelya's Battlesong (Mythic)
Zhonya's Hourglass
Tear of the Goddess
Even though Keria played Zilean again in game five alongside Lee "Gumayusi" Min-hyeong's Aphelios, the matchup at bot lane was much more difficult to deal with, for DK had Ziggs who was constantly pushing.
Overall, DWG KIA worked the map at a macro level, and at a micro level, executed their team composition better, which ultimately secured them the 3-2 Worlds 2021 semifinals victory over T1.
---
Gen.G kick off game one of their series with mid lane Seraphine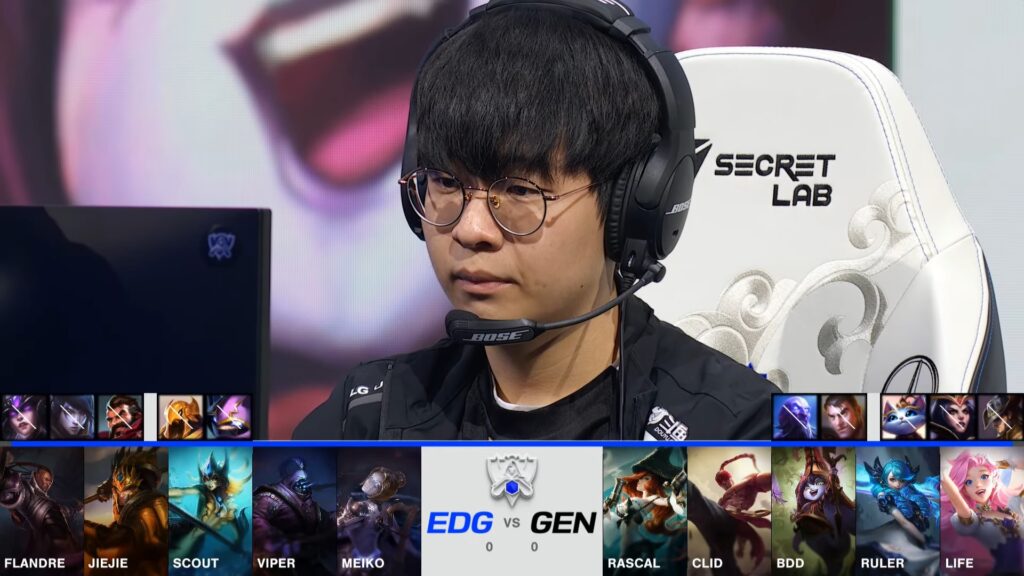 Despite the buffs to Seraphine in League of Legends patch 11.11, 11.14, and 11.19, she hasn't been picked at all. Other buffed enchanter supports like Yuumi, Nami, and Lulu have been much more favored in the current meta because they're easier to play and produce reliable combos.
So when Gen.G last picked Seraphine on red side in game one against Edward Gaming in the Worlds 2021 semifinals, casters and viewers gasped. Not only did it confirm that Gwak "Bdd" Bo-seong was going to take her mid, but also that they were running a two-support team composition.
It took sometime for Gen.G's team composition to ramp up, but when they finally did come online, Bdd certainly made Seraphine's presence felt. Again and again, Gen.G worked together to single out Park "Viper" Do-hyeon's fed Lucian, shutting him down in team fights.
Gen.G Bdd's mid lane Seraphine build
Ionian Boots of Lucidity
Everfrost (Mythic)
Cosmic Drive
Chemtech Putrifier
Rabadon's Deathcap
Even though Gen.G made a mistake at the fifth dragon, which ultimately granted Edward Gaming the Mountain Soul and influenced the outcome of the game, there's no denying that the double support setup was strong, for it made all the members of Gen.G that much harder to kill.
After the series was dead even at 2-2, Edward Gaming went on to win game five with a superior team composition, eliminating Gen.G from the tournament.
Will we see more off-meta champions in the Worlds 2021 final?
DWG KIA will take on Edward Gaming on November 6 at 8 p.m. GMT+8. Catch it live on Riot Games' official channels on Twitch and YouTube.
READ MORE: Head coach Stardust: 'T1 is at least third place here at Worlds 2021'