It's that time of the year again — the holiday season! We've already assembled our Christmas trees, hung up a giant stocking by the fireplace, and even made a mixtape of our favorite holiday songs! Just like us, the League of Legends champions in Runeterra are also gearing up for the jolliest celebration this year.
Out of the 28 Snowdown Showdown and Sugar Rush skins, we chose the five best League of Legends Christmas skins to help bring out the holiday cheer in you.
---
5. Winter Wonder Lulu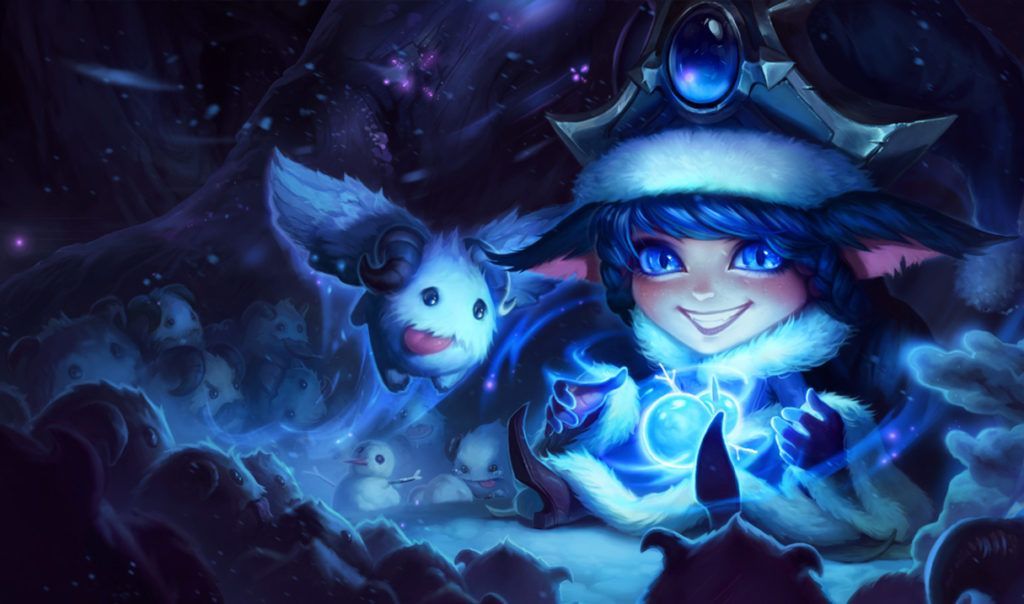 Everyone's favorite Yordle, Lulu, gets a cute makeover in her Winter Wonder skin. The real reason why we wanted this skin for ourselves? Her faerie companion Pix has been transformed into an adorable, flying Poro that follows her everywhere she goes!
---
4. Ambitious Elf Jinx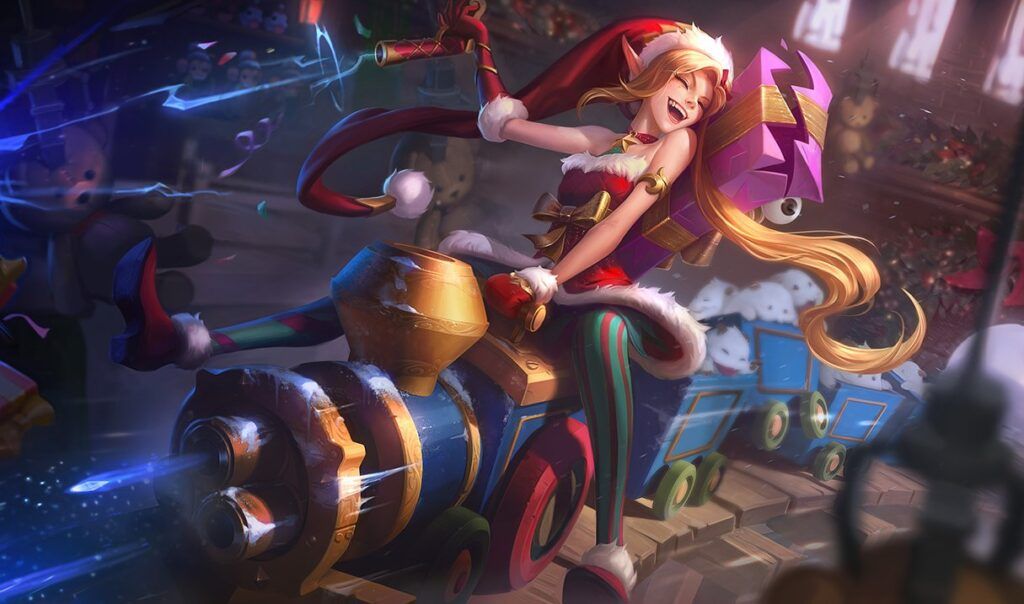 If you're on Santa's nice list this year, you might be getting this insanely good Ambitious Elf Jinx skin for Christmas! This naughty champion from Zaun has been transformed into a playful elf, complete with striped stockings and a strikingly long Santa hat. Her Pow Pow minigun has been transformed into a toy train, while Fishbones has been altered into a present.
What's more, this Ambitious Elf Jinx skin is packed with a ton of really good particle effects and sound effects ideal for the Yuletide season.
We absolutely love her recall and Homeguard animation where she rides this tiny train. What a cute and charming sight!
---
3. Winter Wonder Soraka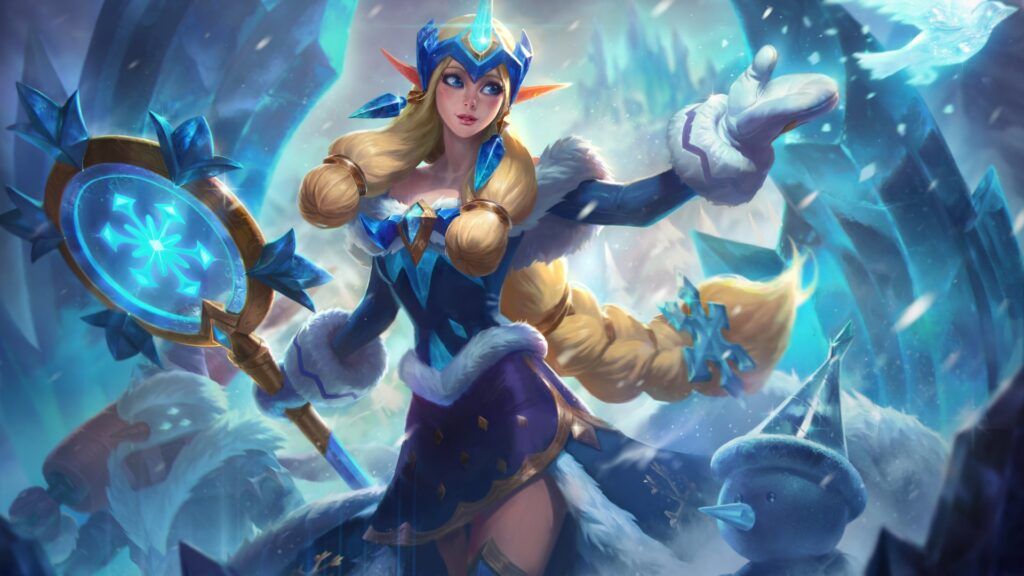 Frozen fans, hear us out — Winter Wonder Soraka might be the closest thing we'll get an Elsa skin. She looks almost like the icy Disney princess, with her blue winter dress and long, braided blonde hair. Her horn looks less noticeable here, as it was designed to be part of her headpiece.
Aside from her snowflake particle effects and subtle Christmas sound effects, this skin emanates an intense green glow whenever Soraka heals herself or one of her allies. It very much reminds us of the magnificent aurora borealis sightings in the North which appear during winter.
---
---
2. Santa Braum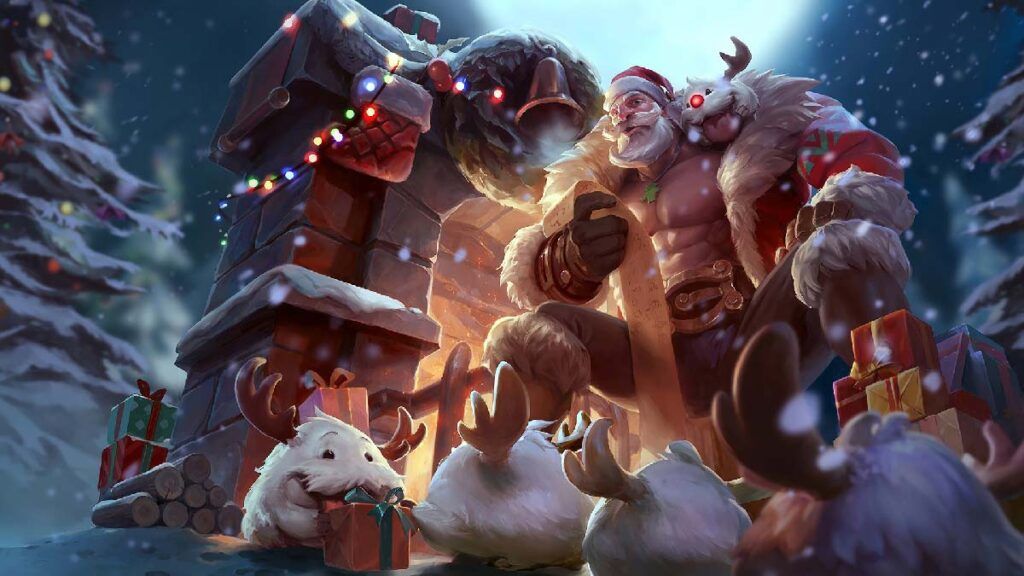 You better watch out, You better not cry
You better not pout, I'm telling you why
Santa Braum is coming to town…
Who could better play the role of Santa than League of Legends' beloved moustache man, Braum? Unlike the rounded, blobby patron of Christmas, Braum is a little more… toned. His massive shield has been transformed into an actual fireplace, extremely useful for keeping warm during snowy days.
Instead of reindeers, Santa Braum has Poro helpers to pull him around his sleigh (and yes, one of them is red-nosed).
Casting Braum's ultimate ability, Glacial Fissure, brings out fresh pine trees decorated with colorful lights so you can still feel the Christmas spirit while taking down your enemies.
---
1. Snow Day Bard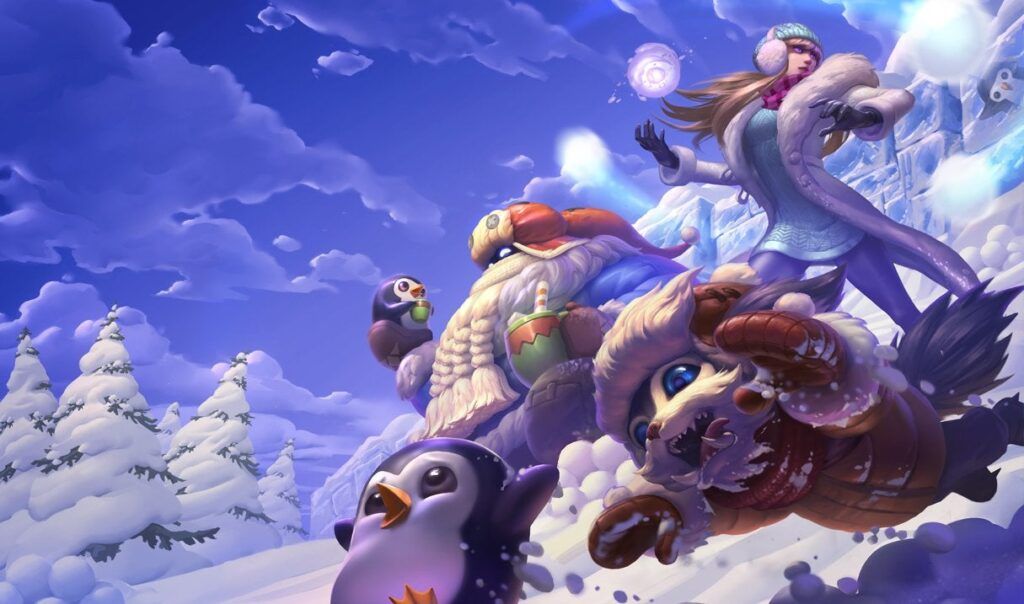 The best League of Legends Christmas skin on this list would have to be the ever-so-fluffy Snow Day Bard and his cute little penguin companions. He looks very snug in his getup! How many layers of clothing do you think Bard is wearing underneath his jacket?
All eyes on his Caretaker's Shrine ability, which summons a cup of hot cocoa on the spot. The cup slowly rises till it reaches a piece of floating marshmallow, indicating that the cocoa shrine is ready for consumption. Now that's a very cozy and comfy sight — something to warm our Summoner hearts amidst a cold and cruel losing streak.
Overall, Snow Day Bard has a very chill vibe, and is a very fun skin to own. Don't believe us? Try going through his Magical Journey portal with your whole team to witness some amusing penguin action!
READ MORE: These are the 5 best League of Legends skins