It wasn't such a great day for LEC team Rogue as they got beaten down by LPL squad JD Gaming on the Worlds 2020 Group Stage Day 2.
The team's jungler, Kacper "Inspired" Słoma, believes that missing the first herald spawn was a huge mistake for Rogue.
"I think the win condition was obviously playing around the Volibear and Nidalee combo," explained Inspired. "I think for the game it's really important to play well around the first herald, which we kinda didn't manage to do because we are a little bit late for it.
"So I think after that we kinda didn't have a clear plan, we were just following the game flow and trying to answer to what JDG did."
As one of the youngest junglers to have competed in the LEC, this 18-year old Polish player promises so much potential as fans have witnessed during the Summer Playoffs. He ranks second when it comes to average gold difference (226) and average experience difference (237) at ten minutes, just a little below Fnatic's Oskar "Selfmade" Boderek.
For their match against JDG, Inspired played Nidalee for the first time in his competitive career, which Rogue expected to hold up well with ⁠Finn "Finn" Wiestål's Volibear on the top lane.
Finn gives so much credit to Inspired as the actual reason why they came out first during the LEC Summer, sizing up Inspired as a "super good" player.
"I think Finn likes to play with me," said Inspired. "For the whole LEC season we kinda played in the team that I was the guy that was helping more for the team even though we were watching LPL and the meta here was more of the carry-junglers. We are still playing more of the tanky junglers and helping my teammates more, so they can perform on their best. I guess that's why he likes playing with me. I think I have good comms for him in the game so I help him a lot."
This Worlds 2020, Rogue was unfortunate to be grouped with tough LCK and LPL teams DAMWON Gaming and JD Gaming. Many fans consider Group B as the "group of death," and Inspired agrees with them.
"I think if I would have to choose two teams that I would rather not face in the Group Stage it would probably be DAMWON and JDG. So that's kinda unlucky for us I would say," the young jungler admitted.
"After the group draw, when I realized I had to play against them, I was kinda nervous because I knew they are very good."
"But it's a good experience for me because I always wanted to play against them. But I would rather to face one of them in the group and the other one in the quarters than both of them in the group."
Because the competition is tough for Group B teams, Inspired believes DAMWON Gaming will raise the Summoner's Cup this year.
"I think DAMWON is the team that will win Worlds, that's my bet. And JDG I think they are beatable but I think they are the second strongest team in the tournament."
Recalling their first encounter with the LCK's top seed, Inspired would describe DAMWON Gaming's playstyle as slow-paced, with little to almost no room for mistakes.
"So the game yesterday against us, they didn't really try to play very fast, they're just playing really slow and they were thinking a lot about what they are doing to get the small leads into the big lead… I think they are just a very good team."
After following their games for a whole year, Inspired is convinced that JDG's Seo "Kanavi" Jin-hyeok and DWG's Kim "Canyon" Geon-bu are the two best junglers in the world right now. Both players like to focus on their champions and just farm a bit early in the game.
"Kanavi is a little bit more aggressive than Canyon I think, he has some interesting, like unpredictable plays in the early game like some ganks on top or something."
---
---
"What I learned from them is you need to not make the plays that are very risky because you can fall behind from that. And then it's a bit hard to come back if you're playing a carry champion so they take more of the safe plays and just try to snowball from farming."
Just a few days before the Group Stage started, Rogue had a chance to try an authentic Chinese hotpot session at one of the restaurants in Putung, Shanghai. The food is already similar to what Inspired has tried before, but what stuck out the most to him was the top-notch service.
"It's really hard to see people hardworking that good in Europe. I feel like here everyone is really working well together, I kind of think so. And yeah that's the thing that surprised me the most cause I didn't think it's psosible to do your job that well."
When asked what he misses the most about being in Berlin, Germany, where the LEC Studio is located, Inspired expressed his fondness of Shanghai and says he never wants to leave the country.
"Honestly, I don't miss that much stuff I think everything here is really nice and if I could just stay here forever."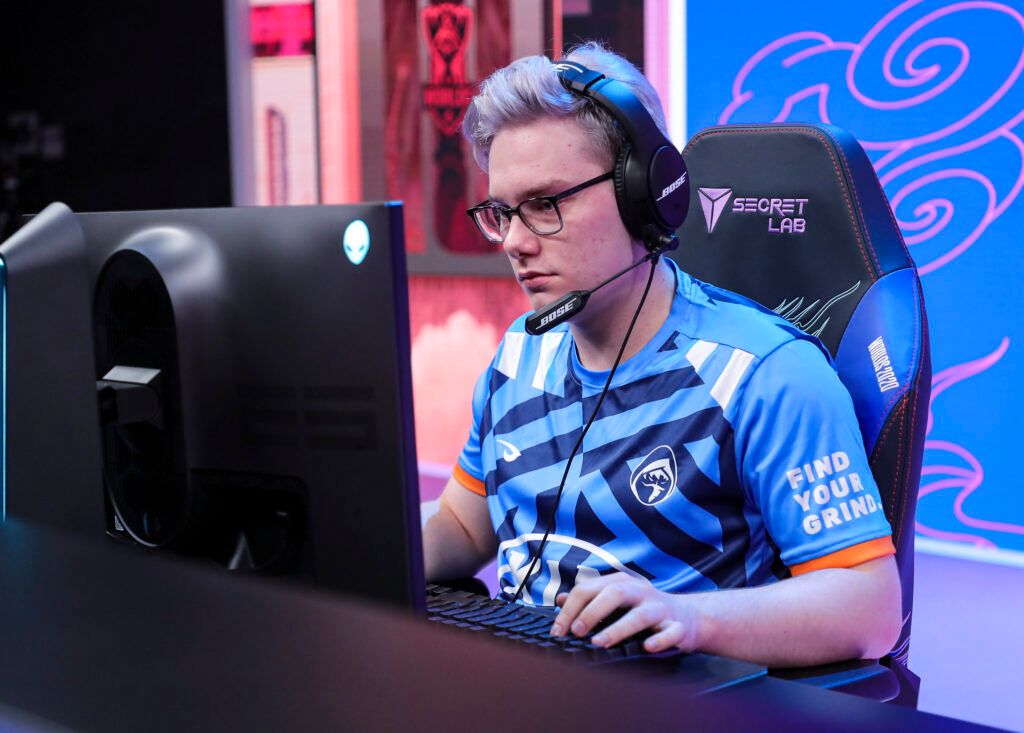 READ MORE: Finn's message to Nuguri: 'Next time, I hope we can make it a bit more spicy'