A new short for the highly anticipated animated Netflix series Arcane has been released, revealing a little bit more about the series and the complicated relationship between Jinx and Vi.
In the accompanying dev diary, Riot has confirmed that sisters Jinx and Vi have quite the history behind them.
---
A Score To Settle
In the 2-minute short titled A Score To Settle, we see Jinx enter what appears to be an old haunt. She encounters a machine that appears to be a piece of Vi's history and ends up confronting some of her inner demons.
It's not clear when this takes place, but the Jinx in Arcane is very different from her crazy and carefree personality in the game. This version of Jinx seems very sullen, with less reason to laugh.
Flashbacks from Jinx's past suggest that the sisters weren't always broken. The short shows some flashes of Jinx and Vi sharing tender and loving moments, but also shows Vi, animated with a monstrous face, hitting Jinx.
As Jinx recalls some moments in her past, we also see the name "Vi" etched all over the screen, suggesting that Jinx was heavily traumatized by her dispute with Vi.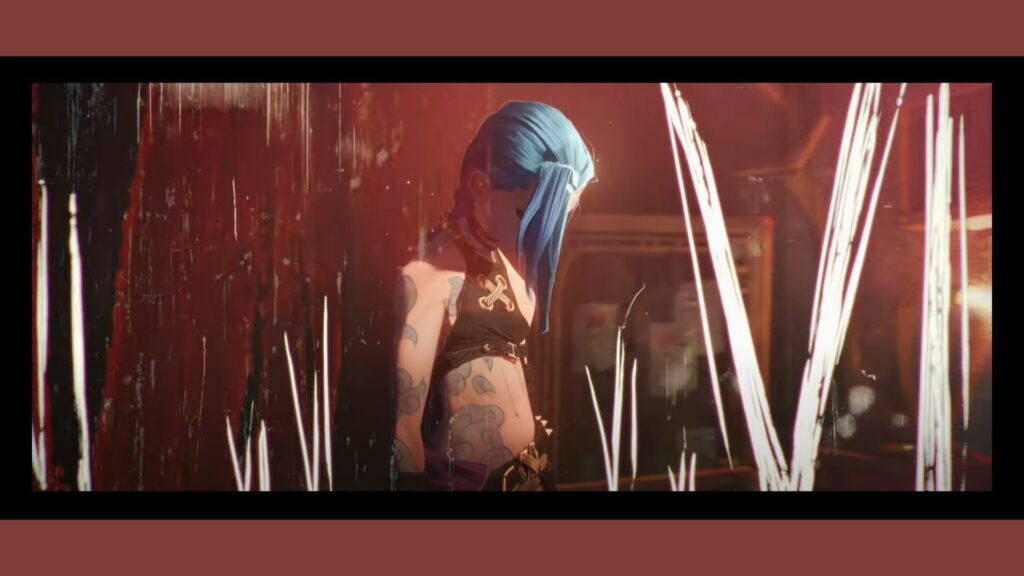 Her League of Legends biography states that "no one knows for certain what happened to turn that sweet young child into a wildcard, infamous for her wanton acts of destruction." It seems like Arcane will focus on this particular incident, and that this same conflict is what changes Jinx and Vi forever.
---
---
What the creators of Jinx and Vi have to say
Arcane's Executive Producer Christine Linke and the series' co-creator Alex Yee shared in the dev diary that they were both involved in Jinx and Vi's creation some ten years ago.
"These two sisters have a troubled relationship and couldn't be more different from each other, each one a deadly fighter in their own right," shared Linke. "As all of us who have siblings know, you're gonna butt heads. In their case, that'll involve rocket launchers, grenades that have teeth and boxing gloves the size of small cars."
Yee adds that you don't have to be familiar with League of Legends to appreciate the series.
"For those people who aren't really familiar with our game, we just wanna show them why we've stuck with these characters for over a decade now and why we love them so much," said Yee.
As for whether this series covers the past or the present? Yee says it's a bit of both.
"You'll get to see some of Jinx and Vi's origin stories, but you'll also get to see them in present day as they push the world forward."
---
Are there more stories from Runeterra on the way?
Linke says that Riot's partner studio, Paris production house Fortiche, has brought their unique style to Arcane and it has gotten the developers quite excited about the future. Fortiche has previously worked on other League of Legends videos, such as Get Jinxed, Rise and Pop/Stars.
With Riot looking for more additions to their creative team, specifically for live-action movies and series, Arcane is only the beginning.
"The world of Runeterra is so vast, with so many factions and champions that are bustling with life," said Linke. "This is just a small slice, and the start of all the storytelling opportunities we are working on at Riot."
So, what happened between Jinx and Vi to tear apart their sisterhood? We'll all find out when Arcane premieres this coming fall on Netflix.
READ MORE: 5 champions we want to see in the League of Legends anime 'Arcane'