Have you listened to K/DA's pre-release single The Baddest yet? If you have, that's good, because the group's lead vocalist Miyeon (Ahri) says the song raises your confidence level.
In a behind-the-scenes video released by Riot Games Korea, (G)I-DLE members Soyeon and Miyeon gave fans a look at their recording process for League of Legends' newest song, The Baddest.
Miyeon admitted that she had a hard time pronouncing her English lines. She also did her best to bring out the goddess in League of Legends' champion, Ahri, through her pre-chorus part. Miyeon mentioned she actually felt cooler and tougher after their recording session.
"The Baddest will raise your self-esteem," she said.
---
---
Soyeon added that the song matches K/DA's image perfectly, with its four LoL champions coming back stronger and with more confidence than their Pop/Stars era.
"A really great song has been born," said Soyeon, who plays K/DA Akali. "In the summer, I hope you can walk confidently while listening to the song."
The Baddest is Soyeon's third collaboration with Riot Games, with the first one being K/DA's Pop/Stars, and the second being True Damage's Giants.
The two showed off their K/DA caps at the end of the video and told fans to continue supporting their K-pop group, (G)I-DLE.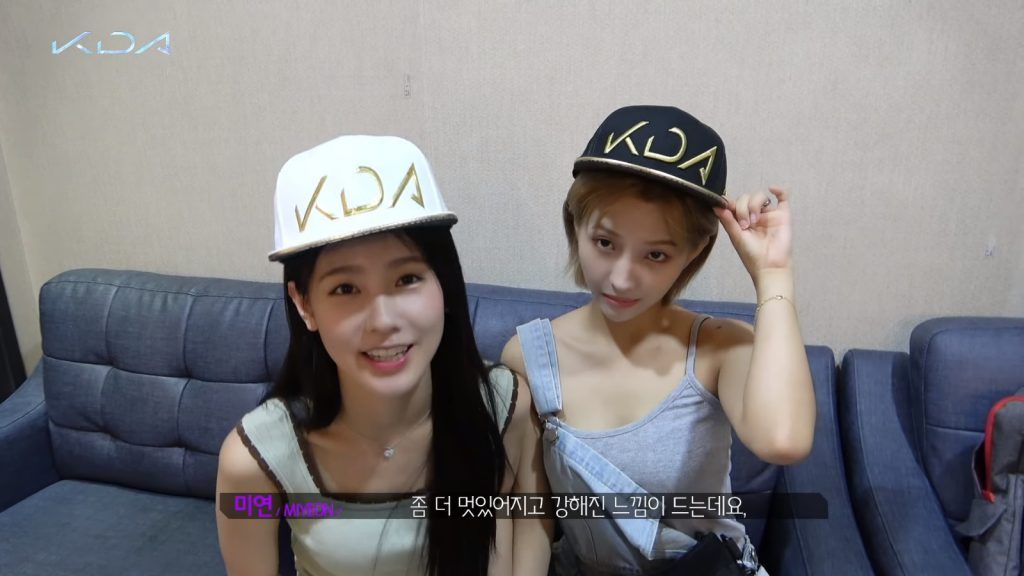 K/DA is a virtual girl group that consists of League of Legends champions Ahri, Akali, Kai'Sa, and Evelynn played by Miyeon, Soyeon, Wolftyla, and Bea Miller. With Worlds 2020 just around the corner, will we see these four divas grace the League of Legends performing stage in Shanghai, China?
READ MORE: Watch (G)I-DLE's live performance of K/DA's Pop/Stars from their online concert