MAD Lions' head coach James "Mac" MacCormack is always smiling for the camera.
On Day 7 of the Worlds 2021 Group Stage, he was beaming brighter than usual.
His team, the 2021 LEC Spring champions, the 2021 LEC Summer champions, the first seed of Europe, made it through to the Knockout Stage for the first time in history after a nail biting four-way Group D tiebreaker.
---
---
In the best-of-one tiebreaker, MAD Lions nearly lost to LNG Esports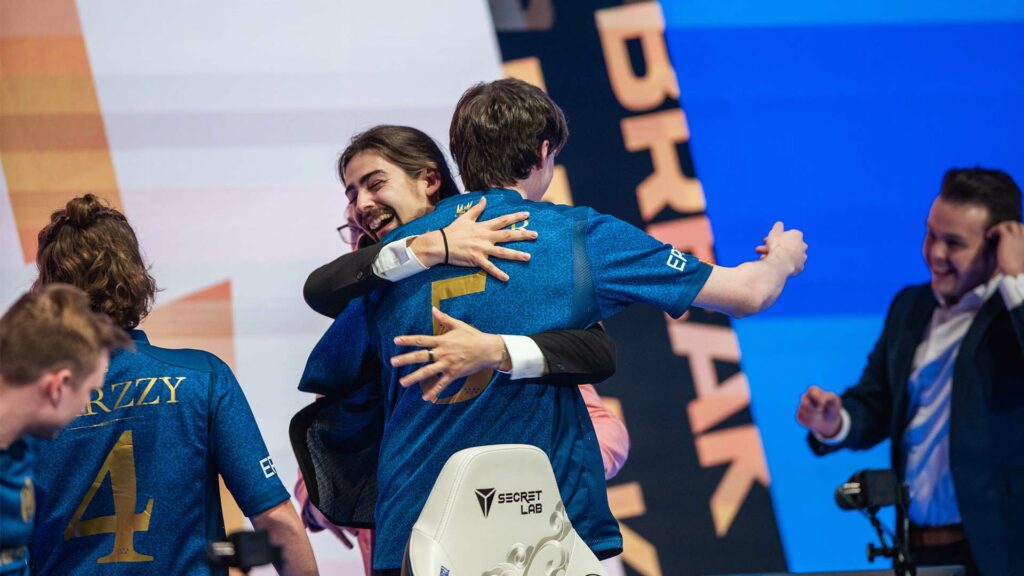 Due to the four-way tie, MAD Lions first had to go up against LPL's fourth seed LNG Esports to secure their spot in the quarterfinals.
The early game for MAD was really rough. Nothing was going their way. Attempted dives turned into deaths, as LNG Esports started to build up a kill, gold, and objective lead.
From mid to late game however, that's when the predators decided to strike. In team fights around Baron and Dragon, MAD Lions pushed LNG Esports to the limit, who also bit back in a constant back-and-forth affair.
Right down to the 44th minute, there still wasn't a clear winner. This was where MAD Lions defended their base 4v5 against LNG Esports. Trading support for support, they miraculously out-maneuvered the LPL squad, lowered their HP bars with poke, and sent them running.
In that moment, İrfan Berk "Armut" Tükek's Gnar spawned, and he immediately Teleported into LNG Esports' base for a clutch backdoor victory.
In a post-game interview with ONE Esports, head coach Mac praised the opposing LPL team. "I think the fourth seed from China was really good this year, way better than previous years," he said, echoing FunPlus Phoenix's head coach Chou "Steak" Lu-Hsi on the subject.
"Against LNG, we felt like if we won the early game then it would be really convincing," Mac elaborated. "I think their early game is super strong, but not as strong as the other LPL teams. It didn't quite work out during the tiebreaker, but the first one went pretty well."
---
Head coach Mac on MAD Lions' mentality against reigning World Champions DWG KIA
Right after the grueling 45-minute game, MAD Lions had to play another tiebreaker to determine seeding going into the quarterfinals.
Against Gen.G however, it didn't quite go their way. A heavily defensive team, the LCK representatives were happy to drag out the 47-minute long match, stacking four Infernal Dragons, Infernal Soul, Elder Dragon, and Baron Buff to secure first seed in Group D.
Despite their loss, head coach Mac is proud of the way MAD Lions played, "I felt pretty good even though we lost. I felt that game came down to some pretty close calls, but we were playing way, way, way better than last week, so that was good."
Taking second seed in Group D, the quarterfinals draw happened right after. MAD Lions' fate was decided very quickly. Drawn into DWG KIA's bracket, they're going to face the reigning World Champions in the first round of the Knockout Stage.
Reflecting on the uphill climb, Mac revealed that the team's mentality in a best-of-five is always to "be flexible" and adapt as much as they can. Most importantly, he wants them to "have fun and challenge people".
"I think that's one of the advantages that we have as a team. It comes to the mental resilience that we have, how proactive we are even when we're behind," Mac explained. "We never stop trying to push opponents to force mistakes, so I guess that's our big edge."
MAD Lions will take on LCK first seed DWG KIA in the quarterfinals on October 24 at 8 p.m. GMT+8. Watch the Worlds 2021 matches live on Riot Games' official channels on Twitch and YouTube.
READ MORE: MAD Mac on the Worlds format: 'It's a double-edged sword, and really harsh'