The LPL Spring Final saw two teams eager to win their first championship in JD Gaming and Top Esports.
Both teams had to beat world champions to get to the Final, with JDG sweeping reigning world champions, FunPlus Phoenix, 3-0, and TES ousting 2018 world champions, Invictus Gaming, 3-1.
In the end, it was JD Gaming that won the championship, rallying from a 1-2 deficit to win 3-2 in a thrilling game five.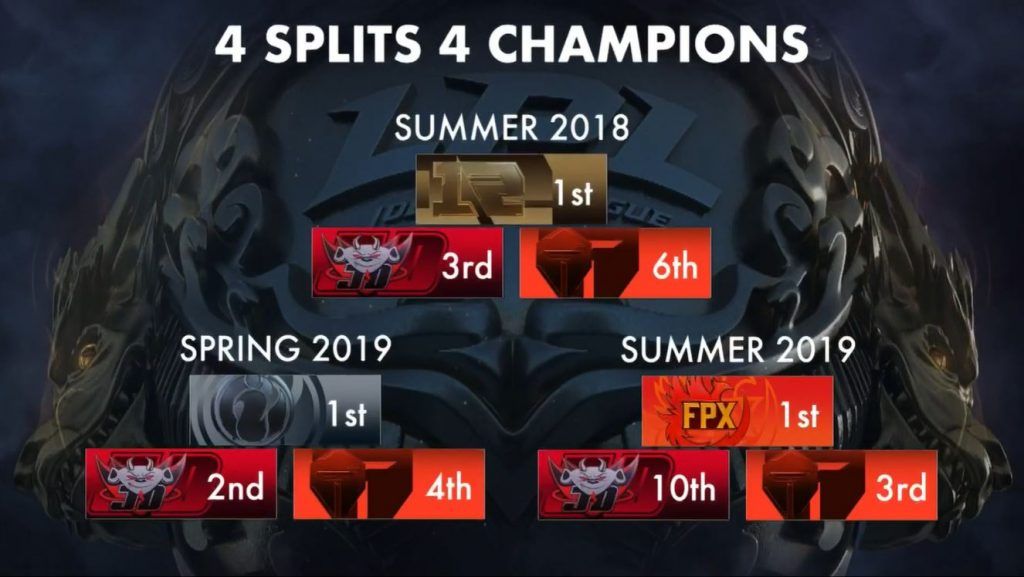 ---
Game one
The opening game of the series was a slow affair as both teams sounded each other out. In the first 21 minutes, there were just two kills, both of which came from TES.
Zhuo "knight" Ding on Lissandra worked with Bai "369" Jia-Hao on Sett in the top lane, taking down Zhang "Zoom" Xing-Ran once before Hung "Karsa" Hao-Hsuan released the Rift Herald to grind JDG's tier two top turret to the ground.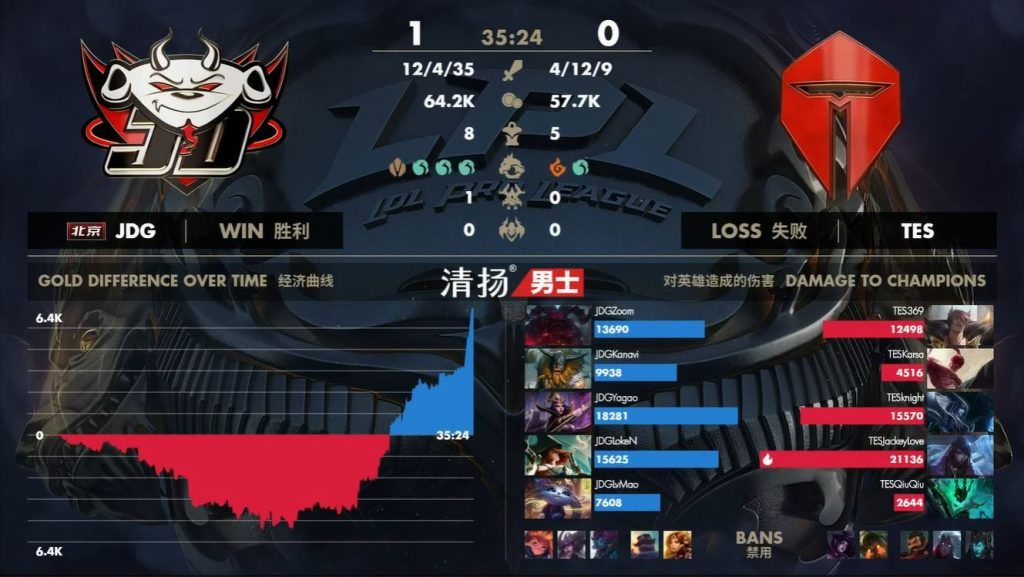 Leading by turret gold, TES were on course for victory, however, JDG caught them out of position a few times and started racking up kills, halting TES' momentum.
The last skirmish that tipped the game in JDG's favor took place when knight and 369 failed to burst down Zoom on Ornn like they did before in the laning phase, thanks to Ornn's much higher resistances in the late game.
In the next minute, JDG took an uncontested Baron to pull ahead in gold and close out the game. Their patience in finding opportunistic picks, and benefit from Ornn's Living Forge upgrades in the late game ultimately paying off.
Game two
Rectifying mistakes, TES made sure that the gold difference graph in game two soared only one way: Upwards.
Even though Zeng "Yagao" Qi was on his signature Azir pick, Karsa seemed to know shrewdly that he did not put a point in Shifting Sands at level three, which greatly reduced his ability to escape. Ganking mid, Karsa and knight reaped first blood for TES.
Because Baron was the greatest point of contention in the late game, TES fortunately just managed to gain vision of JDG sneaking in over the wall. Unable to down it in time, JDG were forced to back off once TES grouped, not wanting to risk getting picked off.
Juggling Baron's aggro, TES kept its HP to 2,000. It was only when Zhang "QiuQiu" Ming found an opening to lock down Seo "Kanavi Jin-hyeok's Lee Sin that TES finished off Baron to guarantee the buff and the game two win, tying up the score.
---
---
Game three
Game three was almost a repeat of game one, only with the teams swapping roles. Everything was going well for JDG right from the start. Working with his solo laners, Kanavi was the reason for Karsa's first two deaths on Gragas in his own jungle.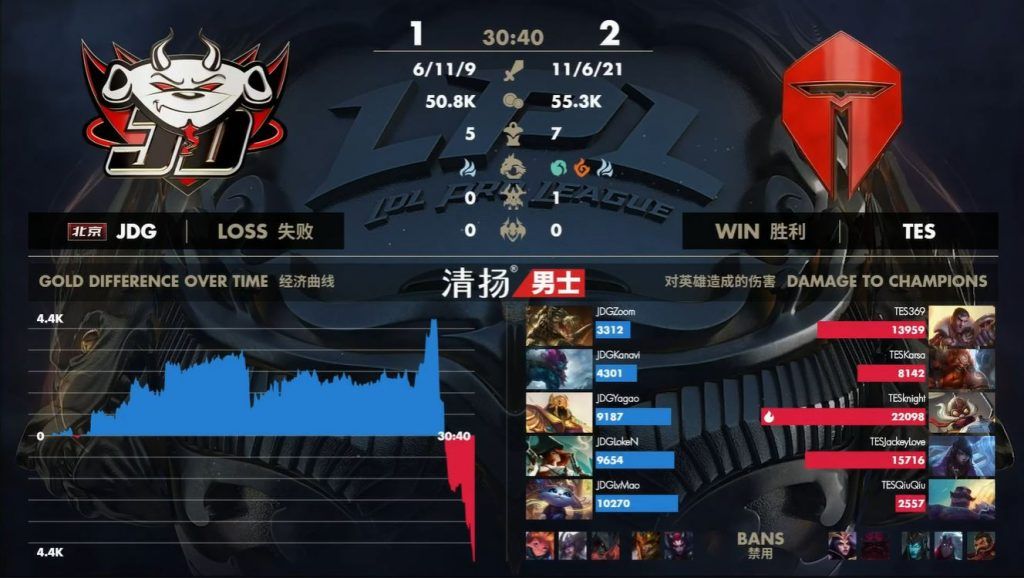 After eliminating three members of TES, including their jungler, JDG were confident of doing Baron. However, in that moment, knight and Yu "JackeyLove" Wen-Bo went in for the hero play.
Utilizing Corki's Package, knight flew over JDG to deal massive AoE damage before flashing over the pit. Left by himself in a 1v3, JackeyLove's impeccable positioning and use of Aphelio's guns allowed him to totally outplay JDG for the ace, allowing TES to close out the game and take the series lead.
Game four
Facing elimination, JDG found themselves in a must-win situation in game four. This time, they entrusted Zoom on Gangplank, a scaling champion that JDG used to great effect in game one against FPX.
Without a front line, it was up to JDG to find picks with Yagao on LeBlanc, and Zuo "LvMao" Ming-Hao on Thresh. For most of the game, things were even up until the last quarter when JDG team fought better.
In a big moment, Karsa managed to steal away Mountain Dragon and hand his team Soul. Unfortunately, from that point, the team fight did not go in the way of TES. A deadly Death Sentence by LvMao caught JackeyLove out, bringing Miss Fortune to her grave.
By the end, LvMao had earned eight assists and only died once. A solid performance on Thresh, he was key in executing JDG's pick composition against TES' front-to-back configuration.
Game five
Game five ended up being the closest of the series, with neither side able to secure a sizable gold lead over the other.
JDG gambled on a Bard pick for LvMao, a support known for requiring an extremely high level of coordination with the team and with an ultimate, Tempered Fate, that can either make or break a game.
Fortunately for JDG, LvMao stepped up for his team and delivered. Hitting four members of TES, his Tempered Fate was a perfect set up for Miss Fortune's Bullet Time. By isolating JackeyLove on Aphelios, it also created a key opportunity for Kanavi to dive the sole carry in the backline.
With the ace, JDG secured Baron, pulled ahead, and easily won subsequent team fights to end the series and win their first LPL championship.
For his heroics in the final two games, LvMao was awarded the Finals MVP title.
READ MORE: FunPlus Phoenix sweep Invictus Gaming, 3-0, to finish third in LPL Spring 2020